Around a month ago, I wrote an article titled Appetizing Triple-Net Investments: Unlocking The Secret Sauce Of The Sale/Leaseback. As I explained in that article, "one way to unlock value in real estate is to invest in companies that own properties leased to corporate occupiers." In a sale/leaseback arrangement "the owner-occupant of a commercial property sells the asset it owns and occupies by executing a long-term lease with a real estate investor. This structured financing alternative has evolved into an attractive strategy for many corporations to unlock the value of their real estate assets."
Because long-term triple-net leases behave much like corporate bonds, sale/leaseback investors have been attracted to the repeatable sources of income that the properties generate. In addition, given the broader unpredictability in the equity markets and rich pricing across fixed-income instruments, sale/leaseback investors have gravitated to the "flight to quality" that make the asset sector most attractive. The primary allure to this "bond-like" strategy is the risk-aligned components that enable investors to reduce portfolio volatility while also serving as a hedge against inflation.
Sale/leaseback transactions are considered low-risk, and because the uncertainty associated with operating expenses and vacancy is muted, the more predictable income class has gained broad appeal.
W. P. Carey: A Legendary Sale/Leaseback REIT
Founded in 1973 and publicly listed since 1998, W. P. Carey Inc. (NYSE:WPC) is a leading global real estate firm specializing in sale/leaseback investments of corporate-owned real estate worldwide. This week, the company started trading as a publicly-listed REIT by merging W. P. Carey & Co. LLC and Corporate Property Associates 15 Inc. into one company, W. P. Carey Inc.
The REIT has more than $5 billion in net-leased real estate ($3.1 billion in equity market cap and $1.9 billion in debt) and is now one of the largest triple-net REITs in the nation. W. P. Carey owns 429 properties comprised of around 39.1 million square feet leased to more than 130 companies around the world with a diverse portfolio across geographies, industries, and property types.
As a globally-balanced sale/leaseback investor, W. P. Carey enjoys one of the most diverse tenant portfolios in the REIT sector. Carey expanded into China last year and its international reach extends into the US and over 17 countries. The company's high-quality portfolio has an overall occupancy rate of 97.6 percent and the average lease term is 8.9 years.
Carey's broad-based investment strategy has an enhanced "margin of safety" component that makes the company an attractive repeatable income alternative. This well-balanced alternative is perhaps one of the strongest attributes for risk control driven by the company's tenant portfolios and diversified by industry, geography and property type.
Here is a snapshot of Carey's portfolio by property type: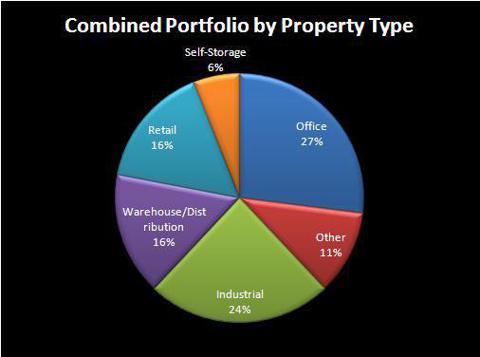 Here is a snapshot of Carey's portfolio by geography: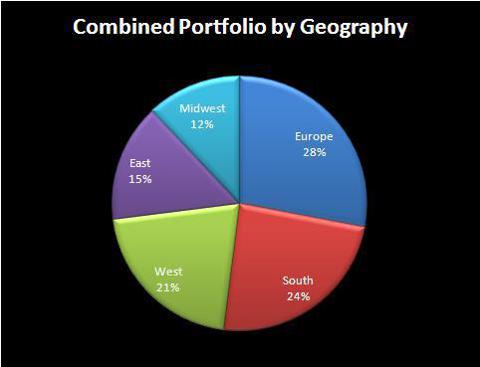 As a pioneer in the sale/leaseback industry, W. P. Carey was one of the first companies to focus exclusively on financing sale/leaseback opportunities and to provide companies with capital to invest in growth or balance sheet efficiencies. The success of the sale/leaseback focused REIT has been in its ability to originate off-balance sheet opportunities and structure risk-aligned leaseback transactions.
Accordingly, Carey has built a powerful platform of lease value in its deep-rooted consistency and repeatability. The company has an average lease term of 8.9 years and only 9.5 percent of the company's leases have rollover through 2014.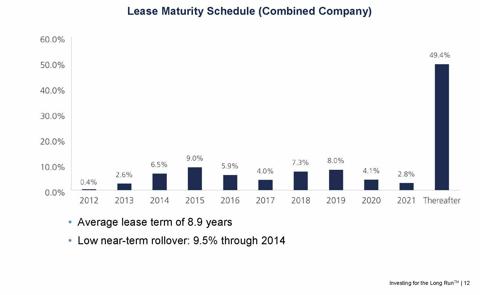 In addition, unlike many smaller triple-net REITs, Carey's sound investment platform has a large majority of built-in contractual rent increases. Many sale/leaseback occupiers pay rental increases annually and a large majority of the leases are structured with CPI increases (99 percent of leases include either fixed or CPI-based rent increases or percentage rent). This type of lease arrangement adds an added layer of inflation protection and defense from rising interest rates. In addition, leases with built-in contractual rental increases also enhance property values and they also protect revenues (and reducing payout ratios).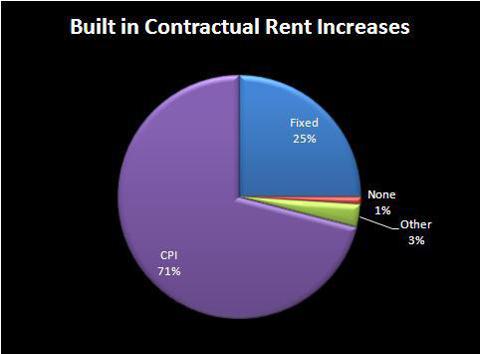 Carey's value proposition - providing stable cash flows from long-term leases to creditworthy tenants - is rooted in its ability to maintain consistency in its Funds from Operations (FFO). Many peer triple-net REITs have maintained liberal payout ratios; however, Carey has maintained an impressive track record for delivering modest payouts (46 percent in 2011):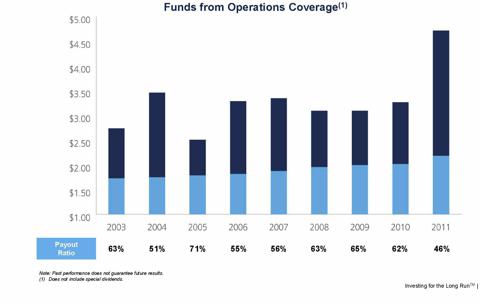 Carey's dividend is not only well-covered but stable. Prior to this Seeking Alpha article, I was not able to include W. P. Carey in the REIT dividend champion lists simply because Carey was not "technically" a REIT. However, now I can admit the triple-net REIT to the exclusive club of REITs that have maintained and increased dividends.
Low risk is directly correlated to dividend safety, and some of the most reliable equity REITs have enjoyed an extraordinary track record of not only maintaining, but also growing dividends. The elite group of REITs are part of a larger group of public companies that are often referred to as Dividend Champions and Dividend Contenders. [Seeking Alpha contributing writer David Fish produces this "US Dividend Champion" report on his DRiP Investing Resource Center site.]
W. P. Carey (the new publicly-listed REIT) joins the club of "best in class" REITs, including Federal Realty (NYSE:FRT), HCP, Inc. (NYSE:HCP), Universal Health Realty (NYSE:UHT), National Retail Properties (NYSE:NNN), Tanger Factory Outlets (NYSE:SKT), Essex Property Trust (NYSE:ESS), Realty Income (NYSE:O), Urstadt Biddle (NYSE:UBA), National Health Investors (NYSE:NHI), and Omega Healthcare Investors (NYSE:OHI).
W. P. Carey is ranked #6 and the elite group of dividend payers joins National Retail and Realty Income as the third triple-net sector REIT to join the exclusive group.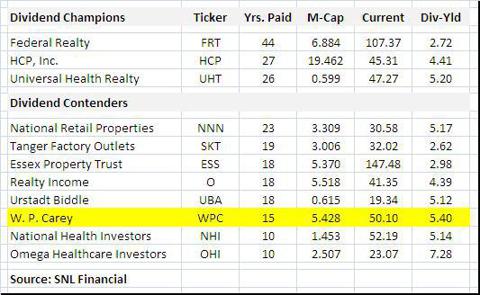 W. P. Carey was the first sale/leaseback company to exploit the business model and the company's trademark -- "Investing for the Long Run" -- became synonymous with dividend repeatability. In fact, Carey has consistently increased the company's dividends each of the past 45 consecutive quarters and the annual dividend growth averaged 2.4 percent from 1998 to 2011.

Carey's board of directors recently established its third quarter 2012 cash distribution at 65 percent per share, which equates to an annualized rate of $2.60 per share and a 15 percent increase over the previous quarter. The cash dividend is payable on Oct. 16 to shareholders of record as of Oct. 2. This marks W. P. Carey's 46th consecutive distribution increase, including its predecessor company. President and CEO Trevor Bond commented:
We are excited to reach this milestone in W. P. Carey's history. While our disciplined, long-term investment strategy remains the same, as a result of these transactions, we expect that the REIT status, significant increase in real estate under ownership and expected dividend growth will provide our shareholders with a compelling investment and help us further diversify our shareholder base over time, including active and passive REIT investors. With a larger balance sheet and greater flexibility to access capital for growth, we are well positioned to capitalize on new opportunities that are consistent with our established investment parameters and enhance shareholder value.
W. P. Carey: Investing For the Long Haul
Almost 10 months ago, the company's founder, William Polk Carey, passed away after leading the iconic sale/leaseback legend to more than four decades of consistency and repeatable dividend success. Mr. Carey once explained his company's value proposition:
These returns demonstrate our success in fulfilling our most important corporate mission: Investing for the long run. Our aim is to help our investors build and maintain lifestyles, and have the resources they need to meet their obligations and achieve their dreams, without constant worry about where the income to fund will come.
W. P. Carey closed today at $50.10 and the current dividend yield is 5.4 percent. Compared with Carey's peer group, the dividend yield is solid and the company should see stronger support as it announced that it will join the MSCI US REIT Index and the MSCI US Mid Cap 450 Index, effective Oct. 15.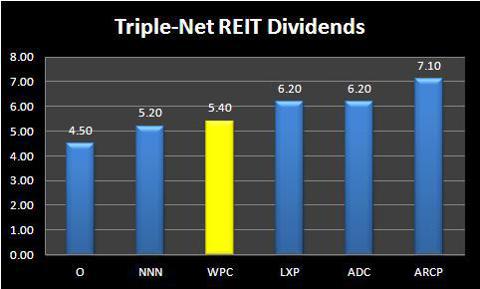 Mr. (William) Carey, the company's name-sake founder, nailed the mantra, "Investing for the Long Haul," and now that the company he founded is officially a REIT, investors will be able to benefit from all of the attributes of being a REIT -- transparency, liquidity and diversification -- while most importantly preserving principal and generating consistent returns on monies invested. The best illustration of the "long haul" performance is illustrated by the snapshot below (Carey returns have outpaced major indices including the S&P 500 (NYSEARCA:SPY) and the FTSE NAREIT All Equity Index):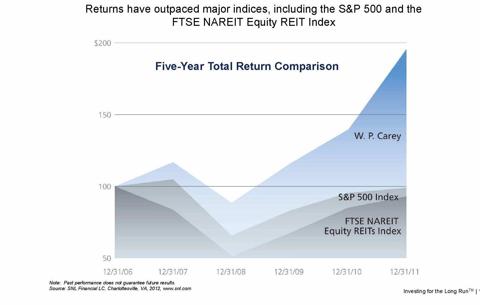 Source: SNL Financial, Investing for the Long Run™ Presentation (September 2012)
Disclosure: I have no positions in any stocks mentioned, and no plans to initiate any positions within the next 72 hours. I wrote this article myself, and it expresses my own opinions. I am not receiving compensation for it (other than from Seeking Alpha). I have no business relationship with any company whose stock is mentioned in this article.