On Wednesday, Deutsche Telekom (OTCQX:DTEGY) and Metro PCS (PCS) announced a tentative deal to merge T-Mobile USA with Metro PCS. Under the terms of the deal, shareholders of Metro PCS will receive $1.5 billion in cash and a 26% interest in the equity of the combined entity. In light of this announcement, I thought it would be a good time to reexamine valuations across the U.S. mobile sector.
In my last analysis of this type, I compared the valuations of Sprint (NYSE:S) and AT&T (NYSE:T), on July 12th of this year, and recommended that readers buy Sprint and sell AT&T. While Sprint's shares have substantially outperformed AT&T since that time (see below), the important question, as always, is where do valuations stand today and where are they likely to go from here?
| | | | |
| --- | --- | --- | --- |
| | 07/12/12 | 10/3/12 | Change: |
| AT&T | 34.87 | 38.17 | 9% |
| Sprint | 3.20 | 5.20 | 63% |
| S&P 500 | 1,334.76 | 1,450.99 | 9% |
This time, we will compare the implied valuation of the merged entity of Metro PCS and T-Mobile (which we will call "PCS-Mobile") with the valuations of Sprint and AT&T. For our comparisons, we will look at three main valuation metrics: enterprise value (E.V.)/revenue, E.V./adj. EBITDA, and E.V./subscribers.
Metro PCS
T-Mobile
PCS-Mobile
Sprint
AT&T
Income Statement
(Q2 2012):
Revenue:
$ 1,281
$ 4,883
$ 6,164
$ 8,843
$ 31,575
y-o-y growth:
5.9%
-3.3%
-1.3%
6.4%
0.3%
(1) Adj. EBITDA:
477
1,338
1,815
1,451
11,316
(2) 2012 adj. EBITDA:
n/a
n/a
6,300
4,550
45,264
Q2 EBITDA margin:
37%
27%
29%
16%
36%
Subscribers:
Post-paid:
n/a
21,300
29,434
69,666
Pre-paid:
n/a
5,295
14,149
7,473
Wholesale/other:
n/a
6,573
8,391
28,067
Total subscribers (3):
9,292
33,168
42,460
51,974
105,206
Balance Sheet:
Debt:
$ 4,762
$ 14,878
$ 19,640
$ 21,244
$ 64,534
Cash:
$ 2,349
$ 423
$ 1,272
$ 6,762
$ 2,151
Net Debt:
$ 2,413
$ 14,455
$ 18,368
$ 14,482
$ 62,383
(4) Market Cap:
$ 11,346
$ 15,600
$ 220,200
Enterprise value (NYSE:EV):
29,714
30,082
$ 282,583
EV (with synergies):
23,214
Valuation (5):
EV/Revenue (ann'd):
1.21
0.85
2.24
EV/2012 adj. EBITDA:
4.72
6.61
6.24
EV/Subscribers:
$ 700
$ 579
$ 2,686
(1) Adj. EBITDA figures are as reported -- adjustment methodologies may vary by company.
(2) 2012 pro-forma company estimate for PCS-Mobile, mid-guidance for Sprint, and ann'd for AT&T
(3) Sprint subscriber numbers conservatively exclude their remaining 4.4mn Nextel subscribers.
(4) Market capitalizations from Wednesday's close; PCS-Mobile's implied market cap. = (PCS closing market cap. less $1.5bn)/26%
(5) PCS-Mobile's valuation ratios incorporate no synergy benefits.
Revenue and subscriber valuations favor Sprint...
On an E.V./revenue basis, alone, Sprint (at 0.85x) looks extremely undervalued relative to AT&T (2.24x) and modestly undervalued relative to PCS-Mobile (1.21x). This is particularly interesting considering that Sprint grew its revenue base by over 6% last quarter, while AT&T's revenues were essentially flat and PCS-Mobile's combined revenues declined.
On an EV/subscriber basis, Sprint (at $579/sub.; $534/sub. if including the remaining Nextel subs.) also appears modestly undervalued compared to PCS-Mobile (at $700/sub.), while comparisons with AT&T ($2,686/sub.) are not meaningful (given AT&T's substantial wire-line business).
...although, incorporating margin differences paints a different picture...
Of course, the primary reason for these revenue and subscriber valuation discrepancies is because of Sprint's currently depressed EBITDA margins and the resultant fact that they are currently generating less EBITDA for each dollar of revenue. All other things equal, we would expect lower margin companies to trade at lower multiples of revenue and subscribers. With that in mind, let's look at E.V./adj. EBITDA valuations, which incorporate Sprint's currently depressed margins, relative to their competitors.
On an E.V./adj. EBITDA basis, Sprint (at 6.6x) trades at a sizeable premium to PCS-Mobile (4.7x) and a slight premium to AT&T (6.2x). Given Sprint's stronger growth trends, better competitive positioning, and greater margin expansion opportunities, we would expect the company's shares to trade at a substantial premium to those of PCS-Mobile on this valuation metric. The broadly similar valuation multiple, compared with AT&T, on the other hand, seems hard to justify.
The E.V./EBITDA multiple, like the price/earnings multiple, incorporates growth expectations (i.e. the higher the expected future EBITDA growth, the higher expected multiple). As such, the market is essentially saying that they expect similar forward EBITDA growth from AT&T versus Sprint (even when using Sprint's depressed 2012 expected EBITDA as a starting point). This makes absolutely no sense to me considering that the very wide margin discrepancy between Sprint and AT&T (16% and 36%, respectively, for the last quarter) will likely converge over time.
Sprint has a detailed plan in place to substantially increase its depressed EBITDA margins, while I believe that AT&T's margins are already high and susceptible to downward pressure. Furthermore, Sprint's revenues are growing substantially faster than those of AT&T, providing an additional relative advantage for Sprint with respect to future EBITDA growth.
With regard to Sprint's margin growth expectations, the company's "network vision" (N.V.) program consists of very quantifiable infrastructure expenditures and resultant savings expectations. The company is currently having to run two networks, at great expense, so the elimination of the IDEN network by mid-2013 will have a substantial cost savings impact.
By 2014, Sprint's management have stated that they expect a 400 to 600 basis point margin improvement from NV initiatives and a further 400 to 600bps improvement from other operational improvements, which would give Sprint 800 to 1,200bps in total margin expansion. Over this period, I would also expect EBITDA growth to translate from continued healthy revenue growth from Sprint's strong product offering, attractive price plans, and good service reputation. AT&T's revenues, on the other hand, appear to have stagnated and I see no catalyst for substantial margin improvements, going forward. In fact, I see downside risks for AT&T's current margins.
Comparative conclusions
Comparatively, it is very surprising to me that the market is valuing AT&T at a revenue multiple of over 2.5 times that of Sprint and an adj. EBITDA multiple that incorporates similar EBITDA growth expectations for the two companies. While PCS-Metro's valuation ratios appear more reasonable (even without incorporating synergies), their weak competitive position and negative revenue growth trends are of concern (particularly considering their heavy debt load). All things considered, I continue to view Sprint's equity as the most attractive investment in the sector and I see substantial further upside for Sprint shareholders.
Many Sprint bears have recently commented that Sprint's share price has increased too much too fast. I believe that these people are failing to consider the incredibly low valuations levels from where Sprint's shares began their rally, the substantial catalysts that have fueled the share price increases (strong revenue and growth trends, improved guidance, elimination of liquidity concerns, etc.), and the solid relative value that Sprint's shares still afford investors.
In other words, I believe that their bearish argument is tantamount to saying that a dollar is expensive at 50 cents since you could have bought it for a quarter a few months ago. Such logic makes little sense, and I believe that Sprint's shares remain depressed from both a valuation and a longer-term trend perspective (over 70% below their five year highs).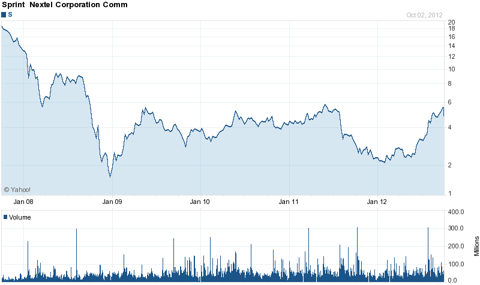 So, where do we go from here?
Simplistically, let's again look out to 2014, after "network vision" (N.V.) has been completed and see where Sprint may stand from a valuation perspective, at that point -- considering that current trends continue and NV progresses as planned. To repeat and to be clear, this analysis assumes that current trends continue and NV is a success. While many concerns/hurdles have been passed for Sprint, over the past year (with respect to securing financing, progressing with NV, securing the iPhone, etc.), much execution risk remains and I am not suggesting that the valuation resulting from this analysis is where Sprint should trade today. There should clearly be a discount that factors in these execution risks.
With that in mind, let's do a simple back-of-the-envelope valuation forecast as I did in a prior analysis (this time I have slightly tweaked up the margin for 2014 up from 24.1% to 25.1% to reflect my improved optimism from recent developments).
If we assume that revenue growth continues at 5% per annum (just below recent trends) and OIBDA margins expand by 1,000 bps, from 2011 levels, to 25.1% (by comparison, this is still well below AT&T's adjusted EBITDA margin of 36%), we get to 2014 revenues of approximately $39bn and adjusted OIBDA of around $9.8bn.
Using a conservative enterprise value (E.V.)/Adj. OIBDA multiple of 5.0x, gives us an enterprise value of $49bn. Assuming an increase in net debt from $14.8bn at YE 2011 to $17.3bn at YE 2014 (my back-of-the-envelope estimate, under the scenario described), would leave Sprint with a market capitalization of $32bn, which would translate into a share price of approximately $10.56 (203% above yesterday's close).
| | | |
| --- | --- | --- |
| Year: | 2011 | 2014 |
| Revenue: | 33,679.00 | 38,987.65 |
| Adjusted OIBDA: | 5,072.00 | 9,785.90 |
| Margin: | 15.10% | 24.10% |
| | | |
| Net Debt: | 14,827.00 | 17,250.00 |
| Market Cap: | | 31,679.50 |
| EV: | | 48,929.50 |
| | | |
| Net Debt/Adj. EBITDA: | | 1.76 |
| EV/Adj. OIBDA: | | 5.0 |
| | | |
| Price/share: | | $10.56 |
I should repeat that, while there is substantial execution risk between now and then, these assumptions are not aggressive. Adjusted OIBDA margins improvements of 1,000bps are at the mid-range of management's guidance of margin improvements from NV(800bps - 1,200bps) and this leaves Sprint with forecasted margins still substantially below those of AT&T (25% versus 36% for AT&T this last quarter). Furthermore, revenue growth is consistent with current trends and the EV/Adjusted OIBDA multiple of 5.0x is conservative (as of Wednesday's share price close, AT&T trades at 6.2x adjusted EBITDA).
I see upside potential from these forecasts, but downside potential clearly exists, as well. Furthermore, as I said before, the share price clearly needs to factor in a discount for the substantial execution risk that remains. All that said, I believe the overall assumptions are reasonable and they allow for a substantial negative variance, before you even get close to current valuations.
Disclosure: I am long S. I wrote this article myself, and it expresses my own opinions. I am not receiving compensation for it (other than from Seeking Alpha). I have no business relationship with any company whose stock is mentioned in this article.