It's expensive to be first
Clean Energy Fuels (NASDAQ:CLNE) is well underway building a project it named America's Natural Gas Highway. The first phase of this project aims to create a network of 150 liquefied natural gas filling stations across the country by the end of next year. The stations are to be placed in locations that will allow long haul truckers driving natural gas only vehicles to reach every major city without going empty. Clean Energy also operates hundreds of easier to manage compressed natural gas filling stations and continues to build more each month.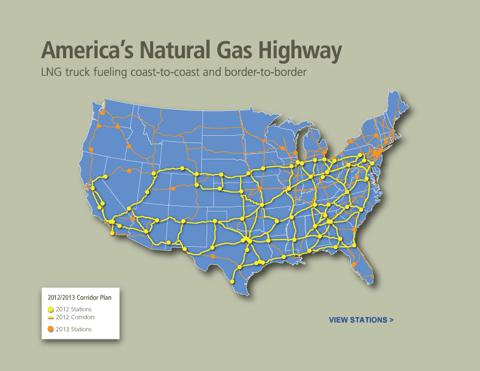 If you build it, they will come
This is a significant investment, but luckily gas producers like Chesapeake Energy (NYSE:CHK) understand the potential and have chipped in $150 million. A glut of domestic natural gas and no way to export it has forced Chesapeake to sell off assets that it would probably prefer to develop themselves. A rise in domestic natural gas consumption by vehicle use would mean a windfall of profits for them. More natural gas vehicles on the road would also be extremely profitable for Clean Energy's co-founder and director T. Boone Pickens. He believes so strongly in his vision that he is currently holding about 18 million shares of his company.
Reaching their goal
Publishing a press release every time a trucking fleet signs an agreement is getting to be too much for Clean Energy's PR department, so instead they have simply released a listing of trucking companies, refuse haulers, fleet operators, airports, municipalities and other organizations which have signed new or expanded existing agreements with Clean Energy to provide natural gas transportation fuel and other services for their vehicles and fleets. The most recent addition to Clean Energy's "Road to Natural Gas" is the State of Virginia. The Governor of Virginia, Robert McDonnell signed an agreement with Clean Energy Fuels to provide CNG access and other services to all state and local government bodies.
Competition? Yes please
At the moment, a number of natural gas producers like Encana (NYSE:ECA), Chesapeake, and Apache (NYSE:APA) are also investing in fueling infrastructure. Chesapeake, as mentioned earlier, has invested in Clean Energy's LNG station build out. They are also in talks with Giant Eagle to bring CNG fuel pumps to the network of GetGo gas stations. Royal Dutch Shell (NYSE:RDS.A) and TravelCenters of America (NYSEMKT:TA) are building natural gas pumps at over 100 existing truck stops across the country. Intergrys Energy Group (NYSE:TEG) also provides CNG fuel infrastructure and fueling services through its subsidiaries.
There are several small pockets within the US with enough NGVs on the road to warrant competition for natural gas fueling market share. However, most of them are confined to relatively small regions. According to Clean Energy's 2011 annual report, none of its competitors operate as many fueling stations in as many states as Clean Energy. In fact, at year end 2011, it was operating at least 4 times as many natural gas fueling stations as its nearest competitor.
While still in its infancy, Clean Energy's network of pumping stations has everything to gain by competitors entering the market. In the short to intermediate term, competitors building natural gas pumps will help boost Clean Energy's bottom line. Consumers aren't going to invest in an NGV until they know they can fill up at their convenience. Once a much larger percentage of vehicles on the road are using natural gas, then competition will significantly affect profit margins. In the meantime, more natural gas pump availability will result in more consumers switching to NGVs, which is good for Clean Energy, and its competition.
Lots of room to grow
Despite negative earnings, Clean Energy continues to post some very positive numbers. Gallons delivered in the second quarter of 2012 were up year on year by 24%. Consumers and trucking fleets are getting wise to the savings that switching over to natural gas provides. Overall, the amount of natural gas consumed in the US as vehicle fuel is steadily rising, despite a relative lack of fueling infrastructure. Nearly half of all natural gas used as vehicle fuel is consumed in the state of California alone. A majority of states use less than 2 million cubic feet per month. There are 11 states that don't use any.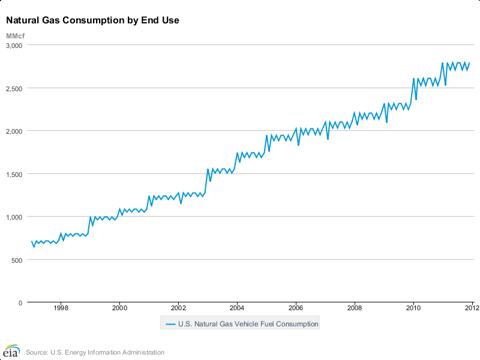 The most promising data comes from abroad. In the US, the amount of natural gas consumed as vehicle fuel is about 0.1% of total US consumption. According to the International Energy Agency, in 2009, the percent of total gas consumption as vehicle fuel was 3% (30 times current US figures) in Australia, 5% (50 times current US figures) in South Korea, and 35% (350 times current US figures) in Thailand. I believe that if the US were to boost the amount of natural gas consumed as vehicle fuel to even one half of a percent, Clean Energy would find themselves well in the black. If US natural gas consumption as vehicle fuel reaches that of South Korea's, I'll be shopping for private islands and scrambling Faberge eggs for breakfast.
Domestic natural gas prices can stay competitive with oil
Although there will always be occasional spikes and dips due to unusually cold winters, and hot summers, I believe that domestic natural gas prices at the pump will stay competitive with gasoline and diesel, both in the short term and well into the future. lf Koreans can import gas at over 4 times Henry Hub spot prices and keep it competitively priced, there is no good reason Americans can't enjoy similar savings.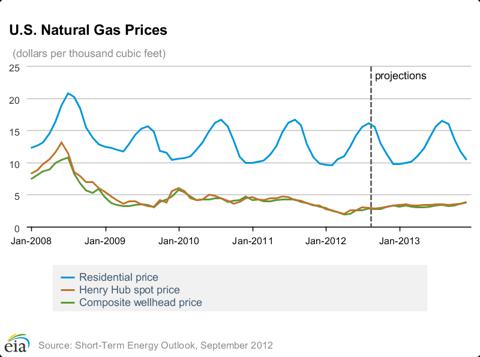 Modern natural gas rigs are several times more effective than they were just 5 years ago. The number of natural gas drilling rigs in the US is at its lowest level since June 1999, yet output levels continue to reach all time highs.
I believe that both exports and vehicle fuels are going to drive up demand for America's natural gas over the next few years. I'm also certain that domestic production can meet that demand and keep prices for CNG at the pump competitive long enough for Clean Energy Fuels to realize a tremendous profit.
Disclosure: I am long CLNE. I wrote this article myself, and it expresses my own opinions. I am not receiving compensation for it (other than from Seeking Alpha). I have no business relationship with any company whose stock is mentioned in this article.