Sometimes a picture or - in this case - a picture of a financial statement can tell a story (a dismal story) of a thousand words: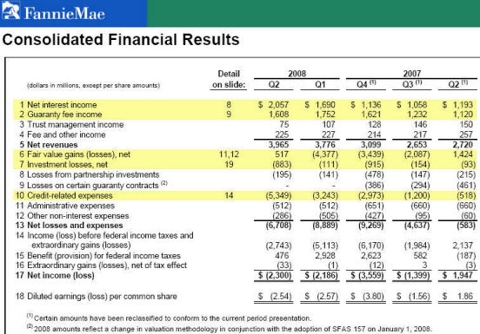 Click the Image For a Larger Version
Quick highlights (or lowlights) of the last five quarters:
Losses and Expenses Prior to Tax Treatment (more or less operating losses):  $30.1 Billion
Credit Related Expenses: $13.3 Billion
Tax Treatment Benefits: $6.4 Billion
Net Losses: $7.5 Billion ($9.4 Billion over the last four quarters)
Closing Share Price on August 8, 2007: $64.75
Closing Share Price on August 8, 2008: $9.05/share
YoY Share Price Decline: 86.02%
Aside from the 86% decline in share price, the number that jumps out me the most is the $30.1 billion losses prior to tax treatment and extraordinary items.
Now imagine (if you would) a world where Fannie was 1/5 the size it is now, thereby significantly reducing its potential negative impact on the economy, credit markets, etc. Considering the performance of the past five quarters and the fact that there is always a risk of it happening again even if FNM survives this fiasco, how can any sane person not be in favor of breaking these companies up?