Yoga and exercise are not just good for you, they appear to be a good investment as well. That is if you take a look at the recent performance of Canadian clothing maker Lululemon Athletica (NASDAQ:LULU). Despite its odd name and ticker symbol, this company has been doing really well lately.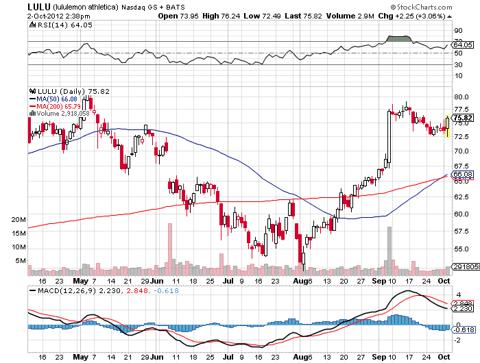 In addition to the share price shown above, Lululemon has seen a sales growth of 40.6% and an income growth of 51.10% in the last year. The company has a net profit margin of 18.59% and a forward P/E ratio of 33.95. That is very good for the niche this company is in, athletic clothing.
High Profit Margin
In contrast, industry giant Nike (NYSE:NKE) had a net profit margin of 8.68% and a forward P/E of just $15.99. Under Armour (NYSE:UA) had a net profit margin of 6.16% and a forward P/E of $32.67. Lululemon beat both Under Armour and Nike in sales and income growth. Under Armour registered excellent sales growth of 38.4% and an income growth of 41.8%. Nike's sales growth lagged behind at 15.7%, while its income growth was 4.2%.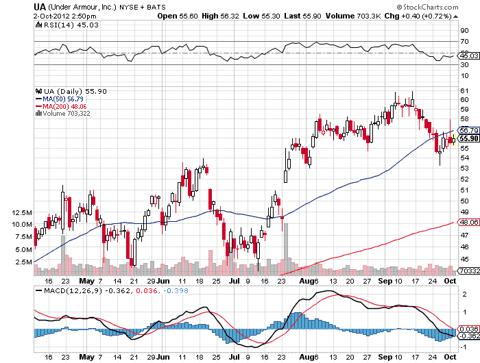 From a value investor's standpoint, lululemon has one big thing going for it. The company has a debt-to-equity ratio of 0. That means it has little or no debt, so almost any cash it brings in can be used for dividends or expansion. In contrast, Nike has a .04% debt-to-equity ratio and Under Armour has an .11% debt-to-equity ratio.
High Customer Loyalty
Lululemon's success is based on clever marketing, using models from London-based W Athletic, which bills itself as "Europe's Top Sports and Lifestyle Agency." That means it specializes in providing models, athletes, and others that look really good in athletic clothing. The strategy has apparently worked by creating a cadre of shoppers that are loyal to the brand.
Carolyn Beauchesne, who considers herself a Lululemon addict, is so devoted to the brand that she even maintains a blog about it. That kind of brand loyalty is hard to define, but it is vital for success in the clothing industry. Lululemon needs to keep it in order to compete with giants such as Adidas and Nike. Nike has $24.72 billion in sales, compared to Lululemon's $1.17 billion.
The interesting thing is that Lululemon is continuing to grow in a very bad economy. Its net revenue in the second quarter of 2012 was 33% higher than in the second quarter of 2011. The biggest gains were in direct to customer revenue, which increased by 91% between the second quarter of 2011 and the second quarter of 2012. Direct to customer revenue makes up 12.5% of Lululemon's earnings. Direct to customer revenue means online sales which seem to be the future for specialty clothing brands like Lululemon and Nike.
Lululemon's involvement with the yoga community and its use of professional talent from W Athletic are among the strategies it uses to keep customer loyalty high. But the bulk of Lululemon's loyalty, and sales, still come through its stores. Sales in corporate owned stores still generate the majority of Lululemon's revenues, and such sales are still increasing. Store sales increased by 30% over the last 12 months.
The company also displays a sophisticated understanding of retail that keeps costs down. It has a very strict return policy that limits costs from returns, even if it violates conventional customer service wisdom. The company refuses to accept returns after 14 days and only accepts returned goods in mint condition with the tags intact. The fact that Lululemon still retains strong brand loyalty with such a policy raises some interesting doubts about the standard retail industry practice of bending over backwards for the customer.
Lululemon's performance has been impressive. It has managed to grow in a depressed retail market. More importantly, it has fueled that growth by selling what is essentially a luxury product. So it's easier to see why Jim Cramer and the market both like Lululemon. The yoga clothing maker from Vancouver has impressive revenues and tremendous growth potential.
If you're looking for an unusual retail value stock, look into Lululemon. It is a niche player, but it's demonstrating some impressive revenue figures right now. It may also be on the verge of going mainstream with W Athletic's help, which could lead to even more impressive revenues.
Disclosure: I have no positions in any stocks mentioned, and no plans to initiate any positions within the next 72 hours. I wrote this article myself, and it expresses my own opinions. I am not receiving compensation for it (other than from Seeking Alpha). I have no business relationship with any company whose stock is mentioned in this article.