An Olympic-Sized Boost For China's ETFs Doesn't Appear to Be In the Offing
An answer to the question of what the Olympics would mean to China and its ETFs appears to be taking shape, and so far, it's not a pleasant one. In fact, it pretty much seems to be business as usual.
Shares hit a 19-month low in trading yesterday, after reports showed inflation in the country jumped to its highest level in 12 years in July, reports Elaine Kurtenbach for the Associated Press. The decline was led by airlines, textile exporters and refiners.
The producer price index also rose 10% from July one year ago, its highest rate of increase since 1996.
In somewhat better news, the country's trade surplus also grew to $25.3 billion, its highest level in eight months and up 4% from one year ago. Exports soared by 26.9%, says Joe Mcdonald for the Associated Press, a sharp turnaround from June, where export growth dropped to 18.2%.
ETFs that concern China:
iShares FTSE/Xinhua China 25 (NYSEARCA:FXI), down 22% year-to-date
PowerShares Golden Dragon Halter USX China (NASDAQ:PGJ), down 30% year-to-date
SPDR S&P China (NYSEARCA:GXC), down 26.5% year-to-date
NETS Hang Send China Enterprises (SNO), down 8.4% since May 22 inception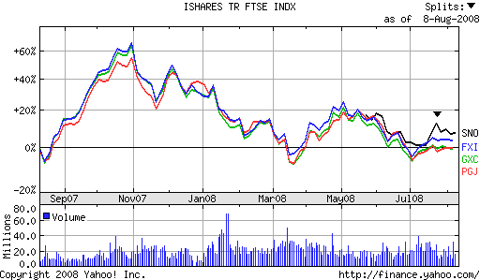 Japan and ETFs May Soon Be Free of Bear's Claws
Japan's economy and ETFs may have been dormant as of late, but analysts say the sun is no where near setting for the economy in the next year.
In fact, some analysts say that investors should gear up for some big returns into 2009, as interest rates have eased and the country has dodged the effects of the U.S. subprime mortgage mess, reports Joanne Von Alroth for Investor's Business Daily.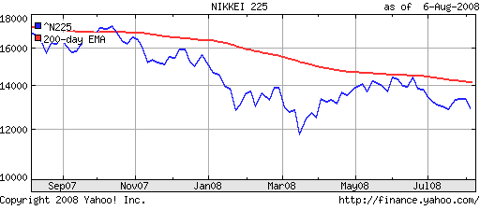 While Honda (NYSE:HMC) and Toyota's (NYSE:TM) hybrid cars are among the most popular, you'd think sales would be taking off with the high gas prices. However, it hasn't been enough to help out the car makers. Reported hybrid sales in the U.S. fell 6% year-on-year last month to 26,877 units, only 2.4% of the new vehicle market, says Automotive World.
Toyota has already laid off 800 people at a plant in southwestern Japan, a move linked directly to slow U.S. sales. Before the layoffs, Toyota employed 8,200 workers, 1,950 of them temporary, so they are flexible according to market demand, reports Yuri Kageyama for Associated Press.
ETFs that will benefit from more alternative drivers, and growth next year:
iShares MSCI Japan Index (NYSEARCA:EWJ): down 13.4% year-to-date; Toyota is 5%; Honda is 1.9%
iShares MSCI Japan Small Cap Index Fund (NYSEARCA:SCJ): down 13.9% year-to-date
NETS TOPIX Index Fund (TYI): down 9.8% since April 16 inception; Toyota is 3.9%; Honda is 1.6%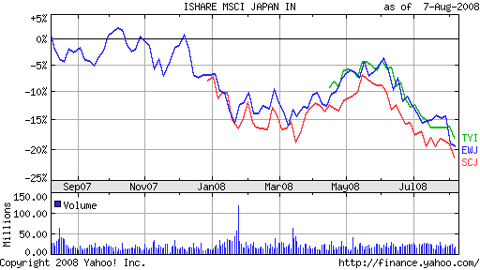 Austria and Its ETF Flow With Good News
Austria and its related ETF have received a couple doses of good news recently: unemployment is down, industry is up.
Austrian utility company Verbund won a concession to build a $259 million hydropower plant in Albania, Reuters reports.
The decision was based on the cheaper prices of power delivered to the Albanian system and market, installed capacity, technicalities and social standards when building the plant. iShares MSCI Austria (NYSEARCA:EWO) holds 4.8% of Verbund.
Meanwhile, unemployment has shrunken and has fallen for the 29th month to 4.1% in July, according to Forbes. Jobless claims dropped to 9,269 on the year to 178,664, with open positions retreating 8.2% to 39,521. Within the European Union, Austria ties for fourth place with Estonia and Luxembourg, says Eurostat.
My family and I had the pleasure of visiting Austria a few weeks ago, and we saw a country that's beautiful and booming. Austria has been especially benefiting from its banking expansion into Eastern Europe. However, EWO could almost be viewed as an emerging market fund, in that when things are good, they're great; when they're bad, they're awful.
The second-largest holding, OMV, has become central Europe's biggest oil and gas supplier, and its modern filling stations in Bulgaria have actually played host to weddings.