Dividend growth investing is lots of fun, especially if you have a systematic methodology to determining which companies' dividends are safe and which ones' aren't. That is why we created a forward-looking assessment of dividend safety in our innovative, predictive dividend-cut indicator, the Valuentum Dividend Cushion™. In this article, let's evaluate the investment merits of 3M (NYSE:MMM), as well as its dividend under this unique but yet very straightforward framework. But first, let's dig into the Ceradyne transaction.
3M's Acquisition of Ceradyne Is Somewhat Puzzling
Industrial conglomerate 3M announced its intentions to acquire ceramics and components maker Ceradyne (CRDN) for $35.00 per share in cash, or the equivalent of $860 million ($670 million net of cash, cash equivalents, short-term investments, and debt). On a multiple basis, the deal is somewhat expensive, with 3M paying 35x consensus 2012 earnings and 26x 2013 consensus earnings.
Additionally, we're not sure how bright Ceradyne's future looks. With respect to its energy exposure, the firm focuses on solar energy and nuclear power plants-both of which are facing some tremendous headwinds. Cheap natural gas and coal, as well as massive industry supply caused by Chinese manufacturers has created a tremendous supply/demand imbalance. As a result, industry fundamentals have deteriorated precipitously and US solar manufacturers, like Ceradyne and First Solar (NASDAQ:FSLR), have struggled to remain profitable. Nuclear energy faces massive safety and fear issues following the Japanese meltdown in 2011. Though both energy sources have fewer carbon emissions than others, we aren't very confident about the sustainability of either industry's long-term fundamentals at this juncture. Still, the firm does have a very nice PetroCeram business, which is used to prevent sand from entering oil pipelines. We like this product line, as we don't see demand for improved drilling productivity falling anytime soon.
Defense, on the other hand, remains a sizable wild card. Historically, the US government has been hesitant to cut defense spending as it retains its reputation as the world enforcer. However, it's no secret that the government budget is stretched. Ceradyne has a few contracts with the Department of Defense, but production could remain weak, especially for products like missiles (Ceradyne makes the radomes). However, demand for the firm's armor and helmets should remain strong. The wild card here is whether or not the tension brewing in the Middle East results in a significant conflict that would drive demand higher. But paying 26x times next year's earnings for this option value seems a bit rich, in our view.
Ceradyne also has a strong industrial products business, which might be the only business line that coincides with 3M's existing product lines. But even here, we fail to see any meaningful synergies, with the exception of SG&A expenses. Though the company's organic business increased year-over-year in 2011, Ceradyne itself has grown mostly via mergers and acquisitions rather than via internal expansion. We worry that acquiring an acquirer may not be the best use of shareholder's capital. Still, we're confident 3M will be able to seamlessly integrate the acquisition, given its various existing lines of business.
Regardless, we doubt this acquisition will have any material impact on 3M's earnings. It expects to add $0.01 net of acquisition costs this year, and it only adds incremental revenue of $500 million, which isn't much for a company that we believe, will post over $30 billion in revenue this year. Shares of 3M remain fairly valued at this time. For a read on how we calculate the intrinsic value of 3M and other firms in our equity coverage universe, please click here. But will this deal impact its dividend policy?
Investment Considerations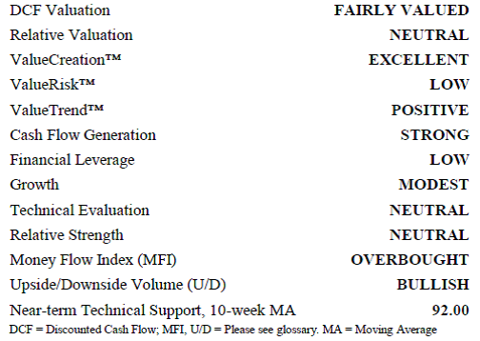 Return on Invested Capital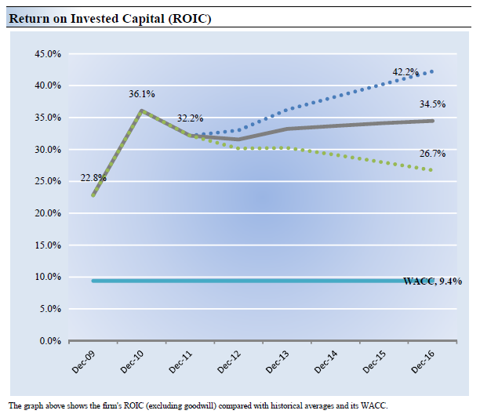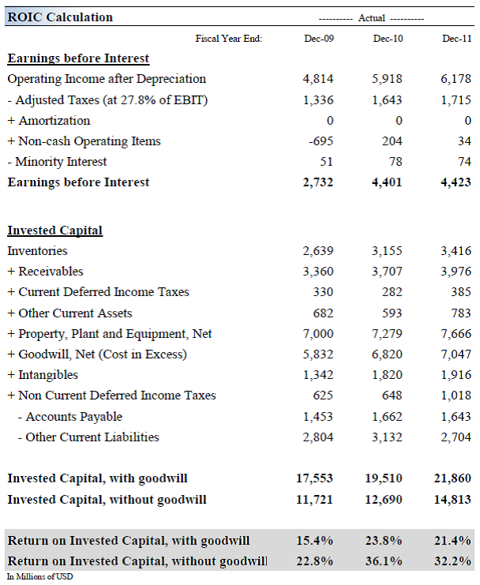 3M's Dividend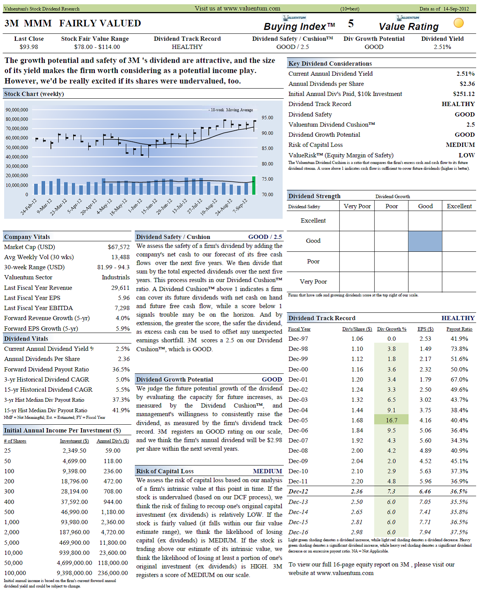 The short answer is no. We think the safety of 3M's dividend and its nice 2.5% dividend yield is good (please see our definitions at the bottom of this article). We measure the safety of the dividend in a unique but very straightforward fashion. As many know, earnings can fluctuate in any given year, so using the payout ratio in any given year has some limitations. Plus, companies can often encounter unforeseen charges (read hiccups in operations), which makes earnings an even less-than-predictable measure of the safety of the dividend in any given year. We know that companies won't cut the dividend just because earnings have declined or they had a restructuring charge that put them in the red for the quarter (year). As such, we think that assessing the cash flows of a business allows us to determine whether it has the capacity to continue paying these cash outlays well into the future.
That has led us to develop the forward-looking Valuentum Dividend Cushion™. The measure is a ratio that sums the existing cash a company has on hand plus its expected future free cash flows over the next five years and divides that sum by future expected dividends over the same time period. For 3M, this score is 2.5, revealing that on its current path the firm may not have the capacity to pay out its expected future dividends, though flexibility remains. Basically, if the score is above 1, the company has the capacity to pay out its expected future dividends. For firms that have a score below 1 or that have a negative score, the risk of a dividend cut in the future is certainly elevated. The Dividend Cushion caught the recent cuts by JC Penney (NYSE:JCP) and SuperValu (NYSE:SVU). For a read on how the Dividend Cushion caught SuperValu's dividend cut well in advance, please click here.
Now on to the potential growth of 3M's dividend. As we mentioned above, we think the larger the "cushion" the larger capacity it has to raise the dividend. However, such dividend growth analysis is not complete until after considering management's willingness to increase the dividend. As such, we evaluate the company's historical dividend track record. If there have been no dividend cuts in 10 years, the company has a nice growth rate, and a nice dividend cushion, its future potential dividend growth would be excellent, which is not the case for 3M. We rate the firm's future potential dividend growth as GOOD.
And because capital preservation is also an important consideration, we assess the risk associated with the potential for capital loss (offering investors a complete picture). In 3M's case, we think the shares are fairly valued, so the risk of capital loss medium. If we thought the shares were undervalued, the risk of capital loss would be low. All things considered, the growth potential and safety of 3M 's dividend are attractive, and the size of its yield makes the firm worth considering.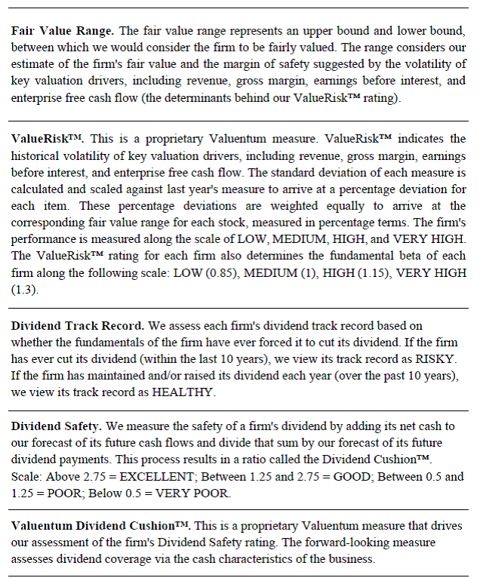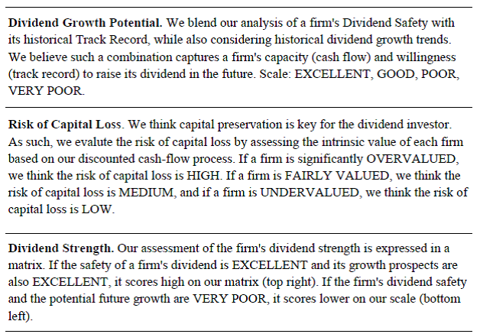 Disclosure: I have no positions in any stocks mentioned, and no plans to initiate any positions within the next 72 hours. I wrote this article myself, and it expresses my own opinions. I am not receiving compensation for it (other than from Seeking Alpha). I have no business relationship with any company whose stock is mentioned in this article.