Cambrex Corp. (NYSE:CBM) reached a new 52-week high of $13.44 on Sept. 10, about a month after reporting strong second-quarter results that included a 50% earnings surprise and a raised guidance for the full year. Shares of this life sciences company have actually been on an uptrend since May, as it has delivered five positive earnings surprises in the last six quarters.
With a more than 60% year-to-date return and an attractive valuation, this Zacks No. 1 Rank (Strong Buy) stock looks like a solid growth pick.
Earnings Beat and Upbeat Guidance
On Aug. 1, Cambrex released impressive second-quarter 2012 results, including earnings of 33 cents per share that beat the Zacks Consensus Estimate by 50% and year-ago earnings by 106.3%.
Gross sales climbed 14.3% to $77.1 million. However, excluding the 5.9% unfavorable foreign exchange impact, sales were up 20.2%. Higher volumes of controlled substances and increased sales of generic active pharmaceutical ingredients (APIs) benefited sales.
Gross margin climbed to 36.9% from 28.2% a year ago. Foreign currency movements favorably impacted gross margin by 1.5%. Moreover, a favorable product mix and increased plant efficiencies contributed to the margin expansion.
The company raised its 2012 guidance for sales growth and adjusted earnings before interest, taxes, depreciation, and amortization (EBITDA). The company expects 2012 sales to grow between 10% and 13%, vs. 2011 levels (previous guidance was 2%-6%). The guidance excludes the impact of foreign exchange. Cambrex now projects 2012 EBITDA between $54 million and $58 million, instead of $47 million to $53 million.
Supply Deal -- Another Major Positive
On Aug. 14, Cambrex announced that it signed a deal with one of its important customers to supply an API during 2013 and 2014. This will aid customers in conducting a Phase III program for one of its candidates.
The deal is significant for Cambrex as it is expected to boost 2013 revenues by more than $20 million. The deal has the potential to contribute a higher amount to 2014 revenues depending on certain conditions.
Earnings Momentum Advances
Over the last 90 days, the Zacks Consensus Estimate for 2012 jumped 23.5% to 84 cents. For 2013, the Zacks Consensus Estimate has increased 24.7% to 96 cents over the same time period. The earnings estimate for 2012 represents a year-over-year jump of 81.5%, and the estimate for 2013 suggests year-over-year improvement of approximately 15.0%.
Valuation Looks Attractive
Cambrex shares trade at a forward P/E of 14.3 times, vs. the peer group average of 23.9 times. On a price-to-book basis shares currently trade at 3.1 times, below the peer group average of 3.5 times. Moreover, on a price-to-sales basis, shares are trading at 1.3 times vs. 2.5 times for the peer group average. The stock also looks attractive with respect to return on equity (ROE). It has trailing 12 months ROE of 20.7%, which is substantially above its peer group average of 9.1%. This implies that the company reinvests its earnings more efficiently than its peers.
A Look at the Chart
The chart below shows that the stock has been consistently trading above both the 200-day and 50-day moving averages since early May 2012. Volume is fairly strong, averaging roughly 256,000 daily. The stock delivered a year-to-date return of 60.8%, outperforming the S&P 500's return of 13.2%.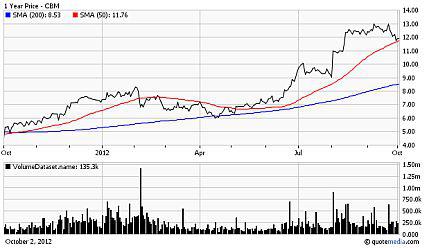 Headquartered in East Rutherford, N.J., Cambrex is a life sciences company with a market cap of $352.3 million. The company, founded in 1981, offers products, services, and technologies to facilitate the development and commercialization of small molecule therapeutics. The company supplies generic and branded APIs globally for multiple indications. The products and services are supplied to innovator and generic pharmaceutical players