Amidst speculation and uncertainty, it is amazing how a little math and research can turn a cloud of doubt into a great investment opportunity. The great thing about stocks that see extremely high short trading volume is that these shares in the company must be bought back in the near future, a guarantee of future demand (which, of course is what determines whether a stock goes up or down.) This is why highly-shorted growth stocks such as SKUL, YELP, LQDT, TTWO and TSLA are our favorite way to earn cash in a short amount of time by entering after shorts have taken their positions. It's what we call the reverse law of gravity. In this case, what goes down must come back up. This occurred recently at an astounding level with Questcor Pharmaceuticals Inc. (QCOR) as we can see in the chart below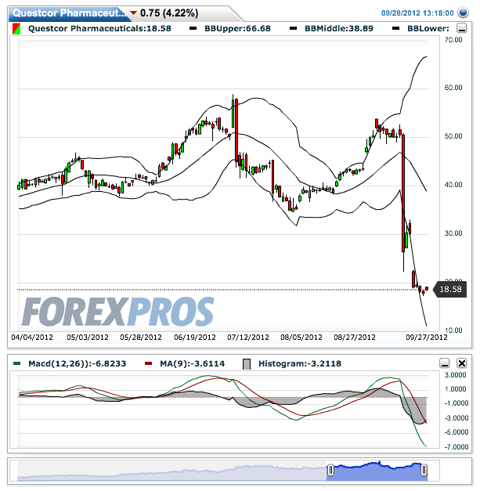 The Reward
QCOR manufactures two drugs. Its main drug, H.P. Acthar Gel, a wonder drug which is approved by the FDA for thirteen different types of diseases and disorders, accounts for 95% of revenue, a fact that makes its earnings surprisingly easy to estimate; especially considering 2/3 of this report has already been revealed to us by the company. Now all we have to do is estimate the rest.
July, August, & September [Q3] 2011: 2,910 Acthar vials
July & August 2012: 1650+2190 = 3,840 Acthar vials
July and August of 2012 alone account for 31.9% more vials than all of Q3 2011. That means 31.9% revenue growth in the bag right? Wrong. From Q3 2011 to Q2 2012, which is the closest estimate we can get to today's prices, the price of Acthar increased 23%: from about $20,549 per vial to about $24,500 per vial. To get the full force of this effect, we must multiply 1.23 * 1.319 = 1.62, or a 62% YOY increase over Q3 2011 in revenue from Acthar vials this year from July and August alone.
So how many vials does QCOR need to sell in September to meet expectations? Far less than its 12-month average of 1427.5 vials per month, and six-month average of 1680, not to mention its two-month average of 1920 vials per month this quarter. To estimate the number of vials needed to meet expectations, we will take the average analyst revenue estimate of $126,666,000, and divide it by the average price per vial last quarter. $126,666,000 / 24,500 = 5170 vials, or 5170 - 2190(August 2012) - 1650(July 2012) = 1330 September 2012 vials. This is 30% less than the average vial per month so far this quarter. Using the six-month vial average, the median of the three available, we find a standard deviation of 264.9. (1680-1330 = 350; 350/264.9 =1.33 standard deviations from the mean) This means the number of September vials will fall above 1330 with 90.8% confidence using the 6-month average. However, we have an outlier on the positive side of 2190 vials, which skews the results. Therefore, we can take the standard deviation of the values below the mean, or "semi-deviation" to measure only downside risk, which we find to be 191.5, a more accurate value. (1680-1330)/191.5 = 1.82 standard deviations from the mean. This means that with 96.6% confidence, we can say the number of vials will be above 1330.
Our Revenue Estimates
To estimate the final month of the quarter, we took the total number of vials in the first two months of the quarter, and divided them by the total number of business days in the first two months of the quarter: 3840/44 = 87.2727 vials per day. We then multiplied this by the number of business days in September to render 87.272*19 = 1658 September vials, right around the 6-month vial average. This equates to 5,498 total vials this quarter, a YOY increase of 88.9%. To calculate the revenue growth, we multiply this increase in vial shipments by the increase in price per vial 1.889*1.32 = 2.323, or a 132.3% increase in revenue YOY this quarter. This is our middle estimate, and we also must determine a high-low spread using this same exact method. To calculate the low spread, we used only July monthly shipments to project September, and for the high spread, we used only August to project September. Vial shipments increased 33% from July to August, so this will provide us with the best and worst case scenario come October 22. Using this same method, our high estimate is 5,649 vials, and our low estimate is 5,333 vials. These project to 125% and 138.8% revenue growth YOY respectively. So our high-low spread looks like this (revenue = number of vials * $24,500 price/vial):
Q3 2012
High: 5,649 vials, $138,400,500 revenue, 138% YOY growth, 9% beat;
Mid: 5,498 vials, $134,701,000 revenue, 132% YOY growth, 6% beat;
Low: 5,333 vials, $130,658,000 revenue, 125% YOY growth, 3% beat;
Given all three estimates beat analyst expectations, the only thing that matters come earnings season, and given that our standard deviation rendered probability of more than 90% that revenue will beat estimates, we can say with as close to certainty as you can get these days that revenue will exceed analyst expectations.
The Risk
As Questcor discussed in its recent investor conference, there is a worst case scenario potential of 5% decrease in coverage its main drug Acthar in September as a result of insurer Aetna's (NYSE:AET) recent policy bulletin. However, in the words of Stephen L. Cart, Chief Operating Officer, "At present, we are seeing little to no change in case-by-case coverage decisions regarding Acthar...we view the recent details of their coverage policy has bought the latest incremental change in our five-year process of seeing a slow, but steadier evolution of coverage criteria." It is important to note that initial denials of Acthar by insurance companies are frequent. After these denials, the coverage decisions are often appealed successfully. Given that there is much left up to the interpretation of the reader in Aetna's recent policy bulletin, Aetna has decided to review and issue a new one on October 13, which should clear much of doubt surrounding the company.
However, we have already accounted for the worst case scenario in all of our previous estimates. Because Aetna accounts for 5% of Questcor's revenue, the worst possible outcome of this situation is a decrease in revenue of 5%. Considering that all of our estimates were made by using only the drug Acthar, which account for 95% of Questcor's total revenue, this is adequate to more than account for possible downside risk, as we have effectively projected this 5% decrease in revenue over all of Q3 instead of just September. Therefore, our estimates withstand this downside by already pricing in the lowest possible outcome.
While our earnings estimates more than account for this 5% decrease in coverage scenario, the market has already more than priced in this development as well. Though this policy bulletin was published by Aetna September 14, QCOR dropped as much as 56% on September 19th, the day Citron Research published an article about the company. Citron's disclaimer "The principals of Citron Research most always hold a position in any of the securities profiled on the site. Citron Research will not report when a position is initiated or covered," could be interpreted as a conflict of interest, as it refuses to reveal positions to the public.
Oppenheimer Funds raised its QCOR price target from $59 to $69 on September 18, the day before this article was published by Citron, even though the Aetna bulletin which forced prices down 56% five days after the fact had already been released to the public. Six days later, once the stock had already dropped by more than 60%, Oppenheimer downgraded QCOR, perpetuating the downward spiral even further. Whether these firms, along with many others in the world today, are right, or are perpetuating price booms and bursts on purpose, providing negative news about the company to further its own financial interests, or are simply extremely incompetent at research is for the reader to decide. However, the point is that in order to be successful, individual investors must do their own research and make their own judgments about investing decisions instead of letting others tell them what to do. That includes the readers of this article, as everything should be taken with a grain of salt. The best and most reliable indicator is historical evidence and fact as without knowledge of history, no accurate determination about the future can be made, so this will be our focus.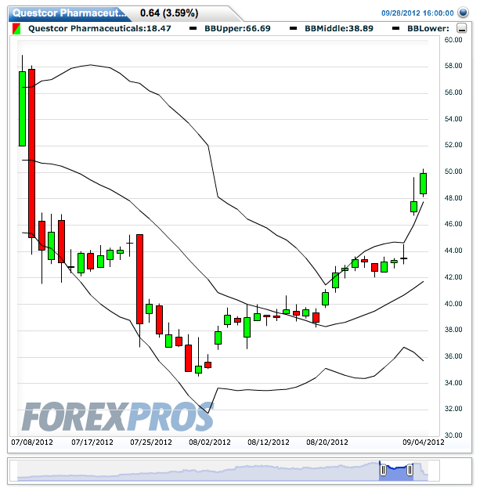 This graph shows the stock price movements of QCOR the last time Citron Research posted a negative article about QCOR on July 10, which coincided with the last time shorts combined to annihilate the stock. From June 29 to July 31, short interest increased from 16,628,414 to 20,547,728, or 23.5%. Another similarity is the strong pre-earnings data released by QCOR the day before the Citron article, leading up to the July 25 earnings report, a report which beat analyst estimates by almost 10%. In this instance, it took 17 business days after the Citron report for the stock to reach a low, and for shorts to begin covering their positions, leading to a 47.7% stock increase in the next month. We have an exact replica of this situation today to an even more amplified degree, except only the first half of the events have played out. We have an earnings report October 22, for which positive data has already been released, and from which the rest of the earnings can easily be estimated; days later we have a negative report from Citron followed by a 66% discount in stock prices. We do not, however, have NASDAQ short interest data for the end of September to be released October 9, which we eagerly await to determine the extent to which the current stock price drop was due to short selling.
Stock Price Forecast
The only chapter missing from this story is the final stage of the reverse law of gravity, or rapid stock rise. If today's scenario continues to mirror July's, QCOR will hit a low October 12, once again 17 days after the Citron Article, and shorts will begin to create a huge demand as they buy back their positions. While at first, this may seem like a blind estimate, it also coincides with the newest Aetna policy bulletin review scheduled for release on October 13, which we believe could restore investor confidence and ignite the momentum leading up to the October 22 earnings report; this report could then propel the stock even further leading to the recently announced new quarterly dividend of more than a 4% annual return per share payable to shareholders of record at the close of business on October 31, 2012, and stock buyback program of almost 12% of shares outstanding.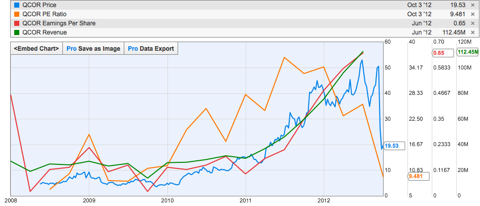 It is evident from the graph above that QCOR's price (blue) has moved in tandem with its revenue (green) and earnings (red). This correlation has been strong up until the recent events, as QCOR's P/E ratio today is the lowest it's been since the 2008 crash. However, if our revenue estimates are correct and this trend continues, using this price/revenue correlation and projecting it into the future using our revenue estimate renders a $68.344 value of QCOR, our best-case scenario and long-term price target. However, our more conservative upside estimate is $40 in the next two months, where QCOR will see resistance from the middle Fibonacci band shown in the graph at the top of the page, and also huge call option resistance at the $40 strike price. There will be a huge volume of call open interest at this price, which always tends to put downward pressure on the stock. At this point we will liquidate half of our position for a not so conservative return of 116%.
Is Overall Stock Market Risk Too High to Invest Now?
Before any investment decision can be made, every possible variable that can affect that investment must be considered. The market at large affects every stock in the market, and the correlation between the two is measured in the finance field by "beta." Especially with a stock that has been as volatile as QCOR recently, we know that there will be huge price swings. The problem is that the market could determine whether these price swings will be positive or negative. Market risk is referred to as "systematic risk" in academia, and, in theory, is the only type of risk that cannot be diversified out of a portfolio. Therefore, we always analyze the market at large before making an investment decision.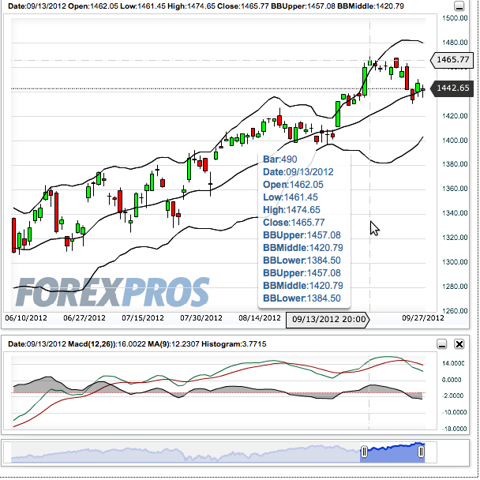 The market move down last week was the most since May, however, it has shown a large amount of upward support once reaching the middle black Fibonacci Band at 1440 shown in the graph above. In our last article, written on September 8, and published on September 13, we discussed the various reasons we believed a stock market correction was imminent, and targeted the 1475 level as our point of reversal. Now the S&P 500(NYSEARCA:SPY) did not quite reach this level, but came pretty close, hitting a 4-year high of 1474.65 on September 13, bouncing off of the highest black Fibonacci Band shown above. Currently, while we believe movement down to the 1400-1414 lower Fibonacci Band level is entirely possible, and probable to an extent of about 50%, hence the commitment of half our equity funds, we feel confident exploring long ideas at these price levels. Our strategy of committing half our funds will account for both the current market upside and downside. We will not miss out on gains, and in the case of a further correction, we will have a premium buying opportunity going into the holiday shopping season. We have found companies such as QCOR with fundamentals strong enough that will, in the long run, sustain a further correction of the market at large to make sure that we do not miss out on the coming market gains.
Conclusion
This investment decision comes down to whether investors want to put their faith in history and facts, or if they would rather put trust in Citron Research; or perhaps Oppenheimer Funds. In any other buying process on Earth, there would be a huge demand if prices were lowered by more than half. If the price of Apple's (NASDAQ:AAPL) iPhone 5 dropped in half tomorrow, demand would explode. Not to mention the fact that you could buy thousands of iPhones with the opportunity of selling them back to the market at their fair market value at a later date, which would be analogous to buying AAPL stock, another security we are currently bullish on, at a 50% discount with the intention of selling back to the market in the future. The stock market is the only market on the planet where if prices, in this case for companies, go on sale, buyers panic and run for the hills instead of lining up outside of Apple's Fifth Avenue cube store.
People let their fear get the best of them instead of focusing on the facts, and the fact is that QCOR is 66% cheaper than its 52-week high, just announced a new quarterly dividend of more than a 4%, a stock buyback program of almost 12% of shares outstanding, and has already earned 62% more so far in Q3 2012 than Q3 2011 in 66% of the time. Here lies the opportunity to buy a company with an estimated P/E of 6.96 at today's prices after an earnings report that will likely wow Wall Street, at our estimates of $133,322-$138,817 in revenue for Q3 2012, of 122%-138% YOY revenue growth, and a 8%-9.5% beat on analyst estimates.
As for the federal investigation into QCOR, these things take years to play out, and what we are focused on is the near-term benefits of owning the stock. Every company in existence has an unsure future five years from now, and we don't claim to know where QCOR's stock price will be that far into the future. What we do know is that reward far outweighs risk currently, and we are committing all available funds to this more than 170% potential stock price increase.
Disclosure: I am long AAPL, QCOR, TTWO, SKUL. I wrote this article myself, and it expresses my own opinions. I am not receiving compensation for it (other than from Seeking Alpha). I have no business relationship with any company whose stock is mentioned in this article.