One of the investable ideas when one looks at the future is the continued worldwide expansion of cell phones as a prevalent technology. Additionally, smartphone makers that continue to provide increased internet speed and computer-like accessibility should be primed for success. RF Micro Devices (RFMD) "designs, develops, manufactures, and markets radio frequency [RF] components and compound semiconductor technologies primarily in the United States and Asia primarily for cell phones. Its products enable mobility, as well as provide connectivity and support functionality in the mobile devices, wireless infrastructure, wireless local area networks, cable television /broadband, Smart Energy/advanced metering infrastructure, and aerospace and defense markets." This stock looks primed to benefit from 3G/LTE market growth going forward.
According to RFMD's Annual Report on Form 10-K for 2012, "the cellular market is rapidly transitioning to smartphones and tablets based on the High Speed Packet Access (HSPA) and Long Term Evolution (LTE) interface standards. Entry level 2G-only handsets are still shipping in large volumes, but this market segment is decreasing as a percentage of total handsets shipped. The rapidly increasing global demand for internet access, email, social media, video sharing, and other mobile applications is driving the demand for smartphones, tablets, and other mobile data devices." It also notes, "With smartphones growing faster than the overall handset market and containing more RF content, we expect our addressable market to grow faster than the overall handset market."
Customers
In fiscal year 2012, Samsung Electronics (OTC:SSNLF) accounted for 22% and Nokia (NYSE:NOK) represented 14% of net revenue. No other customer accounted for more than 10% of revenue. (source: Form 10-K) These are key statistics as historically RFMD's revenue was highly reliant on one or two handset makers. Nokia in 2010 and 2011 accounted for 55% and 39% of net revenue respectively. Investors should be liking this trend as it does limit some of the purchasing power of customers for RFMD and positions the company for more stable revenue in the future. This point can't be over-stated as this company has strongly suffered due to the economic decline and softened revenue from its limited customer base. Additionally, during FY 2012, 3G revenue went from 1/3 of cellular revenue to start the year to 2/3 by year end.
Rumors should not be a significant part of this analysis, but in another Seeking Alpha article, RFMD is rumored to be supplying a RF chip to the new Apple (NASDAQ:AAPL) iPhone 5. If this is indeed true, this would impact sales and customer mix going forward. Also, if sales are strong from this new mix of customers, Samsung and Apple's device popularity may lead to stronger demand for RF chips from RFMD.
Financial Statements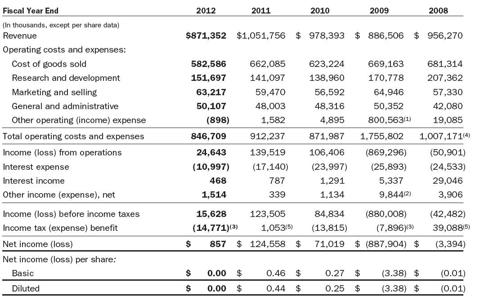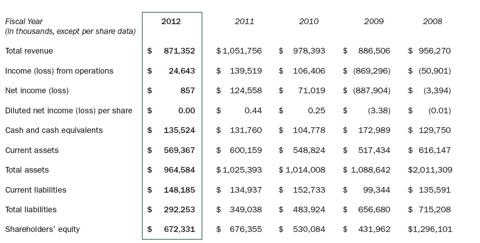 There are a few things to point out regarding the above statements. First, the company is keeping its liabilities in check by purchasing and retiring debt balances. This strategy has been pursued over the past few years with its outstanding convertible subordinated note issues. You'll also see this show up in the interest expense line. RFMD is continuing to look for acquisition targets to further its product portfolio and research and development. By having a leaner liability structure and a strong cash balance, RFMD should be positioned strongly here. Second, operating expenses have been very stable over the past few years and considerably the fixed part of the cost structure. 2012 was a rough year as the product portfolio shifted from legacy RF chips and products to more up-to-date 3G/LTE chips. A more robust revenue structure should help the gross profit considerably.
Strong Risks to the Valuation and Story
Industry practice allows customers to cancel orders with limited advance notice prior to shipment, and with little or no penalty. (source: 10-K)
Competition is very high in this space and semiconductors are considered a commodity business. However, there are high barriers to entry within this area. Radio Frequency technology is highly specialized and RF Micro Devices is a leader here, but must continue to stay ahead of competitors in order to receive recurring orders.
Competitors many times are customers and/or suppliers to RF Micro Devices.
Technical Analysis
(click to enlarge)

The above chart represents a 10-year look at RFMD's stock price. Excluding the gray shading (represents economic recession), one can see support at approximately a $4.00 price level and resistance around the $8.00 level. From a technical perspective, with the price of RFMD around the $3.94 level, shares look attractive at this price.
Conclusion
Due to the transient nature of the net income and lack of dividends, its very difficult to price the stock on a P/E or DDM basis. Top-line revenue is the most consistent measure of RFMD, and in my opinion, looks to be the best predictive multiple available. Looking at the range below, a median of 1.5x Price/Sales seems reasonable for a multiple.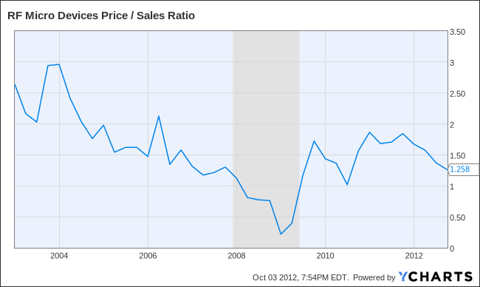 RFMD Price / Sales Ratio data by YCharts
Now let's take a look at what estimates are for revenue going forward (see below). As of year-end, 2012 (diluted) shares outstanding are 282,576,000. Based on the March '13 numbers below, we get a revenue estimate range of $2.81 to $3.06 revenue/share. The average estimate would be $2.91 revenue/share.
Revenue Est
Current Qtr.
Sep 12
Next Qtr.
Dec 12
Current Year
Mar 13
Next Year
Mar 14
Avg. Estimate
197.99M
217.19M
822.23M
916.53M
No. of Analysts
19
19
20
20
Low Estimate
194.55M
207.00M
792.66M
830.86M
High Estimate
203.70M
233.00M
864.40M
1.07B
Year Ago Sales
243.81M
225.42M
871.35M
822.23M
Sales Growth (year/est)
-18.80%
-3.70%
-5.60%
11.50%
Source: Yahoo Finance
Taking the average estimate of $2.91 revenue/share multiplied times a 1.5x Price / Sales gets a price of $4.36 per share. This target price represents 13% upside from current levels. For next year's revenue number, and applying the same metric, I would see a conservative price estimate of $4.87, or 26% upside. While I would expect that multiple expansion would occur if these revenue numbers are met, it's very difficult to predict what reasonable level of expansion could occur in this scenario. Due to this, I would anticipate further appreciation past the previous targets I've placed. Please note that this mid-cap name is extremely volatile, and any investors interested should be very patient with the investment. My current position in RFMD is expected to be long term in nature due to this thesis.
Disclosure: I am long RFMD. I wrote this article myself, and it expresses my own opinions. I am not receiving compensation for it (other than from Seeking Alpha). Any compensation received from Seeking Alpha for this article will be donated to Literacy Volunteers of Bangor, Maine. I have no business relationship with any company whose stock is mentioned in this article.