As my readers are well aware, I have been bullish on shares of Marvell Technology Group (NASDAQ:MRVL) for the last several months. I incorrectly expected that earnings would come at least in-line and, until recently, have been fairly perplexed at the strong downward pressure that the company's shares have experienced year-to-date. In this article, I plan to provide a rigorous fundamental analysis of the company and leave no stone unturned. Is Marvell a screaming value or a value trap to run screaming from? Let's find out.
Background: What Does This Company Make?
Marvell is a fabless semiconductor company that focuses on three major market segments: storage, wireless and mobile, and networking.
The first segment, "storage," makes up 47% of the company's revenue. It consists primarily of controller systems-on-chip for hard disk drives, solid state drives, and hybrid drives. In addition to the controllers that are found directly on the drives, the company also makes various storage-related semiconductors, such as SATA and SATA port multipliers. Rather than being found embedded onto the storage device, these are processors that allow storage devices to communicate with the rest of the computer system.
The next business segment, weighing in at 22% of revenue, is "networking," which is then divided into two sub-sectors: cloud infrastructure and service provider infrastructure. This includes network switches, transceivers, embedded systems-on-chip, and other technologies required to build network infrastructure in a number of environments.
Comprising 27% of revenue, the final major business segment is "wireless and mobile." Smartphones are the "hot" growth industry at the moment, so this is a segment that investors are keenly watching. The company provides baseband/modems as well as full system-on-chip solutions for smartphones.
The Storage Segment: Tied To PC Headwinds
The performance of the storage segment is key to the firm's top and bottom lines. In the most recent quarter, the segment saw a 7% sequential increase from the prior quarter. Unfortunately, while growth is good, the company had guided for a revenue increase of 10-15% sequentially - meaning this quarter was a nontrivial miss.
So, what happened? Well, the revenue miss in this important segment immediately brings up a number of questions:
Is the company losing market share?
Is the broad secular shift to solid state drives from hard disk drives a long-term detriment to the business?
Are the issues temporary, or are longer-term industry trends likely to be headwinds?
Market Share
Before last year's Thailand flooding that ended up causing a significant shortage on the hard disk drive side, Marvell had projected that by the end of 2011, the company's market share would increase from roughly 60% to about 70%. Unfortunately, this didn't happen. According to Marvell's most recently filed 10-K, Western Digital (NYSE:WDC) was Marvell's largest customer in fiscal 2012. Western Digital was much more adversely affected by the floods, and so Seagate - and by extension Marvell's competitor, LSI Corporation (NASDAQ:LSI-OLD) - gained disk drive share at Marvell's expense.
At the Deutsche Bank (NYSE:DB) dbAccess 2012 Technology conference, it was noted that post-floods Marvell's share was in the "mid to upper 50s" and that the company expects that exiting next year the firm will gain "at least five points of share." The confidence here primarily comes from the fact that Marvell is currently the only company that supplies a 500GB/platter controller and that the technological difficulties surrounding this technology give it a sizable head start over its competition.
A thing to note is that 500GB/platter support is non-trivial and a lead here represents a key technical advantage. This allows higher capacity drives in smaller form factors (since less platters need to be used), which is advantageous to bringing high capacities to "ultra-thin" notebooks.
Finally, to directly address the share question in the most recent quarter, CFO Clyde Hosein noted at the last earnings call:
But with respect to Marvell, it's actually share increases as we saw earlier. There's no -- any share. At any particular customer, I don't think there's any meaningful share erosion anywhere.
It seems that market-share erosion is not an issue and as higher density drives take over, Marvell will be better positioned than the competition in the space. Of course, should LSI roll out a 500GB/platter hard disk controller, Marvell's competitive advantage in the HDD controller space will dull.
Impact Of Solid State Drives
The next major point to consider is that there is definitely a broad secular shift to solid state drives on the consumer side of things. Solid state drives consume less power, run much quicker, and are much less fragile than traditional hard disk drives. The only thing that prohibits widespread adoption of solid state drives in the status quo is that the cost per gigabyte on these drives is significantly higher than that of traditional hard disk drives.
That being said, the cost of NAND flash is coming down, making decent sized drives accessible at decent prices, so there will be further migration to these new drives. So, is this a positive or a negative for Marvell?
Interestingly enough, on the most recent earnings call, CEO Sehat Sutardja noted that the firm's market share in the SSD controller business is at least as good as its share in the HDD controller business. This certainly makes sense as Micron (NASDAQ:MU), OCZ Technology Group (NASDAQ:OCZ), Plextor, and others currently utilize Marvell's controllers. However, some major headwinds are approaching:
OCZ, the largest independent developer of solid state drives, is switching to an internally-designed "Barefoot 3" controller for its upcoming "Vector" series of drives. OCZ is a major player in the SSD space, so the loss of future business here should not be ignored.
The major SSD companies that own their own NAND flash fabs (these are the players also likely to win out) are also - or are actively developing - their own flash controllers. Samsung already uses an internally designed controller, Micron is developing its own controller, Hynix acquired Link-A-Media for controller technology, and Seagate (NASDAQ:STX) is also working on its own controller via its stake in DensBits.
LSI's acquisition of SandForce, one of the more popular suppliers of controllers for consumer drives, positions it quite well against Marvell in the space.
Intel (NASDAQ:INTC), which stopped building its own controllers, originally used Marvell silicon but has most recently switched to LSI/SandForce solutions.
Essentially, Marvell and LSI will be battling for the fabless SSD companies' business. The problem is that with the NAND producers competing in the space, the fabless companies will likely find it much more difficult to compete (OCZ recently warned on an inability to procure enough NAND to fill orders).
On that note, Marvell has been posting double-digit revenue growth in the solid state drive segment, and has been particularly strong in providing hybrid SSD/HDD controllers to the hard disk manufacturers. It is unclear how well hybrid drives will perform in the market, but should they emerge to be the dominant storage devices of the future, Marvell's position to capitalize on this is healthy.
Term Of Weakness
The big question then is: is Marvell's weakness in the storage controller space going to be short term or long term? Well, it really depends on whether Marvell can continue to ride the solid state drive controller wave, and if the PC sector in general manages to stabilize and resume on a growth path.
An encouraging report from DigiTimes was published October 3, noting that notebook shipments had managed to rebound in September after a depressing August. The weak sales were attributed primarily to ODMs clearing out stock of Windows 7 based devices to make room for Windows 8 designs. The reception of Windows 8 PCs will be a key indicator of the PC's health in the longer term.
Networking Sector - Doing Just Fine, Not Much To See Here
While this is the smallest and slowest growing of the three major segments by revenue for the company, it has been performing to expectations. The segment performed in-line with expectations in the most recent quarter, posting a 4% sequential increase. New product growth came in at 25% sequentially, and the company noted "excellent traction" in network processors. The forecast was modest but in line with expectations at low single-digit sequential growth.
Of note in this segment is that Marvell actually has a custom-designed quad core ARM-compatible server processor called "Armada-XP" that has seen some traction with Dell (DELL). To date, Marvell is the only company to ship production-ready ARM-based chips for servers. Continued growth of non-Intel servers could bode well for Marvell should it aggressively pursue the space.
Wireless & Mobile: The Fly In The Soup
The segment that receives a lot of attention is the "wireless and mobile." Understandably, as PCs mature, the next "hot" growth segment will be smartphones and tablets. So it is worth examining Marvell's competitive positioning in this high-growth area of computing.
In the smartphone space, Marvell primarily produces system-on-chip products for the TD-SCDMA markets such as China. The company's aim isn't to try to have the fastest or most feature filled solutions as do companies such as Qualcomm (NASDAQ:QCOM), Nvidia (NASDAQ:NVDA) and Intel. Rather, the goal is to provide an inexpensive, "good enough" solution for the vast majority of phones.
This business strategy is actually fairly sound. Rather quickly, smartphone performance will reach the point of diminishing returns, so a reasonable strategy is to try to bring "good enough" to the mass, high volume phones. Marvell was actually one of the first to recognize this and had cornered over 70% of TD-SCDMA market in China with its integrated baseband + application processor solutions.
Due to this success, Marvell's "wireless and networking" business was booming. However, the company started to face headwinds to its efforts in this high growth segment. Companies such as Spreadtrum Communications (NASDAQ:SPRD) and MediaTek have emerged as fairly fierce competitors in the TD-SCDMA space and have been taking share. Further, the recent announcement from Qualcomm stating that it was going to provide a reference design for TD-SCDMA/TD-LTE in Q1 2013 will likely prove to be a major headwind.
As a result, Marvell's revenue in the space has been shrinking and for the next quarter, the company guided to yet another sequential decrease in sales. The space is simply becoming more crowded, and the company will need to fight to maintain its share. The company is also aiming to start competing for baseband wins more aggressively in the traditional 3G/4G markets. Speaking of which, there's another nontrivial weight on the company's stock - Research In Motion (RIMM)
So, Let's Talk RIM
Another major part of the Marvell growth story was RIM and the "BlackBerry" line of smartphones. According to the most recently filed 10-K, in Fiscal 2011, RIM represented 14% of the firm's revenue, but in 2012, this was no longer the case. This is actually due to two major factors:
In March 2011, Marvell noted that RIM was shifting focus to lower end rather than the higher end phones that Marvell typically occupied
RIM itself has been bleeding market share, so total sales there are down.
More troubling, however, is that the recent leaks suggest that RIM will be using the Qualcomm Snapdragon S4 in its new "BlackBerry 10" phones. It is likely that in conjunction with the Qualcomm application processor that RIM will also use Qualcomm baseband. In short, it does not seem likely that Marvell will retain RIM as a customer in the smartphone space going forward.
However, this is likely immaterial going forward as the "damage has been done" with respect to RIM and Marvell here.
The Most Recent Earnings Miss: Why No Heads Up?
Probably the single most shocking thing to Marvell investors was the negative surprise for the quarter ending on July 28, 2012. The company missed its own revenue projections of $840M - $890M significantly when it reported in at $816M. The guided range already represented a modest year-over-year decline from $898M, but the miss added even more fuel to the fire.
While the miss was an issue, the lack of warning on a miss of this magnitude is troubling and reflects poorly on management. This is likely an overhang on the stock as investors are now likely to be suspicious about whether the company's guidance can be trusted going forward.
That being said, the issues that Marvell faced were clearly not contained to the company itself - the PC market did slow down considerably. In addition, the guidance given for FQ3 seems conservative enough and fairly in-line with the guidance from the other PC players.
Valuation - Room For A Leveraged Buyout?
A major positive here is the valuation. The company has $2.1B in cash and cash equivalents, no debt, and a market capitalization of $5.18B, which means the business itself is valued at just over $3B or less than 1x projected sales for FY2013 ex-cash.
In the trailing twelve months, Marvell has generated $718M in operating cash-flow and $448M in free-cash-flow. It is due to strong cash flow metrics coupled with low valuation that Nomura Securities (NYSE:NMR) believes that there is a strong case for the owners taking the company private for $7.4B (a bit over 30% premium).
While buyout speculation is unfortunately fruitless, as these things tend to happen when they are least expected, this does highlight the extremely low valuation and the potential bargain that shares could be in the long term.
Return Of Cash To Shareholders
Another bright spot is that the company has been excellent about returning cash to shareholders. It helps, of course, that the CEO and his wife own ~47M shares, or just under 10% of the company, but it's good to know that the management's interests are aligned with those of investors.
Since the start of 2011, the share count has been aggressively cut from about 650M to 563M today: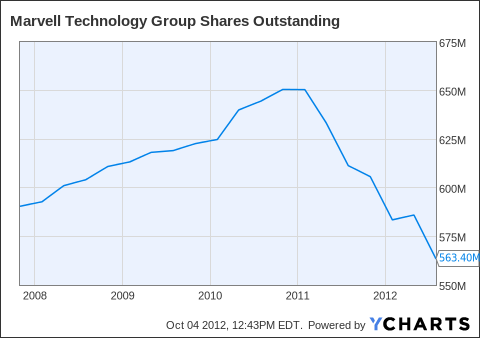 MRVL Shares Outstanding data by YCharts
Unfortunately, the timing of these purchases implies that Marvell has spent a significant portion of shareholders' money on shares at a significant premium to today's prices. Buybacks are supposed to create value, not destroy it.
Further, the company now pays a dividend of $0.24/year. This represents a fairly modest yield of 2.59%, but the hope is that the dividend will grow from here as the payout ratio is still quite low at 31% of TTM earnings.
Conclusion
Marvell's stock has been hit significantly, losing 33% year-to-date. This is due primarily to earnings multiple contraction based on shrinking revenue in both its core storage business (primarily due to macroeconomic headwinds - not market share loss) as well as its wireless and mobile business (this is market share loss).
However, attractive valuation metrics of less than 1x sales and 7x trailing twelve month earnings ex-cash, the potential for an increased dividend, the share buybacks, the looming possibility of the company being taken private, and enough cash on hand to aggressively pursue R&D in its core businesses make shares of the company a "buy" on a long-term basis.
Disclosure: I am long INTC, MRVL, NVDA, QCOM. I wrote this article myself, and it expresses my own opinions. I am not receiving compensation for it (other than from Seeking Alpha). I have no business relationship with any company whose stock is mentioned in this article.