By Ahmed Ishtiaq
ConocoPhillips (NYSE:COP) is one of the world's biggest production and exploration companies based on oil production and reserves. The firm searches for gas and oil in more than 30 countries and has reserves of 8.4 billion barrels of oil equivalent. COP produced approximately 1.6 million barrels per day in 2011. In 2012, ConocoPhillips spun off its refining and marketing unit as Phillips 66 (NYSE:PSX). Prior to the spinoff, the company had a refining capacity of more than 2.2 million barrels per day. The firm also had 8,300 retail outlets in the US under the 76, Conoco, and Phillips 66 brands, and at 1,700 owned or dealer-owned gas stations in Europe.
Dividend History:
ConocoPhillips offers impressive dividends and a strong history of dividends. Currently, the firm has a dividend yield of 4.60%, and an annual dividend of $2.64. In 2005, the company executed a 2-for-1 split, which caused the per share dividend to come down. However, the change was merely numeric, and the rate of dividends remained unchanged. COP has a low payout ratio of 31%. In order to assess the dividend sustainability of the company, I take a look at the cash flows, debt and earnings of the company.
Dividend and Dividend Yield: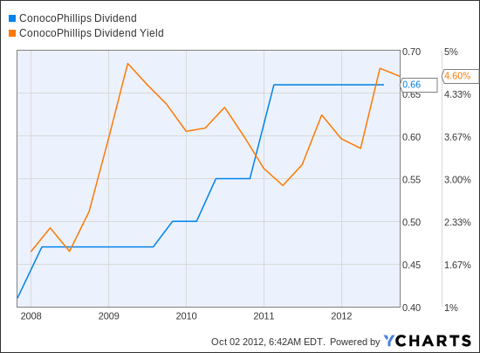 COP Dividend data by YCharts
Earnings:
ConocoPhillips has demonstrated massive revenue growth during the past three years. At the end of 2009, ConocoPhillips revenues stood at $152,390 million, which climbed up to $251,226 million by the end of 2011. Consequently, net income for the company almost tripled over the past three years. At the end of 2009, ConocoPhillips' net income stood at $4,414 million, which went up to $12,436 million by the end of 2011. In May 2012, the company spun off the refining segment into a separate company, Phillips 66 PSX. Now the company is turning its focus to growth. However, for the recent quarter, ConocoPhillips' profit fell 33 percent after losing income from its refining segment. Net income dropped to $2.27 billion, or $1.80 a share, from $3.4 billion, or $2.41, a year earlier.
Cash Flows:
ConocoPhillips generates massive amounts of cash flows from operations. Over the past three years, the cash flows from operations for the firm have increased substantially. At the end of 2009, cash flows from operations for ConocoPhillips stood at $12.4 billion, which went up to $19.6 billion by the end of 2011. The increase in cash flows from operations is in line with the increase in the total revenues. The firm is managing its operations efficiently and converting most of its sales into cash flows. Over the past three years, the firm has invested substantially in the business. ConocoPhillips spent $33.88 billion in capital expenditures during the past three years.
The firm generated over six billion in free cash flows during the past year. COP paid $3.6 billion in cash dividends; the dividends of the company are covered adequately through free cash flows. The company also repurchased stocks worth over $11 billion. By the end of the second quarter 2012, the firm has generated over $6 billion in cash flows from operations. In addition, the firm issued $1.66 billion in cash dividends and repurchased shares worth of $4.94 billion.
Debt:
ConocoPhillips had total long term debt of $22.6 billion at the end of the previous fiscal year. The total long term debt for the company came down from $23.5 billion in 2010. Although the debt levels seem high for the company, it is normal for a company of such big size to have high debt levels. Even with these high debt levels, the firm has a manageable debt to equity ratio of 0.4 as compared to the industry average of 0.8.
Peer Comparison:
| | | | | |
| --- | --- | --- | --- | --- |
| | ConocoPhillips | BP | Exxon | Chevron |
| P/E | 6.60 | 7.80 | 9.70 | 8.7 |
| P/B | 1.50 | 1.20 | 2.60 | 1.80 |
| P/S | 0.30 | 0.40 | 0.90 | 0.9 |
| EPS Growth | N/A | 6.40% | -0.90% | 4.80% |
| Operating Margin | 9.00% | 6.90% | 16.00% | 19.30% |
| Net Margin | 4.50% | 4.50% | 9.10% | 10.80% |
| ROE TTM | 19.30% | 15.70% | 28.30% | 21.70% |
| Debt to Equity | 0.40 | 0.40 | 0.20 | 0.10 |
Source: Morningstar.com
ConocoPhillips peers include BP PLC ADR (NYSE:BP), Exxon Mobil Corporation (NYSE:XOM) and Chevron Corp (NYSE:CVX). It is evident from the table that the firm is trading at a discount compared to its peers based on multiples. In addition, the firm has impressive margins and attractive ROE. ConocoPhillips has a manageable debt to equity ratio of 0.4. This ratio is almost the same as that of BP, but higher than Exxon's and Chevron's D/E ratios. Nevertheless, it is still pretty low.
Summary:
ConocoPhillips is the third largest US oil group based on the market capitalization. The firm has impressive growth opportunities in the North Sea, Malaysia, Australia and onshore and offshore US. The firm is a giant when it comes to cash flows generation. In addition, the firm uses a conservative payout ratio of 31%, which should enable the firm to manage its dividend payouts. ConocoPhillips' dividends are covered adequately by the free cash flows. At the moment, the stock is trading at a discount compared to its competitors. While this discount is partially due to the recent spinoff, the company has enough assets to cover its nifty dividend payments for the near future. I believe ConocoPhillips shareholders are going to enjoy juicy dividends for the foreseeable future.
Disclosure: I have no positions in any stocks mentioned, and no plans to initiate any positions within the next 72 hours.
Business relationship disclosure: EfsInvestment is a team of analysts. This article was written by Ahmed Ishtiaq, one of our writers. We did not receive compensation for this article (other than from Seeking Alpha), and we have no business relationship with any company whose stock is mentioned in this article.