In the election season, it's common for voters to worry shifting leadership may affect legislation. This fear is particularly acute for gun owners, who have been ramping up purchases this year ahead of November's election.
Year-to-date, gun background checks are running 12% above 2011 levels. Even more impressive, year-to-date checks are an eye popping 69% higher than this time in 2007 and 55% higher than 2008.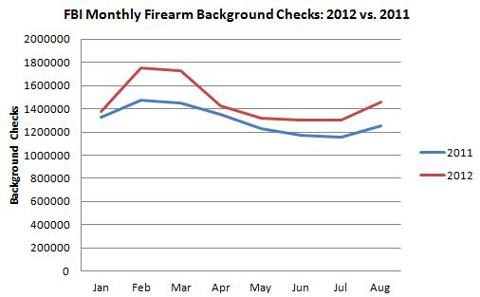 This has been good news for manufacturers, including Sturm Ruger (NYSE:RGR) and Smith & Wesson (SWHC). In fact, the past four years have been a boon for shareholders as profits at both companies have moved significantly higher.
At Smith & Wesson, earnings per share are expected to nearly double this year from 2008. At Ruger, earnings are expected to climb to $3.18 this year, up from $0.50 in 2008.
| | SWHC | RGR |
| --- | --- | --- |
| 2008 | $0.22 | $0.50 |
| 2009 | $0.26 | $1.42 |
| 2010 | $0.35 | $1.46 |
| 2011 | $0.22 | $2.09 |
| 2012 | $0.43 | $3.18 |
| 2013 | $0.87 | $3.08 |
This profit growth has come as sales have grown substantially, with higher volume leveraged against fixed operational costs. In the most recent quarter, Smith & Wesson saw revenue grow 48% year-over-year. At Ruger, sales were 50% higher in last quarter versus a year ago.
Both companies are enjoying strong demand.
In Smith & Wesson's September Investor Presentation, the company cited quarterly unit growth of 30.1% and a backlog of $392 million versus $148 million a year ago. A lot of the strength has been the result of higher demand for concealed carry weapons, which have seen rapid growth following state legislative action last year. The results have been strong enough to allow Smith & Wesson to boost its FY2013 guidance to $0.85-$0.90 per share on $530-540 million in sales, up 30% from FY12.
At Ruger, Q2 sales of 119.6 million were driven by a 55% lift in units. The revenue helped cash and equivalents increase $14.9 million to $96 million so far this year, despite paying out 40% of net earnings as dividends. The company's balance sheet is debt free and shares are currently yielding 3.3%.
The biggest risk to both players remains legislative risk, and short sellers have positioned accordingly.
At current levels, it will take nearly 15 days of average volume to unwind the short position in Ruger. At Smith & Wesson, it will take just shy of 4 days of volume.
Both stocks are also extremely volatile.
The standard deviation of monthly returns since 2007 for Smith & Wesson is a nerve racking 21.47%. At Ruger, it's a bit better 14.64%. But, both are notably higher than the Russell 2000's (NYSEARCA:IWM) standard deviation of 7.25%.
Neither has a seasonal tendency toward upside in Q4, either. While the stocks have posted final quarter gains in each of the past two years, those two years mark the only Q4's over the past 5 to produce returns for shareholders.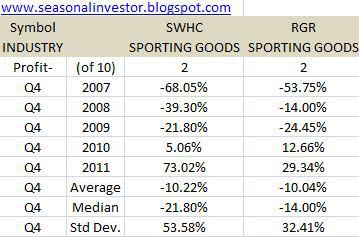 While background checks indicate significant sales momentum heading into year end, their volatility suggests only the most iron-stomached and disciplined investor should take a stab at trading shares. For those inclined, a solid sell discipline and small percentage position size is best.
Disclosure: I have no positions in any stocks mentioned, and no plans to initiate any positions within the next 72 hours. I wrote this article myself, and it expresses my own opinions. I am not receiving compensation for it (other than from Seeking Alpha). I have no business relationship with any company whose stock is mentioned in this article.