This article is a follow up to my September 28, 2012 article on Vale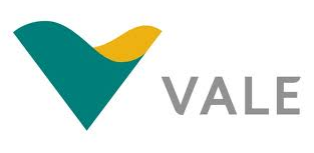 Wednesday's Financial Times published an interview with the Chief Executive of Vale (NYSE:VALE), Murilo Ferreira. The message in the article, entitled, "Ferreira Dispels Vale Investors' Worst Fears", was positive and reassuring. The worst fear, according to correspondent Samantha Pearson, was that the miner would change its emphasis from the huge Chinese market and focus on the weak Brazilian steel industry. That is not the case.
CEO Ferreira visits China about four times a year and is a close follower of the Chinese economy. His study of that country's banking reports led him to believe that steel makers there are suffering from temporary cash flow problems. One of the issues is the volatility of consumption. The studious Mr. Ferreira revealed that, "I often end up reading Chinese economic data well into the early hours of the morning".
Mr. Ferreira is bullish about the new Chinese infrastructure stimulus package and believes that "iron ore prices could trade between $120 and $140 a tonne over the next 12 months." That could bode well for Vale's stock price which has plummeted as it followed the price of iron ore down from a 2011 high of $200/tonne to a recent low of $86/tonne. For the current owner of Vale shares, the stock is a hold. It should prosper under Mr. Ferreira's leadership.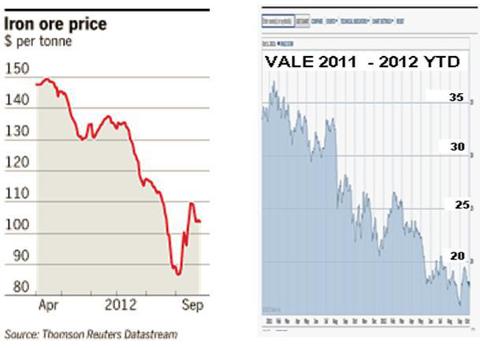 The above charts show a strong correlation between the price of iron ore and the market price of Vale, and rightly so. This one product accounts for 71% of the miner's revenue. In contrast, the other two of the world's three largest miners have greater product diversity. Iron ore accounts for 31% of BHP Billiton's (NYSE:BBL) income and 49% of Rio Tinto's (NYSE:RIO). In the long term, that is a weakness of Vale. Any one commodity has much wider price swings than the aggregate of several, which could include copper, coal and petroleum products. There is reduced risk in diversity, as shown below in the one-year chart of the three miners, BHP Billiton and Rio are up for the year, and Vale is down.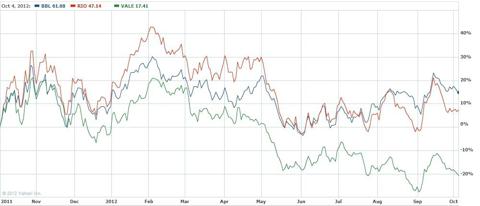 However, in the short term Vale should rise along with the price of iron ore. It is likely that the average price of iron ore in 2013 will be about $130. I believe it is equally likely that the price of Vale will rise to the $23 to $25 range. Therefore, there is an opportunity for a significant profit for the trader. For the longer-term investor, this appears to be a very opportune entry point, as indicated by the fundamentals.
Disclosure: I am long BBL. I wrote this article myself, and it expresses my own opinions. I am not receiving compensation for it (other than from Seeking Alpha). I have no business relationship with any company whose stock is mentioned in this article.