By Sabina Bhatia
Back-to-school numbers are hitting the tape and it's time to start fishing for retailers that fit our portfolios.
Here we want to focus on the discount retailer Target (NYSE:TGT), which has finally made a comeback offering some great value to designer shoppers who don't want to pay full price. We'll examine if the stock valuation presents a great value for an investment.
Same-Store Sales
Back-to-school results are out. Target posted September same-store sales that topped analysts' estimates, helped by the last rush of back-to-school shopping, while department stores trailed projections. The company's net retail sales for the five weeks ended Sept. 29 were $6.075 billion, an increase of 2.6% from $5.923 billion for the five weeks ended Oct. 1, 2011. On this same basis, September comparable-store sales increased 2.1% vs. the estimated 2% increase.
While department stores such as Macy's (NYSE:M) are missing estimates, discount retailers such as Target and TJX Companies (NYSE:TJX) are making a comeback. We've been looking at the performance of retailers since the recession started in 2007. It's pretty clear that consumers are used to sales. The mantra since 2007 has been "No discount, no purchase." Hence, we find names like Target and TJX beating analyst's estimates, while Macy's reported an increase in sales of 2.5% vs. consensus of 3.3%.
The chart below compares share performance over the past year. (The letter "E"s mark earning reports.)
Click to enlarge image.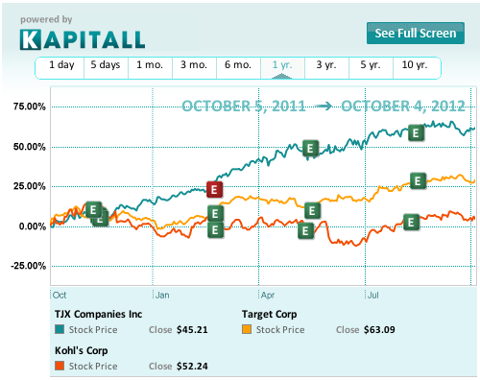 Valuation

Target is trading at $63.83 and a P/E multiple of 14.4 times (its dividend yield is 2.25%) vs. TJX at 18.5 times (its dividend yield is 1%), and KSS at 11.2 times (its dividend yield is 2.47%). Target, which operates about 2,000 stores across the U.S., on June 13 increased its quarterly dividend 20% to $0.36 per share. This translates into double-digit dividend growth since 2005. Although the most recent dividend increase is an attractive catalyst to get our focus, the heavy debt burden on the balance sheet is still a concern. It becomes a bigger concern in an environment where consumers are watching every penny they spend.
Facts About Target's Balance Sheet
As of July 28, 2012, the company has $1.4 billion in cash and cash equivalents, and $17 billion in unsecured debt obligations. Also to be noted, it has close to $3 billion is in short-term borrowings. A highly levered company can reverse its dividend payout very quickly when sales drop in a recessionary environment.
Conclusion
Although Target is currently an attractive dividend growth story, we think a watch-and-wait strategy might pay off in the longer term. We would like to continue to see consistent sales growth and dividend growth going forward before we get excited about this levered balance sheet.
To learn more about the retailers making a comeback, click here.
Disclosure: I have no positions in any stocks mentioned, and no plans to initiate any positions within the next 72 hours. I wrote this article myself, and it expresses my own opinions. I am not receiving compensation for it (other than from Seeking Alpha). I have no business relationship with any company whose stock is mentioned in this article.