Commodity Chart Of The Day
Daily 30-Year Bonds
(click image to enlarge)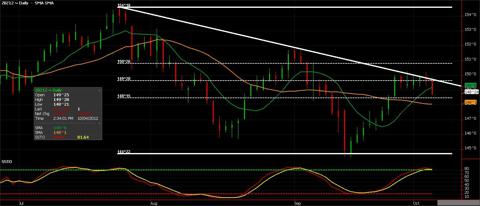 The chart above shows December 30-year bond futures. The same trend line that capped rallies in late August/early September acted as resistance this week as well. After a 50% Fibonacci retracement, bonds were unable to trade above 150'00.
Furthermore, see the stochastic rolling over from overbought levels.
There are a number of ways to trade this, from outright short futures to purchasing put options. I like the idea of selling futures while simultaneously selling out of the money puts. Or conversely, a NOB spread -- short 30-year bonds and long 10-year notes 1:1.
Treat this as a trade and ride prices down back under 146'00. I do not think we get a meltdown from here, and we should have more opportunities in the months to come to sell again from elevated levels.
Risk Disclaimer: The opinions contained herein are for general information only and not tailored to any specific investor's needs or investment goals. Any opinions expressed in this article are as of the date indicated. Trading futures, options, and Forex involves substantial risk of loss and is not suitable for all investors. Past performance is not necessarily indicative of future results.
Disclosure: I have no positions in any stocks mentioned, and no plans to initiate any positions within the next 72 hours. I wrote this article myself, and it expresses my own opinions. I am not receiving compensation for it. I have no business relationship with any company whose stock is mentioned in this article.