We had earlier touched upon Indonesia's phenomenal growth in the past years, which has won it a place in the bloc of nations promoted by Goldman Sachs (NYSE:GS) as "MIST." Indonesia's GDP growth rate of 6.5% last year, and 6.2% the year before, has been largely driven by strong domestic consumption, availability of easy credit, and rising investment in the country. The country is blessed with 1) natural resources that make a large part of the export sector and 2) a large young population. A favorable interaction of these factors has made Indonesia the second largest growing economy of the G20. It has become a favorite destination of investors around the world who look for economies that have proven to remain resilient in the face of financial crises and tepid growth in the developed world.
The Good
The most promising aspect of Indonesia's story is its strong domestic demand, which makes up 60% of its GDP, with exports chipping in 20%. Commodities in turn account for roughly 70% of the total exports. The slowdown in growth in China and Europe and the resulting fall in demand and price of commodities has caused Indonesia's exports to take a hit. The fall in exports and rising imports because of a burgeoning middle class demanding more products ranging from basic necessities like wheat to smartphones and tablets, has resulted in trade deficits that have weighed down on the local currency "Rupiah." The deficit in April 2012 was the first since 2008.
Another fascinating stimulus for Indonesian growth is its rising middle class that bodes well for the consumer market. It is no wonder that demand for discretionary goods is on the rise. Even though the largest portion of income is still directed towards essentials, the share of discretionary spending is rising, and in 2011 it stood at 54%. Businesses can benefit from the young population of Indonesia (61% are aged below 35 in 2011) in two ways. First, these 61% earn the highest gross income, which means they will be buying new homes, cars etc, and secondly, many of them are highly educated, which translates into a skilled workforce for multinationals looking to start operations in Indonesia. Sectors like transportation, communications, hotel and restaurant have benefited from the relatively high purchasing power of Indonesians. Also, the property sector seems well placed to benefit from the access of easy credit as the central bank keeps low rate.
Apart from a robust domestic demand, another driver of Indonesia's spectacular growth has been the rising foreign direct investment (Graph 1):
Graph 1: FDI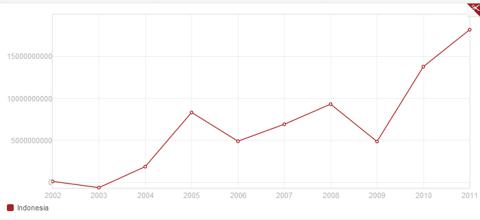 Source: Word Bank
Analysts predict that the FDI could exceed $19.1 billion in 2012. In the first half, this growth was chiefly driven by investment in mining and pharmaceuticals. The FDI grew by 30% YoY in the second quarter to $5.9 billion. In addition to foreign inflow, local companies spent some 20.8 trillion Rupiahs in the same quarter. Indonesia now ranks fourth among the top FDI destinations, following the U.S., China and India.
The Somewhat Bad
Indonesia is an archipelago, and the fact that one of its chief products remains commodities makes logistics in the country an important issue. As in Brazil, if one were to point out hurdles in doing business in Indonesia, the underdeveloped infrastructure would be on top of the list. For example, during the first five-year tenure of President Susilo Bambang Yudhoyono, only 125km of toll roads were added compared to 5000km of highways by China. Although plans have been cited to spend some $250 billion on infrastructure over a period of five years, what will really matter is the implementation of these ambitious plans. So far, it seems like the country has a long way to go in the implementation of these plans.
Concerns over the business environment have revolved around the degree of protectionism exercised by the government. Officials have stated that they want the benefit of growth to trickle down to all sectors of the economy. For example, they prohibited the export of rattan in a bid to bolster the domestic industry and thereby, create jobs. The policy did not have the intended effect and most of it remained unsold, dealing a blow to farmers. Furthermore, Indonesia implemented new mining laws which stipulated limiting foreign ownership of mines in an effort to restrict more profits within the country. This move could disappoint investors looking towards the world's leading exporter of coal and tin. Foreign companies will now sell stakes in mines, and domestic ownership must increase to at least 51%. Despite these measures, the FDI rose by 30% in the second quarter, which might suggest that investors are not as worried about the regulation as was being expected.
Where to Invest
The overall growth of the economy will benefit the ETF Market Vectors Indonesia Index (NYSEARCA:IDX), which closely matches the price and yield performance of the Market Vectors Indonesia Index. In the last three months, the ETF was up by 8.76%.
Those wishing to profit from the telecommunications boom in Indonesia could opt for Indosat Tbk PT (IIT), which is a telecommunication company and an information service provider in Indonesia. The stock provides a dividend yield of 1.46% and a one-year return of 8.72%. Another telecommunication company is Telekomunikasi Indonesia Persero Tbk PT (NYSE:TLK), which offers an attractive yield of 6.73% and registered a one-year return of 24.87%. Those looking for exposure to the consumer sector should consider Indofood Sukses Makmur Tbk PT (OTCPK:INDFY), a manufacturer of instant noodles, wheat flour, coffee and snacks. The stock yields 3.1% and posted a one-year return of 26.2%.
Also, as highlighted earlier, the property sector is set to benefit from rising purchasing power and a young population, which makes investment in Holcim Indonesia Tbk PT also attractive. The stock has had a good run and yielded a one-year return of 91.26%. Additionally, as the middle class rises and goes on a shopping spree, retail giants such as Ramayana Lestari Sentosa Tbk PT will benefit. The stock yields ~3% and posted a one-year return of 66%.
We have highlighted the factors that have pushed Indonesia to new heights, and some of the hurdles that investors need to factor in before investing in this promising emerging economy in Asia. As BRIC nations slow down and the developed world struggles to jump-start its engines, Indonesia has shown resilient growth. Sectors identified in the article are particularly well placed to benefit from favorable demographics.
Disclosure: I have no positions in any stocks mentioned, and no plans to initiate any positions within the next 72 hours.
Business relationship disclosure: The article has been written by Qineqt's Emerging Markets Analyst. Qineqt is not receiving compensation for it (other than from Seeking Alpha). Qineqt has no business relationship with any company whose stock is mentioned in this article.