One of the traditional sectors that investors flock to during times of uncertainty is consumer staples. And times are certainly uncertain, with dark clouds hanging over the economy, middle east tensions rising, and China-Japan conflict. It is time to start looking at adding some defensive stocks to one's portfolio.
The consumer staples sector consists of several industries including food & staples retailing, beverages, food products, tobacco, household products, and personal products. My own research has found that beverages, tobacco and household products are the best and most dependable industries during a recession.
In this article I have decided to focus on companies within the household products industry. My primary analysis tool is Portfolio123. I created a very simple stock ranking system based on the formula for Cash Flow Coverage Ratio, also known as Debt Coverage Ratio.
Cash Flow Coverage Ratio Stock Ranking System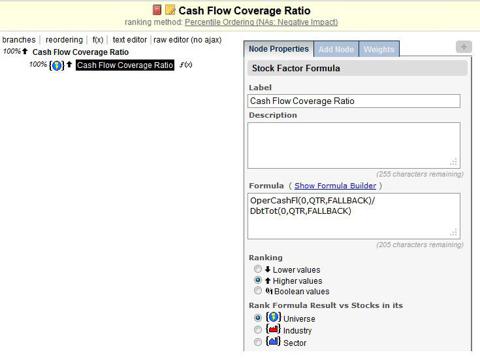 The Cash Flow Coverage Ratio is calculated by dividing the operating cash flow by the total debt. It provides an indication of how many times the debt can be covered by its earnings. This ratio is essentially a company health indicator: a large figure indicates that the company has cash flow to expand its business while not burdened by debt servicing.
Household Product Stock Screen

I created a Portfolio123 stock screen to do further analysis. The stock screen uses the stock ranking system for Cash Flow Coverage Ratio (shown above), selects the household products industry and specifies stock minimum liquidity requirements. The liquidity requirement is for an average traded daily dollar-volume of $1000000.
There are a total of 10 U.S. stocks that meet the stock screen requirements today. These stocks are listed below in order of rank.
| | | |
| --- | --- | --- |
| Stock | Recent Price | Market Cap |
| Central Garden & Pet Co (NASDAQ:CENTA) | 12.06 | 584M |
| WD-40 Co (NASDAQ:WDFC) | 52.42 | 827M |
| Church & Dwight Co. Inc. (NYSE:CHD) | 54.32 | 7.57B |
| Procter & Gamble Co (NYSE:PG) | 68.79 | 189.03B |
| Kimberly-Clark Corp (NYSE:KMB) | 86.37 | 34.08B |
| Clorox Co (NYSE:CLX) | 72.39 | 9.38B |
| Colgate-Palmolive Co (NYSE:CL) | 107.92 | 51.17B |
| Energizer Holdings Inc (NYSE:ENR) | 74.26 | 4.78B |
| Spectrum Brands Holdings Inc (NYSE:SPB) | 40.24 | 2.07B |
| Harbinger Group Inc (NYSE:HRG) | 8.68 | 1.21B |
Throughout the historical database starting in 1999, there have been anywhere between 8 and 11 stocks in the household products industry. The next step is to determine the optimal number of stocks to hold.
Portfolio123 Advanced Screen Backtest Setup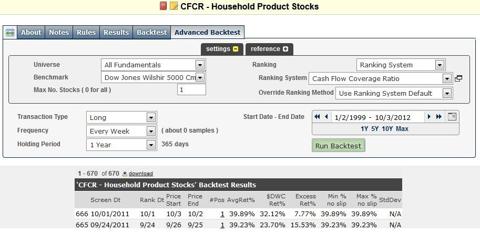 I used the advanced screen backtest capability of Portfolio123 to provide the analytical data that I was looking for. The backtest was set to work on the entire date range from the start of 1999 to present. The holding period was set to one year for low turnover.
The advanced feature of this backtest is to step through the database one week at a time while calculating the profit for one year holding time. The number of stocks held is specified by the "Max No. Stocks" field. When 0 is specified then all stocks are held.
The DJ Wilshire 5000 was chosen as the benchmark for comparison purposes.
Once the setup is complete then press "Run Backtest" and wait for the results.
Advanced Backtest Results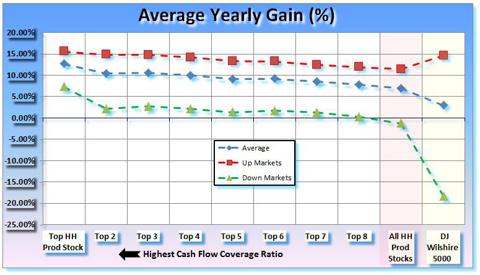 I summarized the backtest results in the form of a spreadsheet. The left-most column entry after the axis shows the results for the top-ranked stock (best Cash Flow Coverage Ratio), the second column entry for the best two stocks, etc. The very right column entry displays the DJ Wilshire 5000 index, tested in the same fashion as the household product stocks. The second column entry from the right shows all of the household product stocks held and rebalanced.
From the spreadsheet it can be seen that the best results occurred when one (top-ranked) stock was held. The average yearly gain was 12.7%. In "UP" markets the average gain was 15.64%. In "DOWN" markets the average yearly gain was 7.34%. As the number of stocks held was increased, the average yearly profit decreased in both up and down markets.
Of particular note is that the average yearly gain for the top-ranked household product stock was similar to the DJ Wilshire 5000 index in up markets, but substantially outperformed the DJ Wilshire 5000 index in down markets.
| | | |
| --- | --- | --- |
| Market Condition | Top-Ranked Stock Average Gain | DJ Wilshire 5000 Index Average Gain |
| All | 12.70% | 2.98% |
| Up Market | 15.64% | 7.34% |
| Down Market | 7.34% | -18.36% |
Backtest Simulation Results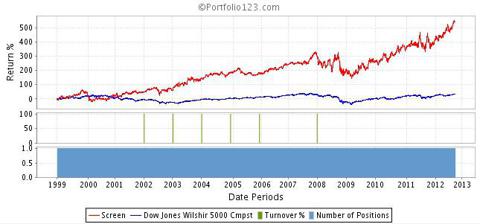 The next step was to run a standard backtest to see what could have been had the approach of holding the top-ranked stock for a year then repeating. It should be noted that this is 20-20 hindsight and one should not expect exactly the same results in the future. Also, different results would be obtained by using a different start date but this is addressed by the advanced backtest (described above).
Final Stock Choice
Computer simulations and backtests are OK but I generally don't feel comfortable until further analysis is done on at least the top five stocks. The table below summarizes the forward P/E and Price/Sales ratio for the top five household product stocks.
| | | |
| --- | --- | --- |
| Stock | Forward P/E | Price/Sales |
| CENTA | 13.26 | 0.35 |
| WDFC | 20.42 | 2.37 |
| CHD | 19.69 | 2.68 |
| PG | 16.39 | 2.26 |
| KMB | 15.55 | 1.99 |
Central Garden & Pet Co has the lowest forward P/E ratio of the five stocks, indicating that if estimates are correct, it will deliver the highest earnings for money invested next year.
CENTA also has the lowest Price/Sales ratio for the these stocks. This ratio is particularly important as a small improvement in efficiency or margins will result in a big improvement in earnings.
The other household product stocks listed above will have more difficulty improving on their bottom line due to the higher Price/Sales ratio.
Pet Products
Central Garden & Pet Co.'s products include pet, lawn and garden supplies sold primarily in the United States.
62% of households in the U.S. own a pet and pet expenditures are growing year-over-year, including recession years as shown below.
| Year | Billion |
| --- | --- |
| 1998 | $23 |
| 2001 | $28.5 |
| 2002 | $29.5 |
| 2003 | $32.4 |
| 2004 | $34.4 |
| 2005 | $36.3 |
| 2007 | $41.2 |
| 2008 | $43.2 |
| 2009 | $45.5 |
| 2010 | $48.35 |
| 2011 | $50.96 |
| 2012 | $52.87 (Est) |
Not only has the general market for pet products been increasing, but CENTA has also been expanding its product distribution and improving gross margins by adjusting its mix of sales. This has resulted in the pet segment's operating income increasing from $27.2 million to $40.5 million over the last year.
Lawn and Garden Supplies
It is predicted that lawn and garden consumables demand will rise 3.3 percent yearly, resulting in stable growth for CENTA's lawn and garden products at least until 2016.
Additional Factors
CENTA has a lower market capitalization than the other household product stocks, thus CENTA has less inertia than the other companies, allowing it to be more adept at making improvements in operating efficiency and initiating new product introductions such as the AdamsTM Smart ShieldTM Applicator. Activities such as these will ensure continued growth in revenues for years to come.
In addition to the superior valuation metrics, CENTA has had strong buyback activity over the last year, a signal that management believes that the stock is underpriced.
All of these factors make CENTA a very good defensive investment choice with excellent growth potential.
Disclosure: I have no positions in any stocks mentioned, and no plans to initiate any positions within the next 72 hours. I wrote this article myself, and it expresses my own opinions. I am not receiving compensation for it (other than from Seeking Alpha). I have no business relationship with any company whose stock is mentioned in this article.