The gasoline-focused exchange traded fund United States Gasoline ETF (NYSEARCA:UGA) was the third best-performing commodity fund in the third quarter, which isn't good news for consumers who are feeling the pain at the pump.
The fund has gained about 25% year-to-date, and has rallied alongside gasoline prices that are up 24% this year. The ETF invests in futures contracts.
"Front-month contracts shot up because Hurricane Isaac temporarily closed down more than one million barrels a day of Gulf Coast refinery output," Tom Kloza, Chief Analyst at Oil Price Information Service, said in a report. "And there were refinery fires in California, Venezuela, and Canada, all of which happened in August."
In total, U.S. gasoline stockpiles were down 9% year-over-year for the week ending September 21, according to the U.S. Energy Administration. Average prices at the pump are up 9% year-over-year for the week ending September 24, reports Trang Ho for Investor's Business Daily.
UGA has benefited from the backwardation that occurs with futures trading. Front-month contracts cost more than later-month contracts, causing an ETF to sell the earlier contracts in place of the later ones for constant exposure, and a profit is made.
UGA tracks unleaded gasoline futures and has $71 million in assets under management. About 50,000 shares trade on average, giving this fund enough liquidity. The fund costs 0.60%.
Overall in the U.S., each person consumes or uses at least one gallon of gas per day. That equals around 360 million gallons per day. The U.S. imports about 60% of the crude oil that is currently used, reports Commodity HQ.
One factor that influences gasoline prices is the instability in the Middle East, where there are plenty of oil reserves, yet political unrest dominates, creating uncertainty. Additionally, the summer driving season has come to a close, but could have contributed to the third quarter performance of UGA. Finally, the U.S. dollar has fallen in value, causing commodity prices to rise.
United States Gasoline ETF
(click image to enlarge)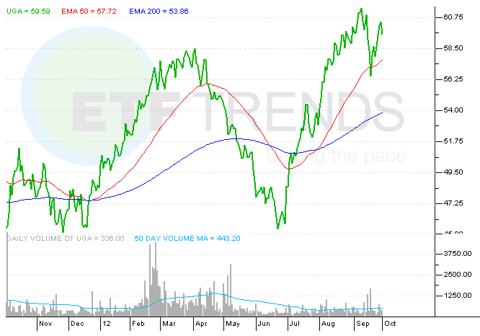 Tisha Guerrero contributed to this article.
Disclosure: I have no positions in any stocks mentioned, and no plans to initiate any positions within the next 72 hours. I wrote this article myself, and it expresses my own opinions. I am not receiving compensation for it. I have no business relationship with any company whose stock is mentioned in this article.