"Flight to quality" is all we hear from investors today. Investors want to put their money in companies they understand and in products they see in their homes. You will be hard pressed to find someone who has never heard of Wal-Mart (NYSE:WMT). Since it's a big household name, we thought to take a quick look at its fundamentals to determine if there is an opportunity to invest in the stock today. We'll keep this short, sweet and simple.
The good:
1) Wal-Mart has a great price advantage in the food-at-home industry. Its noteworthy to mention that although competitors are catching up to Wal-Mart, food inflation has made consumers more sensitive to any price difference, be it big or small. Additionally, the company expects to reduce SG&A by at least 100 bps in the next 4-5 years. This will be passed on as savings to consumers.
2) Wal-Mart is pushing the promotion of e-commerce through shipping options. This should be received well as consumers continue to move to the online buying culture.
The bad:
Investors have been hoping that Wal-Mart cut its capital spending which was at $3.14 billion in Q2-2013 versus $2.37 billion in Q1-2013. Expectation has been that Wal-Mart would use these funds to buyback stock or/and increase the dividend payout. Unfortunately, there has been no indication from management on cutting capital spending.
Wal-Mart stock valuation:
The stock has had a really good run since it reported solid Q2 earnings in August. Wal-Mart has returned 45% in the last 1 year, and now trades at $74.86 versus its 52 week range of $51.63-$75.24. It now trades at a 15x P/E multiple, which is a 4-year high. So where will valuation go from here? Given the recent run in the stock and no near-term significant catalysts, valuation seems rich here. There will have to be a significant change in the comps for any significant upside in the stock. Looking back at 2006-2008, the stock traded at a 15.5x multiple when the US comps averaged 2%. We need to see an increase in this statistic before we see any change in the valuation.
Conclusion:
Wal-Mart has been a safe haven for many investors in this weak economic environment. It's been a name that you could own and forget. After we looked at it, it seems like there is nothing to do here. There are no near-term catalysts to add to the valuation or trigger any big moves in the stock.
The chart below compares share performance over the past year. "E"s mark earnings reports (click to enlarge image)
.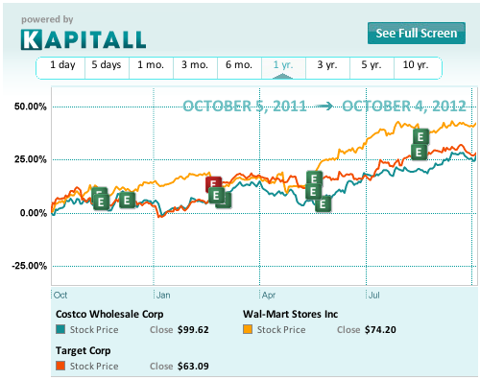 Written by Kapitall's Sabina Bhatia. Tool provided by Kapitall.
Disclosure: I have no positions in any stocks mentioned, and no plans to initiate any positions within the next 72 hours. I wrote this article myself, and it expresses my own opinions. I am not receiving compensation for it. I have no business relationship with any company whose stock is mentioned in this article.