by Julian Murdoch
We reported just two weeks ago on the declining state of the precious metals markets. We also covered the dismal situation in the automobile industry in our piece on the changing fates of automakers and oil producers.
Of course, if you're investing in actual platinum, either as bullion or through the London-listed platinum ETF, you're also making a bet on the falling dollar. If you assume the supply and demand situation remains exactly stable, a continued decline in the dollar will mean a corresponding increase in the price of platinum. After all, that's what a weak dollar means - it takes more greenbacks to get a given level of utility today than it did yesterday. But let's let all else be equal for a moment, and focus on what's going on in the platinum business itself.
Back in December, we pointed to growing concern about the automotive use of platinum. We reported then that platinum at $1,500 an ounce was making automakers look to different metals for pollution solutions (which, with 85% of cars hitting the streets with a catalytic converter, aren't going anywhere). With prices for platinum still above these levels, and a six-month excursion into the $2,000 range, it's likely those look-sees at alternative technologies have only continued. Which in turn drives platinum demand and prices down. Which in turn makes it more viable in catalytic converters. It's that supply/demand seesaw in action again.
The Oil Ripple Effect
In this case, the bottom line is simple - oil drives the bus. The higher the price of oil for an extended period of time, the more ripple effects it will have in the global economy. Stick with us here as we dig through the many ripple effects of higher oil prices.
The first-order effects are obvious - people use less oil. This theoretically drives prices back down, but remember, lead-lag effects plague the commodities economy. In this case, lower demand for gasoline means lower margins for refiners, which means they actually make less gas, keeping prices high, at least for a while. In fact, despite public anger over gas prices, the oil/crude relationship has grown so out of whack that many refiners will be facing negative crack spreads by year-end if something doesn't budge. (For what it's worth, less gas means less ethanol too.)
High gas prices also mean consumers pay attention to fuel economy, so they might buy a more efficient car. That's the first platinum hit: burning less gas means you need a smaller catalytic converter.
But then there's the second-order effect - if you're a consumer feeling pinched by $4 gas, you're probably also feeling pinched at the idea of a $40,000 car. So car sales plummet, which is just what we've seen. This oil impact isn't just keeping new U.S. SUVs off the streets. In Germany, car sales in general (counted by registrations) were down 14% in just one month. Even sales in China are slowing down.
The oil-train isn't the only thing holding down platinum. Demand for jewelry heading into the second half of the year doesn't look promising. Web-jeweler Blue Nile, for instance, is reporting a "trading down" trend: People are still buying that certain something, they're just doing it on the cheap.
Which brings us back to platinum, of course, because "cheap" generally doesn't mean platinum. The latest comScore report shows online jewelry sales down 10% in the second quarter of 2008 - at the same time online retail sales overall grew 13%. And platinum demand...
Polishing Tarnished Goods
Platinum's precipitous plummet has created a new set of opportunities, however - acquisitions. In what is truly a classic hostile takeover bid, Xstrata plc (OTC:XSRAF), the British mining conglomerate, has been buying up shares of Lonmin Plc, the world's third-largest platinum supplier, as part of a $10 billion play. Rather than just playing footsie, Xstrata has been successfully courting institutional holders, grabbing 2.1% of Lonmin in a single trade with BlackRock's World Mining Fund on August 8, bringing Xstrata's stake in Lonmin up to a respectable 10.68%.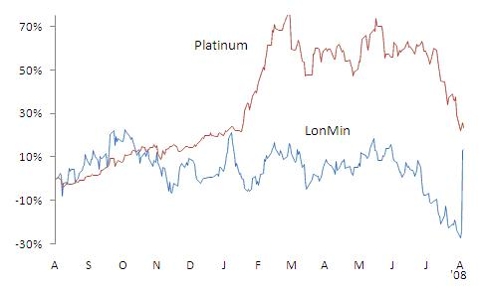 Just looking at this from a chartist perspective, this deal makes sense - Lonmin has been penalized for platinum's fall, yet effectively missed out on the rally. But Xstrata claims that Lonmin has been floundering during what should have been a huge windfall period because of bad management, loss of talent and bad operations planning. The two companies' South African operations are located within miles of each other, and on the surface, this could be a classic case of one big, efficient company buying a floundering target, with the credible prospect of engendering a turnaround and unlocking value. Of course, Lonmin management doesn't like being called names, so they're playing defense, and certainly won't be supporting the bid anytime soon.
It seems less full of turmoil and doubt than the endless takeover battle between mining dance-partners BHP Billiton and Rio Tinto, a topic on which we report regularly.
This is just another case of the consolidation wave I expect to be hitting commodities companies as long as things stay volatile. As we saw with Barrick's move into oil last week, the Xstrata move is capitalism at its most aggressive (and effective) - those companies that use capital well go into the market and find ways to use even more of it when the shine comes off their industry.
Those that don't play defense.