GP Strategies Corporation (NYSE:GPX) has put together three straight quarters of positive earnings surprises and increased revenues, driven by internal growth and accretive acquisitions. This Zacks #1 Rank provider of global performance improvement solutions has bright prospects going forward due to its solid client base, expanded service and product offerings, and its tuck-in acquisitions.
Solid Second Quarter
On August 2, GP Strategies reported second quarter adjusted earnings of 31 cents per share, topping the Zacks Consensus Estimate by 19.2% and improving 41% from last year. Over the past four quarters, the company has surpassed estimates three times and matched once, resulting in an average earnings surprise of 9.3%.
Revenue of $102.3 million increased 19% year over year and 14% organically due to strong performances in almost all operating segments. GP Strategies delivered increased training services across many industries and saw the largest increase in the automotive and financial services sectors. Total revenue also beat the Zacks Consensus Estimate of $98 million.
Accretive Acquisitions
In addition to organic growth, GP Strategies has expanded its product offerings by acquiring complementary businesses over the last several years.
On October 2, GP Strategies completed its previously announced acquisition of BlessingWhite, a leadership development consulting company. Other recent acquisitions include Rovsing Dynamic in September, Asentus Consulting in June and the training services business of Information Horizons Limited in May.
Earnings Estimates Rising
Over the last 90 days, the Zacks Consensus Estimate for fiscal 2012 has gone up by 7.6% to $1.14, reflecting year-over-year growth of 33.9%. The Zacks Consensus Estimate for fiscal 2013 has gone up by 8.1% to $1.33 over the same timeframe, reflecting a year-over-year growth rate of 16.5%.
Decent Valuation
GP Strategies currently trades at a forward P/E of 16.78x, very close to the peer group average of 16.52x. Even on a price-to-book basis, the stock is trading close to the peer group average. With a long-term growth projection of 16.7%, the PEG ratio comes in at 1.02, just slightly above the benchmark of 1 for a value stock.
The stock looks attractive on a return on equity (ROE) basis. It has a 12-month ROE of 13.5%, which is above its peer group average of 8.8%. This implies that the company is utilizing its assets more efficiently than its peer group.
Chart Shows Consistent Rise
Shares of GP Strategies have been rising consistently since mid October 2011. The share price has more than doubled since then due to a consistent earnings and sales outperformance and regular accreting acquisitions. Moreover, the stock is currently trading above its 200-day moving average, which stands at $16.70. In fact, the stock has been consistently trading above its 200-day moving average since the end of November 2011.
Volume is good, averaging roughly 62K daily. GP Strategies has outperformed the S&P 500 since early June 2012. The year-to-date return for the stock is 41.61% compared with the S&P 500's return of 16.38%.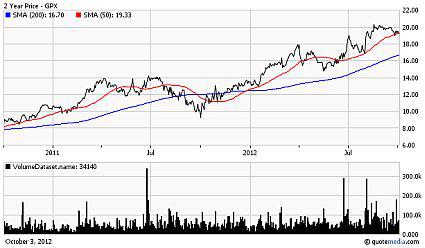 GP Strategies, through its operating subsidiary General Physics Corporation, is a global provider of training and e-Learning solutions, management consulting and engineering services. The company aims to improve the effectiveness of an organization's resources like people, processes or technology through customized services and products. Its client base includes big names like General Motors Company (NYSE:GM), Eli Lilly (NYSE:LLY), Microsoft Corporation (NASDAQ:MSFT), Cisco Systems, Inc. (NASDAQ:CSCO) and many more. The company has a market cap of $369.3 million.
Disclosure: None