In our research, we looked at how solar companies typically do in the month of October to find any seasonal patterns. We looked at the average gains of eleven companies as well as their max drawdowns and gains for the past 10 years provided the company has been public during that period. October, like September, has been historically negative for solar companies as the subsequent analysis will show.
The companies we investigated in the report were Yingli Green Energy Holding Company (NYSE:YGE), Trina Solar Limited (NYSE:TSL), Suntech Power Holdings Company (NYSE:STP), SunPower Corporation (NASDAQ:SPWR), ReneSola Ltd (NYSE:SOL), MEMC Electronic Materials (WFR), LDK Solar Company (NYSE:LDK), JA Solar Holdings Company (NASDAQ:JASO), GT Advanced Technologies (GTAT), First Solar, Inc. (NASDAQ:FSLR) and Canadian Solar Inc. (NASDAQ:CSIQ). After the research, we will give you two trading ideas to use with the information.
Below you can find their average gains for the month of October for the past 10 years.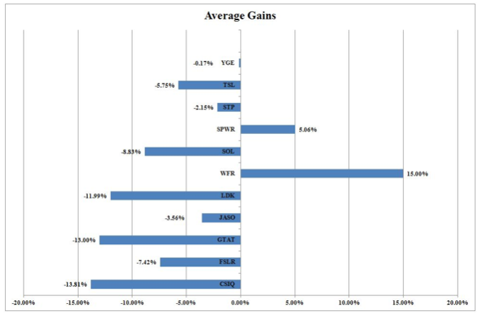 As we can see from the chart above, October has been a pretty terrible month for Solar Companies with only 2 of the 11 companies analyzed showing any gain.
Why is this?
One reason is general underperformance of solar companies. The companies have been weak historically, but October is an earnings month. Earnings have been selling points for solar companies as in the past, when expectations were high, and now the earnings continue to show the struggles at these companies. Additionally, we believe the winter months create a bit of weakness for solar as the sun shines less and temperatures drop.
The companies with gains were SunPower Corporation and MEMC Electronic Materials with gains of 5.06% and 15.00%, respectively. On the other hand, we have Canadian Solar Inc. and GT Advanced Technologies being the two companies with the lowest average gains of -13.81% and -13.00%.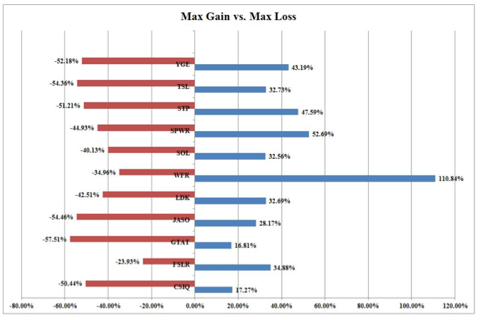 We continued our research by finding the max drawdowns and max gains that these companies usually have during the month of October. Solar companies are in an industry that stock prices are extremely volatile with the average beta of these 11 companies being 2.74. With the exceptions being WFR and SPWR, we cannot hide from the fact that the majority of the companies have higher max drawdowns than they do gains with special mention going GTAT and CSIQ with their max drawdown being -57.51% and -50.44%, respectively. Traders beware of the sharp moves that these stocks can make in a month.
We consolidated this information by looking at the times the stock prices had increased or decreased over the 10 year period therefore allowing us to find out if any outliers influenced our results. From the chart below, we can see that only WFR is a stock that has been able to trend well historically in October. First Solar and CSIQ have dropped 80% of the time in the month of October.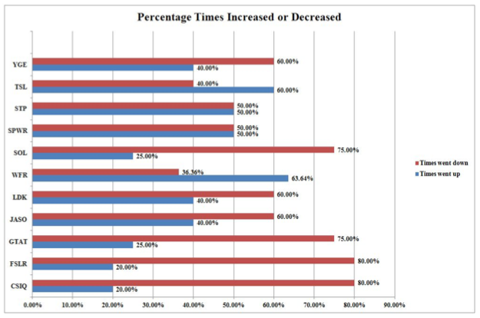 Given what we have found, we have a more bearish stance, so we have given you two trades that work well with the data we have found. We like a First Solar bear call spread as a great way to make money on FSLR while it has historically remained weak. Additionally, we like the looks of WFR as the only long that has worked historically, so we want to pair that long with a short in one of the stock that has historically done poorly like GTAT or CSIQ. Here are those two trades:
Trade #1: First Solar , Oct20, 27/28 Bear Call Spread Max Gain: 15%
Trade #2: Pair Trade: WFR Long, GTAT Short
Disclosure: I have no positions in any stocks mentioned, and no plans to initiate any positions within the next 72 hours.
Business relationship disclosure: The Oxen Group is a team of analysts. This article was written by Bruno Massinga, one of our writers. We did not receive compensation for this article (other than from Seeking Alpha), and we have no business relationship with any company whose stock is mentioned in this article.