Earlier this week, Hewlett-Packard's (NYSE:HPQ) CEO Meg Whitman declared a disappointing outlook for fiscal year 2013. She said that the company made significant changes to the salesforce to improve selling and reduce costs. And it would take time to settle in. That is why people should expect a broad based profit decline in 2013.
Right after that, HPQ's share plunged nearly 13%, from $17.13 to $14.91. Since February 2011, its shares have lost nearly 70% from $48 share price.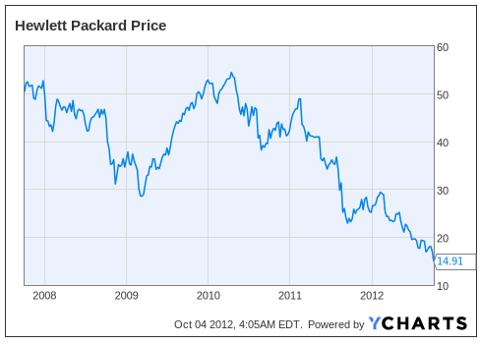 Meg Whitman considered that 2013 was going to be a fix-and-rebuild year. So investors should not expect to see a real recovery and expansion until 2014. HPQ is expected to manage costs in line with revenue, and pay down debts. Then in 2015, things will accelerate. Going forward, HPQ will focus on three main themes: Cloud, Security and Information.
It seems that Meg Whitman hopes to have same kind of turnaround that IBM (NYSE:IBM) successfully executed two decades ago when IBM transformed its business model: moving away from mainframe computers and focusing on personal computers. And now IBM is a leader in providing technology services and software under Ginni Rometty's leadership.
In July 2012, Jim Chanos presented a short thesis on HPQ and considered HPQ to be a value trap for investors as it was destroying value. R&D spending should be immediately expensed. But for HPQ, it was hiding R&D spending through acquisitions, so R&D spending could be capitalized. He commented on HPQ's business model: "Laptops will continue to lose market share to tablets and other devices. People will still buy PCs, they just won't make as much money."
For FY13 forecast, CFO Cathie Lesjak said EPS should be $3.40 - $3.60 on a non-GAAP basis, lower than $4, which analysts were expecting. When restructuring charges and intangible amortization were taken into account, EPS would be in the range of $2.10 - $2.40. At $14.91 per share, HPQ is trading at 4.2x-4.4x forward P/E, and at 6.2x - 7.1x forward P/E on a GAAP basis.
Compared to its peers, IBM is trading at 15.2x P/E, Dell (DELL) is trading at only 5.8x P/E and Apple (NASDAQ:AAPL) is trading at 15.6x P/E. However, HPQ seems to be the most expensive in terms of PEG ratio. HPQ's PEG is 6x, whereas Dell's is 1.25x, IBM's is 1.39x, and Apple's is only 0.62x.
HPQ is cheap, as many people claim. In fact, it is quite cheap in terms of financial numbers. However, only when HPQ performs well in its turnaround plan, will the share price take off and benefit investors. So if investors believe in the turnaround's success, they should: (1) buy HPQ at the current depressed price, and (2) hold it for two years to let the turnaround plan reflect on its bottom line as well as the stock price.
Disclosure: I have no positions in any stocks mentioned, and no plans to initiate any positions within the next 72 hours. I wrote this article myself, and it expresses my own opinions. I am not receiving compensation for it (other than from Seeking Alpha). I have no business relationship with any company whose stock is mentioned in this article.