Around sixty days (August 29) ago, I wrote an article called The Conundrum of Triple Net Lease Valuation, and in that article I examined the definition of "buying cheap." Specifically, I argued the point that "in the triple-net investment sector, a higher multiple is what you strive for since the lower cost of capital is the mantra for success - the high multiple equates to being the "low-cost" provider. So the highest valuation has the cheapest cost of capital, the best margins and the best strategically flexible operating platform."
So as I explained in the previous article, Realty Income's (NYSE:O) conundrum is that "cheap is truly great…and accordingly it comes with a cost of capital that is competitive over the long term." Due to this cost-based advantage, the company has been able to exploit all of the potential cost drivers that allow for greater efficiency in the company's overall value-add proposition.
Building a Moat of Low-Cost Capital
This week Realty Income announced the pricing of $350 million of 5-year 2.00 percent fixed rate Notes, due January 31, 2018, and $450 million of 10-year 3.25 percent fixed rate Notes, due October 15, 2022. The public offering price for the 5-year notes was 99.910 percent of the principal amount for an effective yield to maturity of 2.017 percent. The public offering price for the 10-year notes was 99.382 percent of the principal amount for an effective yield to maturity of 3.323 percent.
The issuance of the Realty Income debt has a weighted coupon of around 2.7 percent and is arguable one of the cheapest REIT bond issuances in history. The net proceeds from the offering will be used to repay borrowings outstanding on the Company's $1.0 billion acquisition credit facility, and any remaining proceeds will be used for general corporate purposes, which may include additional property acquisitions.
I decided to inspect the 8-K and I discovered that during the first six months of 2012, Realty Income had acquired properties with an aggregate purchase price of approximately $222 million. In addition, from July 1, 2012 through September 27, 2012, the Company acquired properties with an aggregate purchase price of approximately $495 million.
Realty Income has entered into agreements to acquire additional properties with an aggregate purchase price of approximately $284 million. The total purchase price for properties already acquired from July 1, 2012 through September 27, 2012, and the properties that are under contract to be acquired, are approximately $779 million.
The total acquired properties and contracted property acquisitions for the second half of 2012 consist of approximately 145 single-tenant properties net leased to 26 different tenants, and all are of property types that the Company already has in its portfolio. In aggregate, during all of 2012, the Company anticipates acquiring in excess of $1.0 billion of new properties.
O This is a Dividend Machine
A few weeks ago I wrote an article on the announced acquisition of American Realty Capital Trust (NASDAQ:ARCT) by Realty Income. Clearly, the ARCT portfolio of high-quality assets married with Realty Income's low cost of capital will provide accretive benefits to the existing Realty Income shareholders. As I wrote:
Realty Income has one of the most impressive dividend producing machines around. The company has significantly low cost capital around, and it is clear that Tom Lewis (CEO) and his talented team are executing a very well-thought out and masterfully structured transaction.

The American Realty Capital Trust transaction is a milestone for Realty Income in that it will likely be included into the S&P 500 and the high-quality income will spark further growth and become a dominating player in the highly fragmented net lease sector.
Since the announcement of the ARCT transaction, some of the shareholders from the ARCT camp have cried "foul" over the timing and pricing of the proposed sale. As Seeking Alpha writer Elliott Orsillo wrote in an article this week:
It is our belief that it was only a matter of time before the market would have fully recognized and priced in the value of ARCT's high quality portfolio, pushing it to the same premium valuation commanded by Realty Income and offering shareholders another 30-35% in potential upside. How long would this have taken? No one can say for sure, but we can tell you that we would have been happy to clip a 6% current (7.5% on original purchase price) yield on our investment while we waited. For the time being we will continue to hold our ARCT shares and will revisit the position if/when the acquisition is finalized.
So the argument is that ARCT is worth more than its lock-up price of $11.90 per share (or $2.95 billion) and some investors believe that the high-quality ARCT portfolio (75 percent investment grade) is worth more than the contractual price with Realty Income.
So the big O, with perhaps the lowest cost of capital in REIT-dom and with the best internally managed and focused triple-net platform in the world, is not good enough? Or maybe the acquisition price and going-in cap rate of 5.9 percent is not good enough? Perhaps the disgruntled ARCT shareholders think they can get a cap rate closer to Realty Income's newly announced cost of capital of 2.7 percent (weighted average)?
Give me a break! Realty Income was founded over 43 years ago (1970) and since the company's IPO (in 1995), the stalwart REIT has paid consistent and increased dividends for 18 years (only 10 out of 129 other REITs can claim that prize). This is no bubble gum machine....this is a dividend machine!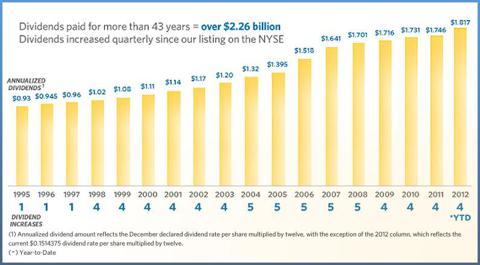 Riddle me this ARCT shareholders: Would you actually consider walking away from one of the best managed and best capitalized REITs on the planet? Do you actually think that there is another REIT willing to step in with an offer as strong as the big O? Most importantly, would you prefer to own a company with a bulletproof balance sheet and one of the widest capital moats in REIT-dom?
If the deal closes, Realty Income (as merged entities with ARCT) will have a combined market cap of around $7.6 billion making the company the world's largest triple-net REIT and the overall 18th largest public REIT.
If the deal doesn't close, ARCT shareholders are exposed to the risk of a price decline and the likelihood that the high-quality portfolio (with very mediocre management) will become much less attractive as the cost of capital (i.e. interest rates) rises. The chances of selling the portfolio to another buyer with the same low-cost capital and experienced management team (as O) is as likely as Realty Income cutting its dividend. It Won't Happen!
The Conundrum is Cheap is Truly Great
I have no skin in the game in that I own no shares in either REIT; however, I do have considerable experience in the triple-net investment sector and I am also a knowledgeable REIT journalist. In my unbiased opinion, the ARCT deal is fair and I do not think that either party is leaving chips on the table. The values are aligned and I would not walk away from a profit. As Kenny Rogers said,
You got to know when to hold 'em, know when to fold 'em,
Know when to walk away and know when to run.
I will leave you to ponder this quote (and illustration below) that describes the inevitably economic imbalances that are often smoothed out by periods of adjustment that can be both prolonged and difficult. This cyclical imbalance of events was described by Tom Lewis, CEO of Realty Income, in the front of his company's 2011 Annual Report and Letter to the Shareholders.
We might think of the past 30 years as being akin to an easy downhill ski run with evenly packed powder and little to block one's progress. Eventually, however, we do get to the bottom of the hill, which is where we may be right now with interest rates and there seems to be no chairlift in sight. A compelling graphic illustration of where interest rates have been, since 1962, is shown in a chart that tracks the history of interest rates for 10-year US Treasury notes, a leading benchmark for what other lenders charge. (See chart below) This chart depicts the story of a steady, downward trajectory of interest rates from their peak of over 15% in 1982 to a low of 1.9% by the end of 2011.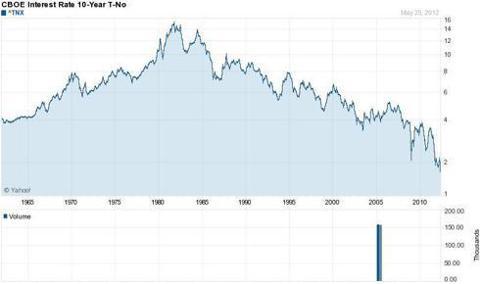 Disclosure: I have no positions in any stocks mentioned, and no plans to initiate any positions within the next 72 hours. I wrote this article myself, and it expresses my own opinions. I am not receiving compensation for it (other than from Seeking Alpha). I have no business relationship with any company whose stock is mentioned in this article.