The U.S. Energy Department announced Thursday that Golden Pass Products LLC received permission to export liquefied natural gas from the United States. Golden Pass is 70% owned by Qatar and 30% owned by Exxon Mobil (NYSE:XOM). Here is a related press release.
This is very bullish for Exxon Mobil, the #1 producer of natural gas in the United States. As I noted in my article Why Exxon Mobil Should Support Natural Gas Transportation, Exxon produced 3,932 MMcf/day in Q1 of 2012. This means for every $1 rise in the price of natural gas, Exxon will generate over $1.2 billion/year in additional revenue.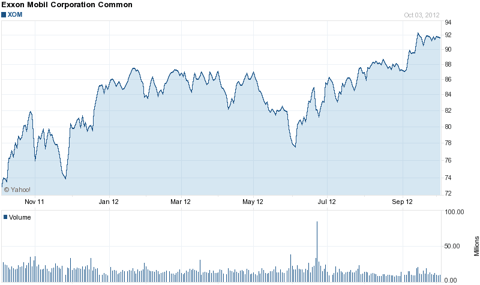 Obviously this is good news for Exxon Mobil shareholders. However, as an American citizen I have mixed emotions. It makes me sad the U.S. is going to start shipping its clean and cheap fuel overseas so we can import expensive and dirty foreign oil. The right move (economically, environmentally, and strategically) is to use natural gas in the transportation sector. In my previous article, Virginia Votes for Natural Gas Transportation and Clean Energy Fuels, I reported on how the state of Virginia is adopting nat gas transportation. This is great news! Hopefully more states will be quick to jump on the bandwagon to economic and environmental prosperity.
Meantime, expect Exxon Mobil to take this LNG export approval to the bank. The stock has already broken above multi-year resistance and seems poised to take another step higher. Who can doubt U.S. natural gas prices will rise as XOM begins to annually export some 15.6 million metric tons of nat gas from the Gulf coast to international markets? Consider the numbers:
1 metric ton (LNG) = 48,700 cubic feet of natural gas
15.6 million tons/year is then equivalent to:
(15.6 million ton)(48,700 cu ft/ton)/365=2.8 Bcf/day
Total daily U.S. natural gas production is in the neighborhood of 65 Bcf. That means this one export license (and there are more applications pending approval) is equivalent to 4.3% of total U.S. natural gas production. That's a big chunk of supply. Nat gas prices are going to go up.
Also consider this: although XOM is the minority shareholder in Golden Pass, obviously the goal for XOM is to source the natural gas for export. Therefore, it is quite probable XOM will profit more than the 70/30 joint venture split may imply. XOM will be paid market prices for the natural gas going into the export terminal. One could assume this cost of doing business would be paid 70% by Qatar. XOM doesn't have to actually "pay" its 30% because it is sourcing the natural gas from its current online production. The profits from LNG exports would be split, I assume, on a 70/30 basis.
Add it all up and XOM gets 30% of the venture's export top-line profit, plus whatever it can make off the natural gas input costs. XOM is going to come out smelling like a rose on this deal.
Disclosure: I am long XOM. I wrote this article myself, and it expresses my own opinions. I am not receiving compensation for it (other than from Seeking Alpha). I have no business relationship with any company whose stock is mentioned in this article.