Just yesterday I was introducing everyone to the volatility indexes on Apple (NASDAQ:AAPL), Amazon.com, IBM, Goldman Sachs (NYSE:GS), and Google (NASDAQ:GOOG). Going through these today I noticed something a bit weird on VXAZN, Amazon.com's (NASDAQ:AMZN) volatility index.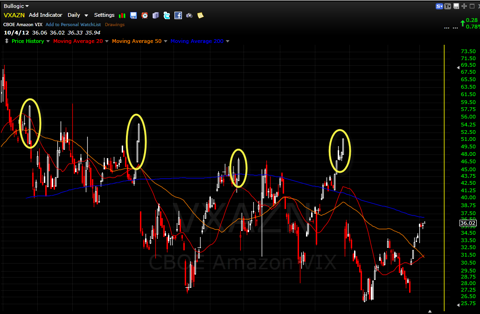 Care to take a guess of what the yellow circles are highlighting?
Yes they are spikes in volatility, but more importantly they are the volatility runs into earnings. Most people know about how high volatility can get going into an earnings announcement. Most people also know that as soon as earnings are released volatility comes rolling back in. This is obvious in the above chart because the day of earnings marks the highs for the volatility. The very next day is met with a large gap down and a return back to normal. This is what makes long options difficult to trade into earnings.
I also went ahead and marked the next earnings announcement (with a yellow line) which is 10/22/12.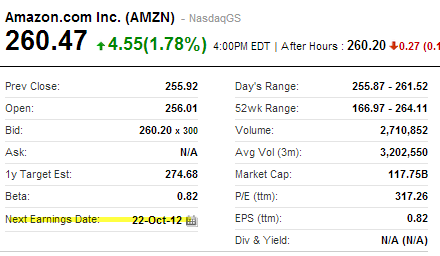 Can we see where there might be a trade here?
Right now volatility is running a bit higher than average but far off from its typical earnings volatility. We need to get long volatility! There are several methods to do this. Just to name a few: long calls, long puts, long straddle, and long strangle.
First, I have no idea what direction Amazon.com is going to run.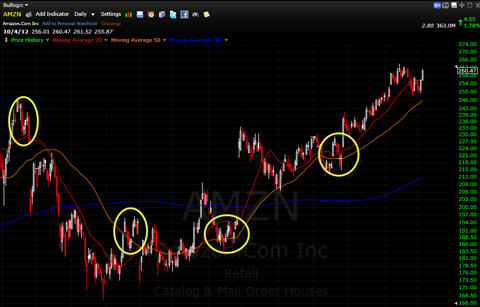 Just by looking at the chart, which has all the earnings announcements marked, we can see that Amazon.com typically does not run or drop into earnings. This is going to leave out long calls and long puts for me. So I will go back to my favorite volatility play, the long straddle.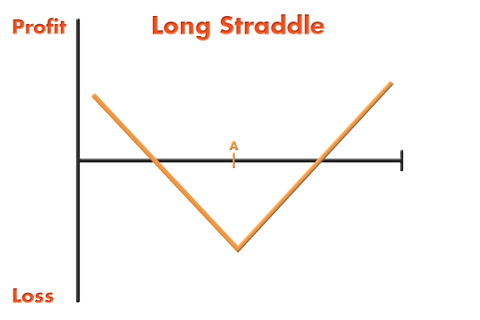 The long straddle consists of buying an ATM (at-the-money) call and put. This will give us the boost we need when volatility begins to climb.
The idea will be to long the ATM straddle now and hold it until 10/19/12. This will allow us to get out before earnings come out and we can escape the volatility crush. Since 10/19/12 is option expiration we will look to the November options for this play.

We can pick this position up for a debit of 25.38 (as of this writing). With volatility in the 35s we can at least expect volatility to run to 40. Even though I think that is a low estimate. With volatility in the 40s we would need some movement to make this play pay off by 10/19/12. If we can get volatility in the 45s this play will return ~4% with no movement.
The key with this play is you have to be committed to it. You can't buy it now and dump it next week unless volatility just takes off. Remember you are waiting for the run up into earnings so you have to hold it until the 19th of October. Do not hold it into the actual earnings announcement.
Amazon.com has been doing some good things. They have signed a lot of deals with movie companies which help out their prime movie business vs Netflix (NASDAQ:NFLX). They have also added a bunch of new tablets and Kindles which pushes their online sales. They have also started charging tax in most states.
If you are new to these types of plays or don't understand it then don't take a lot. That allows you to learn the play and limit the risk.
Disclosure: I have no positions in any stocks mentioned, but may initiate a long position in AMZN over the next 72 hours. I wrote this article myself, and it expresses my own opinions. I am not receiving compensation for it. I have no business relationship with any company whose stock is mentioned in this article.