In our previous reports on Apple Inc. (NASDAQ:AAPL), we have been focusing primarily on the performance of the company's cutting edge, innovative, and wildly popular iOS devices (iPhone and iPad). We have primarily focused on the iPad and iPhone because these products accounted for 72% of Apple's revenue in its most recent quarter. In this report, we will be focusing on the Apple Retail Store division. We have seen that the Apple Retail Store has been instrumental in Apple's rebirth, but we believe that like all great institutions, the company must not lose sight of why the stores became successful.
Click to enlarge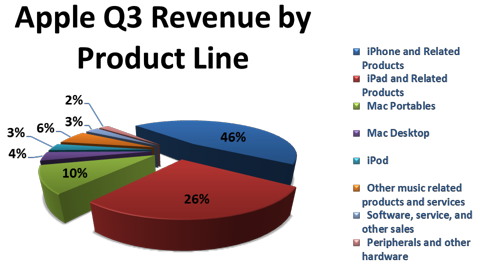 Source: Apple's Q3 Financial Supplement
According to Steve Jobs's biographer Walter Isaacson, when Jobs came back to the company, he worked to improve the retail presentation of Apple's Macintosh computers. Like most consumer IT product vendors, Apple relied on big-box computer and electronic stores in order to sell its wares. Of course, Dell (DELL) was a notable exception with its "direct-to-consumer" approach in delivering individual PCs tailored to customer specifications. Gateway 2000 copied Dell's sales model and had memorably witty commercials about "Computers from Iowa?" (Gateway was headquartered in Iowa) and boxes with Holstein Cow marking patterns.
In 1999, Jobs recruited Millard Drexler of Gap Inc to serve on Apple's Board of Directors and when Gap was about to fire Drexler in 2002, Jobs was the one who tipped Drexler off to the news. In a 2010 interview with Charlie Rose, Drexler pointed out that Steve Jobs knew he had to find a way to control his distribution and product, rather than depending on other firms to do so.
Steve Jobs hired Target's Executive Vice President of Merchandising Ron Johnson to head up Apple's new retail store initiative and opened the first Apple Retail Store in the Washington DC suburb of Tyson's Corner, VA. Despite the predictions of failure by analysts, the Apple Retail Store has proven to be a hit and there are now 378 stores worldwide.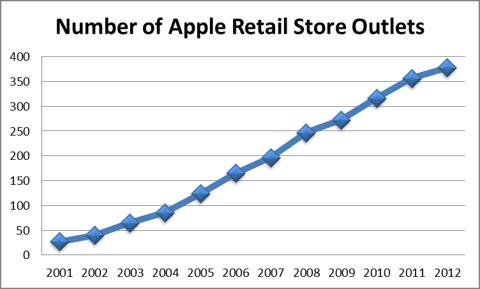 Source: Apple's 2001-2011 Annual Reports
About 41,000 of Apple's 60,000 employees work for the Apple stores. Despite the fact that he Apple Retail Store represented the second smallest source of revenue amongst Apple's operating segments and the smallest source of operating income, it still generated an impressive $14.6B in revenue and $3.87B in operating income during the first nine months of its fiscal year. We found that was more revenue than the $9.8B Research In Motion (RIMM) generated over the last nine months.
Under the leadership of Ron Johnson, the Apple Retail Store enjoyed strong growth in revenue and operating income and his success led J.C. Penney Company Inc. (NYSE:JCP) to tap him as its new CEO in 2011 in order to turnaround that beleaguered outfit. So far Johnson has not enjoyed the same success with JCP as he had with the Apple Retail Store. In Johnson's defense, he doesn't have Steve Jobs making cutting-edge, innovative clothes and accessories that people want.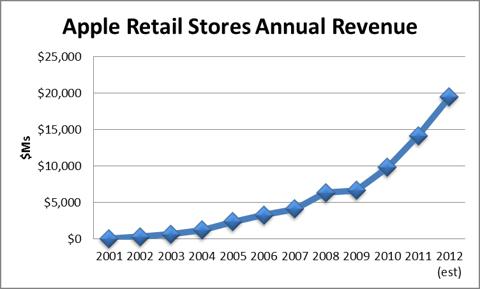 Source: Apple's 2001-2011 Annual Reports
Recently, Apple stores have come under criticism for cutting staff, cutting man-hours of staff members, in-store demonstration workshops and even maintenance. These new nickel-nursing initiatives have been pushed by the new boss of Apple stores, John Browett. Browett came from Dixons Retail in the United Kingdom and that chain led the league in muck, filth and grime.
Unfortunately, Dixon's revenue and profits didn't register much growth when Browett was the boss over there. Unless Tim Cook wants to create a sour customer experience for people who walk into Apple's 378 retail outlets, we're kind of surprised that he would be extolling Browett. According to ifoapplestore.com, Cook was apparently attracted by Browett's like-minded focus on the more traditional concepts of retailing-logic and process leading to revenues and profits.
Cook must not have been looking at Dixon's P&L statement during the Browett era because Dixon's profits have taken a bit of a tumble while he was steering the ship. Total cumulative sales growth from 2008 to 2012 was less than 1.4%. Surely, we think Apple could have found someone with a more impressive track record. Using an analogy from sports, we think that Browett at the boss of the Apple Retail Store was as bad a move as the Boston Red Sox hiring Bobby Valentine as manager.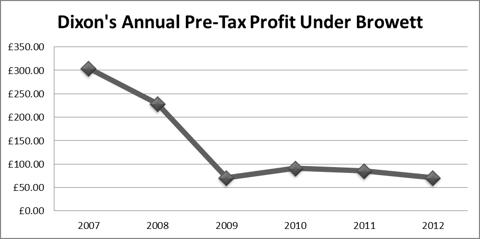 Source: Dixon's 2011-12 Annual Reports
In conclusion, Apple has shown that it has been a game-changer in the consumer electronic sales and distribution channel. Apple has been able to utilize its retail store network to generate an additional source of revenue and profits, as well as contribute to its brand image. Apple has the benefit of offering cutting-edge products that people want and this is coupled with the fact that Apple has a deep pool of motivated applicants to pick and choose from in order to staff the stores and to sell Apple's products.
However, we believe that Apple needs to make sure that it doesn't lose sight of what helped the Apple Retail Store grow and succeed. Apple customers were surprised that Tim Cook chose John Browett after Ron Johnson due to the appalling reputation of Dixons Retail while Browett was leading it. Now that Tim Cook no longer has Steve looking over his shoulder, he and the rest of Apple's management should not lose sight of what helped Apple stores grow into success. We've seen numerous instances of companies that try to nickel-nurse on cost in order to goose profit only to find out that the "big savings" from cost cuts end up driving revenue-paying customers away.
Disclosure: I am long AAPL. I wrote this article myself, and it expresses my own opinions. I am not receiving compensation for it (other than from Seeking Alpha). I have no business relationship with any company whose stock is mentioned in this article.
Additional disclosure: This article was written by an analyst at Saibus Research. Saibus Research has not received compensation directly or indirectly for expressing the recommendation in this article. We have no business relationship with any company whose stock is mentioned in this article. Under no circumstances must this report be considered an offer to buy, sell, subscribe for or trade securities or other instruments.