Income and growth investors alike are being squeezed from every direction these days. Headwinds from Europe, the fiscal cliff in the U.S., inflation, debt, record low interest rates... you've heard and felt all these pressures for the last 3 or 4 years. And you aren't trying to hit a home run with your money, you just don't think it's too much to ask for a safe 8-12% return on your money. I believe the smartest way to achieve this level of portfolio returns for investors with conservative to moderate risk tolerances is with large to mega cap dividend paying companies in the U.S. for these 10 reasons:
1. Global Exposure
If you want to diversify geographically, one of the best ways to do this is to invest in U.S. companies. Huh, you ask? That's right, U.S. companies can give you the best access to the global markets and I prefer them for 2 reasons. Reason number 1 is that U.S. public securities laws are the strictest in the world, so you can trust the numbers more than say, numbers from a Chinese balance sheet. Reason number 2: Large Cap (mrkt cap > $10b) Mega Cap (mrkt cap > $100b) U.S. companies have the resources to expand quickly and create market dominance in reaction to emerging/international market demand. You may be surprised at the sales for some U.S. companies comes from foreign countries: McDonald's (NYSE:MCD) (66% of sales are foreign), Amazon (NASDAQ:AMZN) (45%), Nike (NYSE:NKE) (50%), Dow Chemical (DOW) (67%), IBM (NYSE:IBM) (64%), and the list goes on and on.
2. Inflation/The Fed
The Fed has essentially given investors the road-map for investing in the next 5-10 years. Don't Fight The Fed! Seriously, don't fight them. You will get burned. But what is the Fed telling us? By keeping rates low until 2015 and promising to inflate U.S. dollars (creating negative real return for Treasury holders), they are trying to get investors out of Treasuries. Why? They want people to move from U.S. Treasuries back into risk assets, i.e. U.S. equities. Why? Because when the market goes up, people/companies feel good and the Fed wants everyone to feel good.
3. Pricing Power
Invest in companies that make stuff you can eat, drink, smoke and use in the bathroom. And buy the big ones. The big players in these markets have the purchasing and pricing power to increase prices with rising costs. They will have the ability to cope with inflationary pressures. People need their products. I'm talking about Wal-Mart (NYSE:WMT), Johnson & Johnson (NYSE:JNJ), Altria (NYSE:MO), you know, the boring stocks that have provided our favorite products for eons.
4. Low Valuations
S&P 500 trading under historic average of around 15x earnings. Compare this to over 30x earnings in the 90s. Value isn't as great as it was in the 2008 and 2009 market lows, but the market is still not expensive. And with a volatile market, investors can still find great deals. Consider JPMorgan (NYSE:JPM) this summer, Wal-Mart after the Mexico issue in Spring 2012, Intel (NASDAQ:INTC) down over 20% from this year's high.
5. High Earnings
Earnings keep beating, and they will continue to be juicy until Armageddon. Oh and by the way, when Armageddon happens, you won't be worried about your IRA or brokerage account. Until then, invest in companies that sell people what they want to buy.
6. Because Donald Trump and Warren Buffett said to
That's right. Follow the lead of the best investors in the world. Not some blogger or newsletter you've never heard of that is only trying to scare you to fill their pockets.
7. Bonds Suck
This is true. Look at investment grade and treasury yields right now, people. Then look at inflation. Yeah, it sucks. It's called negative real return (when return minus inflation is negative). What are you going to do about it? Cry? Large companies are issuing bonds at 2% and buying their own stock paying >3% dividends. You do the same. That is, invest for dividends. Better yet, buy companies that grow their dividends consistently. They're out there, and they're wonderful.
8. Miracle of Compound Interest
Cost of not being in the market? No compounding interest. So what happened to investors' shares of Microsoft (NASDAQ:MSFT) in 2008? Their dividends bought more shares at lower prices. And now those shares have grown and bought many more shares that are paying dividends and buying more shares. This is a miracle we can all be a part of. In his latest newsletter to shareholders, Warren Buffett invited a flat market. He wants the market to trade flat so his IBM shares can reinvest at low prices!
9. Rising Middle Class
A rising middle class in our world will need the products that U.S. large and mega caps provide. In every decade for the next 3-4 decades, we will see 1 billion more people added to the current middle class. That means the world needs 1 billions more Big Macs, a billion more MacBooks ... you get the idea.
10. 100 year chart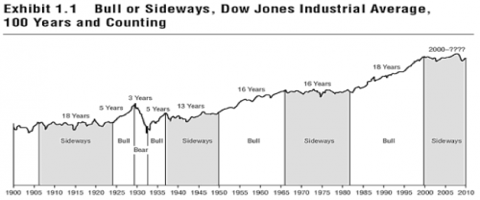 This is called an uptrend. When you see an uptrend, invest in it. Especially when you can get paid (dividends).
With bond yields at record lows, inflationary pressure from the FED, and everything else uncertain, the most sensible area to invest right now exists in the U.S. large cap dividend space. Talk to your advisor about constructing a well diversified dividend growing portfolio and get that cash to work. If you don't have an advisor relationship or don't feel savvy enough to construct your own portfolio, consider adding the Vanguard Dividend Appreciation ETF (NYSEARCA:VIG) or the iShares Dow Jones Select Dividend ETF (NYSEARCA:DVY).
Disclosure: I am long MSFT, JPM. I wrote this article myself, and it expresses my own opinions. I am not receiving compensation for it (other than from Seeking Alpha). I have no business relationship with any company whose stock is mentioned in this article.