LSB Industries (NYSE:LXU) has delivered earnings surprises in three of the last four quarters with an average beat of 7.7%. Most recently, this manufacturer of climate control and chemical products outperformed the Zacks Consensus Estimate by 26.1% in its second quarter. In addition, the Zacks No. 1 Rank (Strong Buy) stock trades at a P/E multiple of just 13.9, which makes it an attractive pick for value investors.
Solid Second Quarter
On Aug. 8, LSB Industries reported second-quarter adjusted earnings of $1.11 per share, which trumped the Zacks Consensus Estimate of 88 cents. Revenues declined 11.2% year over year to $209.3 million, but exceeded the Zacks Consensus Estimate of $189 million. The year-over-year decrease was due to lower sales in both its Chemical Business and Climate Control Business segments.
Chemical Business sales were negatively impacted due to an explosion at the company's El Dorado chemical plant and unplanned downtime at its Pryor chemical plant. Lower revenues from the Climate Control Business were due to a decline in sales of geothermal and water source heat pumps, hydronic fan coil sales, and other heating, ventilation, and air conditioning sales.
Despite lower sales, the company is making progress and is now geared up to make its El Dorado plant operational in the coming quarters. Moreover, the company has completed the repairs to the urea reactor at the Pryor Facility. The company also has strong agriculture fundamentals, making the stock attractive.
Rising Earnings Momentum
The Zacks Consensus Estimate for fiscal 2012 has moved up 6.4% to $3.14 per share over the last 60 days. For fiscal 2013, the Zacks Consensus Estimate has increased 4.8% to $4.60 per share, representing a year-over-year increase of 46.3%.
Plenty of Value
Shares of LSB Industries have performed reasonably well so far this year, generating a healthy year-to-date return of roughly 47.4%. In addition to a low P/E multiple, the stock has an attractive P/B ratio of 2.9 (a P/E ratio below 15.0 and a P/B multiple lower than 3.0 generally indicate value).
Chart Showing Consistent Rise
Shares of LSB Industries have been rising since mid June 2012, and reached a 52-week high of $44.29 on Sept. 27, 2012. Moreover, the stock is currently trading above its 50- and 200-day moving averages, which stand at $38.31 and $34.58, respectively.
Volume is fairly strong, averaging roughly 167,000 daily. The year-to-date return for the stock is 55.22% compared with the S&P 500's return of 15.38%.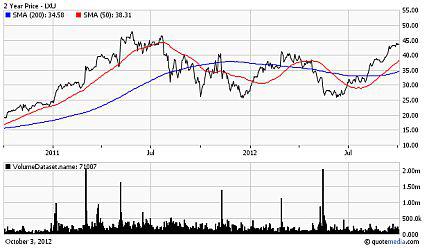 LSB Industries is a manufacturing and marketing company with principal business activities that consist of the manufacture and sale of commercial and residential climate control products, such as geothermal and water source heat pumps, hydronic fan coils, modular chillers and large custom air handlers. The company is also engaged in the manufacture and sale of chemical products for the agriculture, mining and industrial markets. LSB Industries has a market cap of roughly $978 million.