Two of the world's largest oil companies, Total S.A. (NYSE:TOT) and Royal Dutch Shell (NYSE:RDS.A), have sharply diverged in their respective opinions regarding the potential of the Arctic. There was a brief summary of these respective positions in a recent article at MarketWatch. To make a long story short, Shell remains committed to exploring the Arctic for oil and gas and tapping into the enormous resource potential of the region. Total intends to avoid the Arctic, primarily due to environmental concerns.
More than four years ago, Royal Dutch Shell paid approximately $2.8 billion to the United States federal government for leases that grant the company the right to explore for and develop petroleum resources in the Chukchi Sea, which is located off of the northwest coast of Alaska.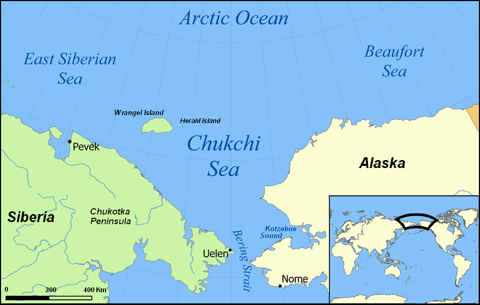 Source: Wikipedia
The company is dedicated to developing this area due to the resource potential of the Sea. Federal officials estimate that the Chukchi and Beaufort Seas (the other Arctic sea off Alaska's shores) hold between 26 and 30 billion barrels of oil and approximately 150 trillion cubic feet of natural gas. However, these resources are located under the sea floor in one of the harshest environments on Earth. This means that there are significant technical challenges in accessing these resources, which is something that Royal Dutch Shell knows all too well. A recent article in the New York Times stated that Royal Dutch Shell has been forced to postpone the completion of its wells in the Sea for another year because a spill containment dome cracked during a testing accident. This is the third year in a row that Shell has had to delay this project due to technical difficulties.
Total, meanwhile, is choosing to completely avoid the Arctic. Shortly after Shell's mishap with its containment dome, Christophe de Margerie, CEO of Total, spoke out against drilling for Arctic oil. His rationale is that the risk to the environment is too great. In a newspaper interview, De Margerie stated,
"Oil on Greenland would be a disaster. A leak would do too much damage to the image of the company."
Mr. De Margerie thus appears to be echoing the concerns of several environmental groups who have long been opposed to Royal Dutch Shell's ambitious Arctic drilling program.
What is Total giving up by not pursuing development opportunities in the Arctic? Well, the ability to tap into the enormous resource potential of the area, for one thing. According to the United States Geological Survey (source):
There could be up to 90 billion barrels of undiscovered oil in the Arctic, an amount that represents approximately 13% of the world's undiscovered oil reserves. More than half of these estimated resources are located in just three areas: Arctic Alaska, the Canada basin, and Greenland.
There could be 47.3 trillion cubic meters (1,670 trillion cubic feet) of natural gas located in the Arctic. This natural gas is concentrated in the West Siberian Basin, Arctic Alaska, and the Eastern Barents Sea. This represents approximately 30% of the world's estimated undiscovered natural gas reserves.
There are believed to be approximately 44 billion barrels of liquefied petroleum gas located in the Arctic. This represents approximately 20% of the world's estimated undiscovered LPG reserves.
It is believed that approximately 2.41 trillion cubic meters (85 trillion cubic feet) of gas could be extracted in the form of methane hydrates.
The resource wealth of this area is clearly substantial, and given the world's rising demand for energy, it is almost inevitable that development of these resources will occur in order to feed this demand. In a recent presentation, Sevan Drilling (OTCPK:SDRNF) stated that all potential sources of supply must be exploited if we are to meet our energy demand going forward. While eventually new sources of energy will emerge that will reduce or even reverse the demand growth of oil, that is still twenty years away, according to Statoil (NYSE:STO). Even after that, Statoil does not see demand for oil going away anytime soon. So, the world needs the resources and the Arctic has a lot of them. Total is willingly cutting itself off from this opportunity.
Several months ago, I published an article here on Seeking Alpha that briefly discussed some of the economic problems surrounding the development of the Arctic resource wealth. To quote my earlier article,
"One of the biggest problems with exploiting the resource wealth of the Arctic is the staggering costs involved. At $100 per barrel, only about 2.5 billion barrels of oil could be produced off of the coast of Greenland according to the USGS. Even at the incredible price of $300 per barrel, only about 4.1 billion barrels could be produced in the area. That is with a 50% probability and before making a penny of profit or paying any taxes. Higher prices than these would be needed for the area to offer enticing profit opportunities. This area off of the coast of Greenland is estimated to contain about 7.5 billion barrels of oil. Energy prices of that level would be more than sufficient to break the back of the United States' and many other major economies."
I am not convinced that Total is making the wrong decision here by choosing to avoid the Arctic, at least for now. The technical complexities of operating in such a harsh area are many and this leads to costs that may or may not be able to be recouped at today's prices. Royal Dutch Shell is experiencing these difficulties itself. Total may be waiting until it is more confident in its ability to operate safely and still be able to turn a profit. Advancements in technology may well provide this. Given current trends and the resource potential of this region, the Arctic will have to be developed at some point and it would be foolish for Total to sit out. On the other hand, throwing away enormous amounts of money on something that isn't viable would also be foolish. Or perhaps the USGS is wrong and the resource potential of the area can be tapped safely and economically. Robert Blaauw, one of Shell's senior advisers suggests just that, as reported by Reuters. He states,
"There are very different Arctics. The Bering Sea is like (drilling in) the North Sea but the northeast coast of Greenland is very different. We are seriously considering how we should respond to that (region) based on the technology we have today and whether it is worth taking that risk."
In effect, Blaauw appears to be stating that some areas of the Arctic are commercially viable and other ones are not, given today's technology.
What do you think? Is Total making the right decision by avoiding the Arctic or are they passing up on a huge opportunity? Please feel free to leave a comment and let us all know.
Disclosure: I am long STO. I wrote this article myself, and it expresses my own opinions. I am not receiving compensation for it (other than from Seeking Alpha). I have no business relationship with any company whose stock is mentioned in this article.
Additional disclosure: I am long Sevan Drilling (SEVDR) on the Oslo Børs.