Post Properties (NYSE:PPS) raised its guidance for 2012 during its second-quarter report and offers a dividend yield of 2.1%, making it a solid pick for investors seeking both growth and income. Earnings for this Zacks No. 1 Rank (Strong Buy) multifamily REIT (real estate investment trust) are expected to grow 33.9% in 2012.
Strong Second Quarter
Post Properties reported strong second-quarter results on July 30, with a 43.3% rise in FFO (funds from operations) to $39.7 million. On a per-share basis, FFO increased 32.7% year over year to 73 cents, beating the Zacks Consensus Estimate by 22.4%.
Total revenues surged 9.0% year over year to $82.2 million. Same-store quarterly revenues increased 7.8% to $75.1 million. Same-store net operating income (NOI) increased 10.4% to $46.2 million, primarily due to a 6.5% hike in average rental rates to $1,341 per apartment unit. Average same-store economic occupancy remained relatively high at 96.1%, compared to 95.1% in the year-ago quarter.
Outlook Raised
Based on the superior second-quarter results, management raised its FFO guidance for 2012 to between $2.50 and $2.60 per share from the earlier range of $2.26-$2.38. The guidance is based on same-store revenue growth expectations of 6.25%-6.75% and same-store NOI growth of 7.20%-8.20%.
Analysts have revised their earnings estimate upward for both 2012 and 2013, driving the stock to a Zacks No. 1 Rank (Strong Buy). Over the past 90 days, the Zacks Consensus Estimate for 2012 increased 9.6% to $2.62, implying year-over-year growth of 33.9%. For 2013, the Zacks Consensus Estimate has increased 6.8% to $2.67 in the same time frame.
Post Properties is scheduled to report again on Oct. 29. The Zacks Consensus Estimate for the quarter is currently at 62 cents per share.
Dividend Payout
Post Properties paid a dividend of 25 cents per share in the second quarter of 2012. The quarterly dividend represents a 25.0% increase from the payout in the year-ago quarter. The current dividend payment affirms a yield of 2.1%.
Premium Valuation
The valuation metrics for Post Properties are at a premium on a price-to-earnings (P/E) and price-to-sales (P/S) basis. Shares are currently trading at a forward P/E of 18.47 times vs. the peer group average of 17.67 times. On a P/S basis, shares are trading at 8.24 times vs. 7.74 times for the peer group average. A healthy earnings growth prospect warrants the premium valuation of the company. Its PEG ratio is 1.48, based on a five-year FFO growth rate of 12.5%.
Since Dec. 7, 2011, Post Properties shares have consistently fared better than the simple moving average for 200 days or SMA (200). In addition, the stock has outperformed the S&P 500 index since Nov. 18, 2010.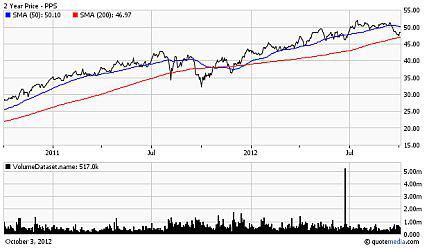 With a favorable supply/demand relationship, rising earnings estimates, robust growth projections, and a decent dividend yield, Post Properties offers an enticing upside potential going forward. In addition, a continued focus on some of the country's premium markets in major metropolitan areas bodes well for its long-term growth.
Headquartered in Atlanta, Ga., Post Properties develops and operates luxury multifamily apartment communities under the renowned Post brand since its formation in 1971. The company presently operates in 10 markets across the U.S., with ownership interests in 21,982 apartment units in 59 communities. These include 1,471 apartment units in four communities held in unconsolidated entities, and 1,810 apartment units in six communities under development or in lease-up stage. The company currently has a market cap of $2.6 billion.