By: Brendan Gilmartin
Alcoa (NYSE:AA) is scheduled to report 3Q 2012 earnings after the closing bell on Tuesday, October 9. A conference call will follow at 5:00 p.m. EST. Alcoa is a critical release, as the company is the first of the Dow 30 members to report quarterly results and is often viewed as a proxy for the ensuing earnings season. The results therefore have an impact across the broader market, including the index futures and ETFs.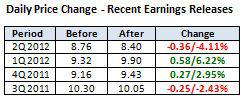 Outliers & Strategy
Note that Alcoa will report a charge of $0.08 per share related to clean-up efforts in the Grasse River (see story below).
Alcoa is seen posting EPS of $0.01 for the 3Q period (well below the $0.12 projected 90 days earlier) (Source: Yahoo! Finance). The range of estimates is from (-$0.10) to $0.15. Revenues are seen falling 13.2% to $5.57 bln.
On the London Metal Exchange (LME), aluminum rose over 10% during the third quarter, while Alcoa shares were slightly positive.
Recent News
10/03: J.P. Morgan lowered its 3Q earnings estimate on Alcoa from $0.04 to $0.01, according to Benzinga.com.
10/01: Alcoa said it expects to record an after-tax charge of approximately $85 million, or $0.08 per share, in its third quarter 2012 results related to clean-up efforts in the Grasse River as ordered by the U.S. EPA.
09/27: Alcoa declared a quarterly common stock dividend of $0.03 per share. The shares are yielding a mere 1.36%.
09/27: Dahlman Rose downgraded Alcoa from Buy to Hold, according to a post on StreetInsider.com. The firm noted that it expects aluminum prices to be range-bound, while the economy shows signs of weakness.
09/18: Jefferies cut Alcoa from a Buy to Hold rating with a price target of $11, according to a report on StreetInsider.com. The firm cited a preference for shares of Freeport-McMoRan (NYSE:FCX) and jump in Alcoa shares ahead of the downgrade.

Technical Review
Alcoa shares recently tested and held support at the 50-Day SMA (near $8.75) in advance of the 3Q earnings release. Should earnings surprise to the upside (EPS estimate is $0.01/Revenue: $5.60 BLN), shares face initial resistance near $9.00, with upside to $10.00. Conversely, support is at $8.50, with downside risk to $8.20. (Chart courtesy of StockCharts.com)
Summary
Despite the recent uptick in aluminum prices on the London Metals Exchange, Alcoa shares have meandered in a narrow range over the past several months, due to concerns over softer demand in China, a weaker North American backdrop, and competitive forces. But with the shares only around 3% higher YTD and the S&P 500 up close to 15%, coupled with a series of recent analyst downgrades and sell-side estimate cuts, much of the negativity may be priced in at these levels. With that being said, Alcoa is in a position to surprise the Street with profits that marginally top consensus estimates. Bear in mind, however, that Alcoa's influence on the markets has waned over recent years and the results are seen as more of a litmus test for the ensuing reporting period, not a true barometer to the health of the economy.
DISCLAIMER: By using this report, you acknowledge that Selerity, Inc. is in no way liable for losses or gains arising out of commentary, analysis, and or data in this report. Your investment decisions and recommendations are made entirely at your discretion. Selerity does not own securities in companies that they write about, is not an investment adviser, and the content contained herein is not an endorsement to buy or sell any securities. No content published as part of this report constitutes a recommendation that any particular investment, security, portfolio of securities, transaction or investment strategy is suitable for any specific person.
Disclosure: I have no positions in any stocks mentioned, and no plans to initiate any positions within the next 72 hours. I wrote this article myself, and it expresses my own opinions. I am not receiving compensation for it (other than from Seeking Alpha). I have no business relationship with any company whose stock is mentioned in this article.