The civil unemployment rate has declined to 7.8% in September from 8.1% in August. That's a meaningful decline and the lowest unemployment rate since Mr. Barack Obama took charge in January 2009. Further, the unemployment rate has declined from a peak of 10% in October 2009 to 7.8%.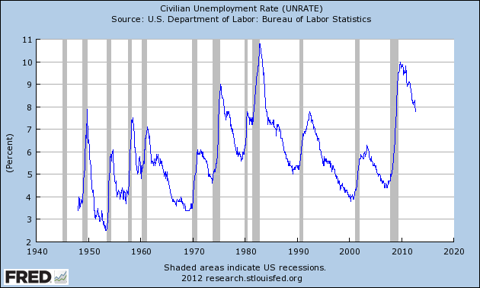 The headline unemployment numbers do look good and equity markets have reacted positively to the unemployment report. The near-term excitement of market participants can also be judged from a bearish Treasury bond market after the unemployment report. The 10-year bond yields have increased by 3.5%. There might be two reasons for an increase in yields. First, market participants are trading in relatively riskier assets and moving away from risk free assets after the job report. A more important second reason is the immediate perception about inflation as the unemployment rate improves.
However, has the unemployment rate really improved to the extent that investors start feeling very comfortable about the job market recovery and economic recovery?
I would remain cautiously optimistic considering the positive and negative factors discussed below.
The U6 rate (total unemployed, plus all marginally attached workers plus total employed part time for economic reasons) for September 2012 has remained steady at 14.7% compared to August 2012.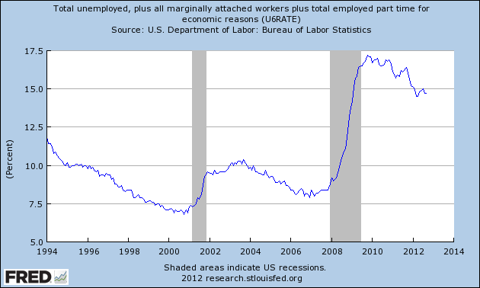 This suggests that the decline in the unemployment rate has largely been due to increase in part-time employment due to economic reasons. What follows is that if economic activity does show more sluggishness in the foreseeable future, the headline unemployment rate will again trend higher. With a global manufacturing recession underway and a recession in Europe coupled with slow growth in China, the U.S. might witness not so robust economic activity in the next few quarters. In such a scenario, the improvement in headline inflation might not be sustainable.
Having said this, I see sparks of positive news in the civilian employment-population ratio and the number of people not in labor force data.
The civilian unemployment-population ratio improved to 58.7% from 58.3% in August 2011. If the employment-population ratio does trend higher, the pressure on the working population will reduce relatively. However, this is the first positive reading after a few months and investors need to observe the trend over the next few months before arriving at a conclusion on a sustained improvement.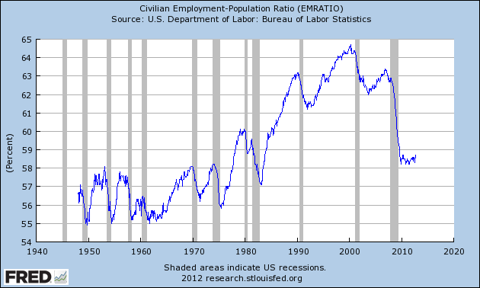 The number of people not in the labor force had also surged to a record high in August. This trend has reversed in September with the number of people not in labor force witnessing a decline. Again, just one observation does not provide any real evidence of a sustained improvement. If the person not in labor force does decline over the next few months, one can say with some more conviction that the unemployment scenario is improving.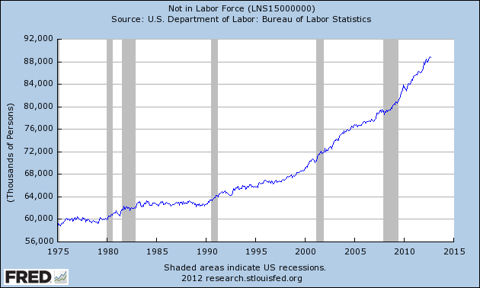 Coming to another area of concern, a decline in manufacturing jobs is bad news for an economy, which needs to focus on the manufacturing sector. According to the BLS:
Manufacturing employment edged down in September (-16,000). On net, manufacturing employment has been unchanged since April. In September, job losses occurred in computer and electronic products (-6,000) and in printing and related activities (-3,000).
However, the decline is acceptable in a way since the world is in a manufacturing recession and the job loss in the manufacturing sector is not just concentrated in the U.S.
Considering these factors, investors need to remain cautiously optimistic about the job market. I would consider real improvement in the economy and job market when U6 begins to decline. For now, even part-time jobs are better than no employment.
From an investment perspective, the new information looks positive for "Risk On" trade. However, several other factors such as current market valuation, fiscal cliff issue and the debt ceiling issue will play an important role over the next few months in determining the trend for equity markets. I would personally consider fresh exposure to the SPDR S&P 500 ETF (NYSEARCA:SPY) on corrections.
Disclosure: I have no positions in any stocks mentioned, and no plans to initiate any positions within the next 72 hours. I wrote this article myself, and it expresses my own opinions. I am not receiving compensation for it (other than from Seeking Alpha). I have no business relationship with any company whose stock is mentioned in this article.