My, how things change.
Look at housing's ugly step-children Beazer Homes (NYSE:BZH), Hovnanian Enterprises (NYSE:HOV), and Standard Pacific (SPF). These three were on the edge of oblivion in 2009 as the housing market collapsed. Now, it's a very different story.
The Bond Bonanza
Their share prices aren't the big story. Beazer and Hovnanian are still bouncing between $2 and $4. Standard remains below $8. Shares are still way off their 2005 prices.
It is not the equity side of things I'm drawing your attention to.
Check out their bonds.
Hovnanian bonds maturing 2017: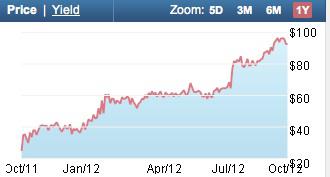 (from finra.org)
A year ago, you could buy the bonds at a drastic discount. You yield 40% on these 8.625% coupon bonds if you got them a year ago. Now the bonds selling close to par.
Beazer Homes bonds maturing 2019: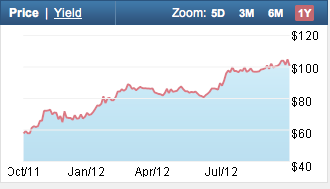 (from finra.org)
Again, investors could purchase these bonds a year ago at a marked discount. Now they are trading near par.
The bullish move in Beazer Homes and Hovnanian bonds is all the more striking considering the ugliness of their balance sheets. Remember Beazer Homes has $1.4 billion in long term debt and $0.2 billion in equity while Hovnanian has $0.5 billion in long term debt and -$0.4 billion in equity. Yet bond holders find the risk/reward attractive.
Standard Pacific debt is even more remarkable. Its bonds now sell at a premium. The bond market is hungry for Standard Pacific's debt.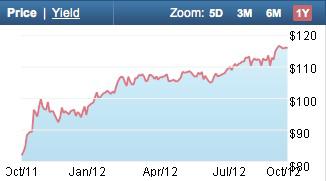 (from finra.org)
The debt of Lennar (NYSE:LEN), Toll Brothers (NYSE:TOL), and D.R. Horton (NYSE:DHI) is also now trading at a premium.
The bond market is screaming its confidence in the public builders.
More evidence that the housing industry is coming back from the dead.
Disclosure: I am long TOL. I wrote this article myself, and it expresses my own opinions. I am not receiving compensation for it (other than from Seeking Alpha). I have no business relationship with any company whose stock is mentioned in this article.
Additional disclosure: Disclaimer: The opinions in this document are for informational and educational purposes only and should not be construed as a recommendation to buy or sell the stocks mentioned. Past performance of the companies discussed may not continue and the companies may not achieve the earnings growth as predicted. The information in this document is believed to be accurate, but under no circumstances should a person act upon the information contained within. We do not recommend that anyone act upon any investment information without first consulting an investment advisor as to the suitability of such investments for his specific situation.