By Sumit Roy
Natural gas may continue to rally despite a larger-than-expected increase in inventories last week.
Natural gas prices fell after the Energy Information Administration reported that operators injected 77 billion cubic feet into storage last week, slightly above the 70 to 74 bcf that most analysts were expecting.
The injection was well below last year's 97 bcf build, but close to the five-year average build of 76 bcf.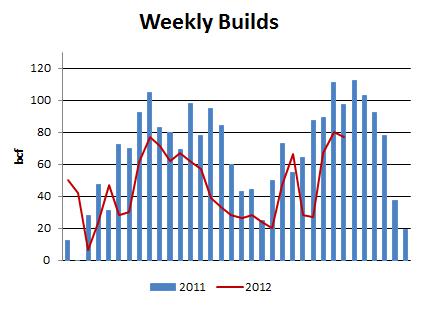 Inventories now total 3653 bcf, which is 244 bcf above the year-ago level and 296 bcf above the five-year average (calculated using a slightly different methodology than the EIA).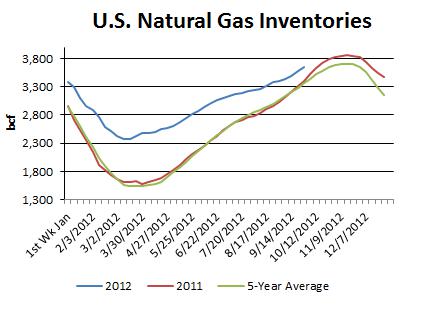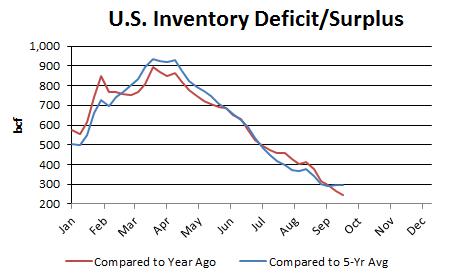 In our view, the year-over-year inventory surplus remains on track to be eliminated by the start of the winter withdrawal season. A cold-start forecast for the heating season raises the possibility that inventories could move into a deficit versus the year-ago levels sometime in November.
NOAA 6 To 10 Day Weather Outlook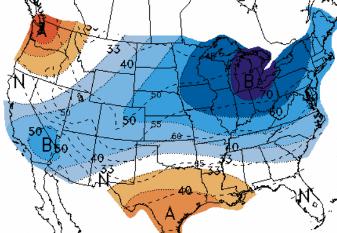 A cold winter would be in sharp contrast to last year, which saw the fourth-warmest winter on record.
At these prices, the natural gas market looks largely balanced, as evidenced by injections that have come in close to the five-year average in recent weeks. The move to near $3.50/mmbtu has surely reversed some of the coal-to-gas-switching demand-boost from earlier this year.
However, the increasing trend of electricity generators using more natural gas at the expense of coal is structural, owing to environmental and economic factors; thus, gas demand in the segment will likely continue to grow steadily.
Regarding the outlook for prices this winter, we see a bias to the upside. The EIA's latest survey of producers showed that U.S. output rose by almost 300 mmcf/d in July to 72.58 bcf/d. That's the ninth-straight month that output has hovered between 72 bcf/d and 73 bcf/d. In other words, U.S. natural gas production has flattened.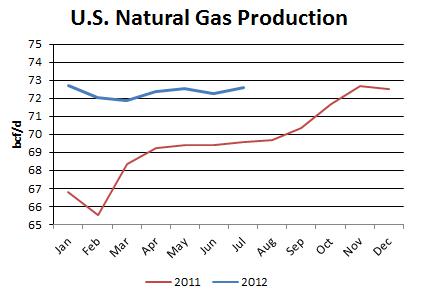 While a flattening of production is a far cry from the precipitous drop that many bulls had hoped for, it's obviously better than rising output. Given that we expect demand to continue to increase gradually—particularly in the electricity generation segment—prices will need to rise to spur producers to increase output.
Currently, operators are still moving away from natural gas drilling and toward oil drilling. The numbers of rigs drilling for natural gas fell to another 13-year low at 435 last week, according to Baker Hughes.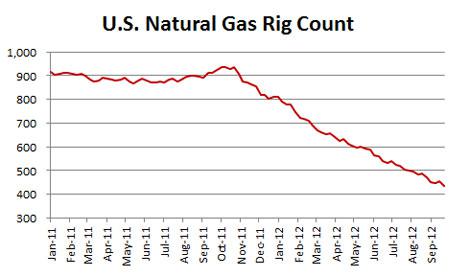 Bottom Line: We expect natural gas to rally toward $4/mmbtu, as inventories move into a deficit versus the year-ago level. Higher prices are necessary to encourage producers to ramp up natural gas drilling.
NATURAL GAS