Here are some data that have us thinking: maybe the Nasdaq won't resume its parabolic move from here.
There are certainly plenty of short term reasons for Nasdaq bulls to frown and doze off for awhile: the QQQQs are up over 7% in 7 days.  Money flow has been stagnant.  The ADX line is only barely ticking up, and RSI readings at various periods are all inching toward overbought.  The McClellan Oscillator (below) may have peaked, and even if we only see a little downside price-wise, volatility may be a tad underpriced here.

The QQQQ Sep/Oct 48 put calendar, for example, costs about $0.53, will be profitable at September expiration if QQQQ is between 46 and 50, and will profit from rising volatility.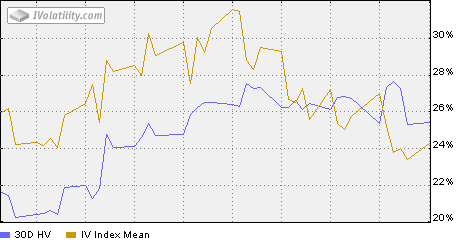 And for the option geeks out there: remember that put and call calendars are synthetically equivalent.  They have identical risk profiles and nearly identical greek values.  The put calendar appears to be 4 cents cheaper here, but it all comes out in the wash.