In a recent article on Seeking Alpha, David Fish examined the belief of some investors that dividend growth stocks, which are stocks of companies that have increased their dividends for many consecutive years, tend to have large market capitalizations. His analysis focused on stocks that are Dividend Champions (25+ consecutive years of dividend growth), Dividend Contenders (10-24 years), and Dividend Challengers (5-9 years), which can be found in comprehensive spreadsheets that he updates monthly and makes available online. He sorted the stocks into categories based on market capitalization and found no evidence of a bias toward large-cap stocks. In fact, only 29% of dividend growth stocks fell into the large- or mega-cap categories, indicating that the belief that dividend growth stocks are predominantly large-cap stocks is false.
In the present article, I examine a related belief held by some investors, which is that large-cap stocks tend to be slow dividend growers. The belief is premised on the argument that large-cap stocks represent mature companies that are unable to grow their earnings at high rates anymore, mainly because most of their growth is already behind them (and is what enabled them to become large-cap stocks). Given that sustained dividend growth depends on continued earnings growth, it is argued that these large companies are unlikely to maintain strong dividend growth rates.
Anecdotally, one can identify several companies where this argument has little face validity. For example, in 2012 there have been double-digit percent dividend increases for large companies such as Caterpillar (NYSE:CAT), Chevron (NYSE:CVX), International Business Machines (NYSE:IBM), McDonald's (NYSE:MCD), United Technologies (NYSE:UTX), and ExxonMobil (NYSE:XOM). Note that all these companies are considered prominent and large enough to be included in the Dow Jones Industrial Average. In the next section I report a more comprehensive analysis that addresses the relationship between market capitalization and dividend growth.
The True Picture
Using the latest version of the Dividend Champions, Contenders, and Challengers spreadsheets, I divided the stocks into categories based on market capitalization, using the same range criteria as David Fish. I then calculated the mean 5-year dividend growth rate (from 2006 to 2011) for the stocks in each category. Note that I had to exclude 38 stocks among the Dividend Challengers that did not start paying dividends until after 2006. The results appear in the table below: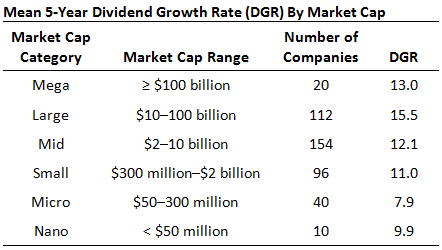 Not surprisingly, the distribution of stocks across categories shows the same degree of diversification that David Fish presented in his article. What may be more surprising is the complete lack of evidence that large-cap stocks are slow dividend growers. The mean dividend growth rates are in the low double digits from small-caps all the way to mega-caps. If anything, there is a tendency for the smallest stocks (micro- and nano-caps) to show weaker dividend growth.
To demonstrate that the mean numbers do not mask any underlying trends, the two figures below show dividend growth rates for individual stocks plotted against their market capitalizations (first figure; two outliers are excluded for display purposes) or the logarithm of their market capitalizations (second figure; one outlier excluded), with the latter making the non-mega-cap stocks more distinguishable.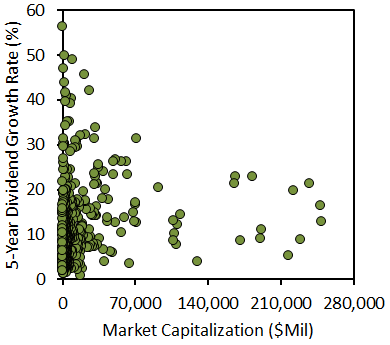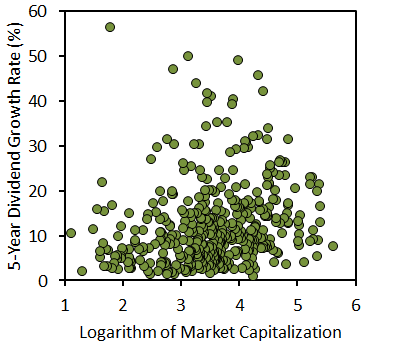 The figures provide no support for the belief that large-cap stocks are slow dividend growers. In fact, they hint at the opposite relationship. The correlation between market capitalization and dividend growth rate in the first figure is a mere .09, but with such a large sample size, it is almost statistically significant (t-test: p = .07). The correlation between the logarithm of market capitalization and dividend growth rate in the second figure is stronger at .21, which is statistically significant (t-test: p < .001). These small positive correlations indicate that larger-cap stocks have a modest tendency toward higher dividend growth rates than smaller-cap stocks.
Conclusion
This article has exposed another dividend-growth large-cap fallacy, showing that large-cap stocks do not tend to be slow dividend growers. Of course, this conclusion applies only to dividend growth stocks and does not address the relationship between market capitalization and earnings growth. It is not unreasonable to assume that many smaller companies are able to achieve stronger earnings growth than larger companies. Smaller companies often fuel their growth by reinvesting all profits, whereas larger companies sometimes find they can continue to grow at a steady pace while distributing a portion of their profits to shareholders in the form of dividends. For the companies that have histories of not only paying but increasing dividends, the present analysis indicates that size is not important.
Disclosure: I am long CVX, MCD, UTX. I wrote this article myself, and it expresses my own opinions. I am not receiving compensation for it (other than from Seeking Alpha). I have no business relationship with any company whose stock is mentioned in this article.