Commodity Chart Of The Day
Daily Natural Gas
(click image to enlarge)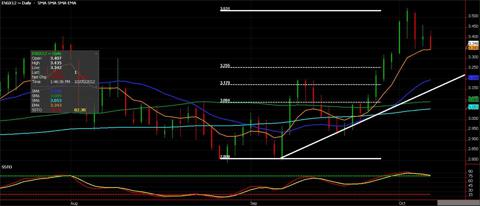 After a 25% appreciation in four weeks, prices appear to have reached an interim top and are due for a correction. It looks like prices will end the week approximately 5% off their highs. As of this post, prices are probing their first support -- the 8 day MA. I expect prices to challenge their up-sloping trend line, identified by the white line in the chart above.
My suggestion for those willing to go short in natural gas is to use the Fibonacci levels as your targets on the way down. Traders can trade the standard contract or the mini, which is 25% of the size and $25/penny vs. $100/penny. The idea of bearish put spreads for option trades also appears to be a viable strategy, or just an out of the money outright put. With just less than 60 days on this contract, I think we could see 25-40 cents depreciation, and both futures and option traders could capitalize on bearish trade.
Risk Disclaimer: The opinions contained herein are for general information only and not tailored to any specific investor's needs or investment goals. Any opinions expressed in this article are as of the date indicated. Trading futures, options, and Forex involves substantial risk of loss and is not suitable for all investors. Past performance is not necessarily indicative of future results.
Disclosure: I have no positions in any stocks mentioned, and no plans to initiate any positions within the next 72 hours. I wrote this article myself, and it expresses my own opinions. I am not receiving compensation for it. I have no business relationship with any company whose stock is mentioned in this article.