Is it to soon to re-enter oil stocks? Oil stocks are down 11% year-to-date and down 21% from the year high established on May 20, responding to the 20% drop in oil prices.
Yesterday, IEA, the International Energy Agency, raised its forecast for global oil demand in 2009 and said that it expects Chinese oil consumption to rise after the Olympic Games. This might be a good backdrop to an oil stocks recovery.
But how have oil stocks performed so far this year?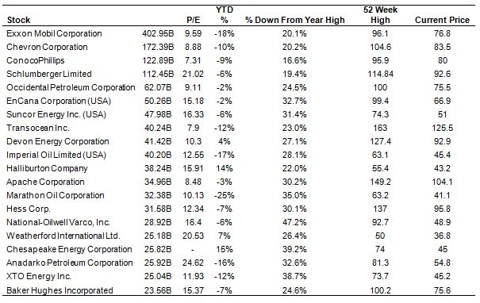 From this list of 20 of the main oil stocks, only Devon Energy (NYSE:DVN), Halliburton (NYSE:HAL), Weatherford (WFI) and Chesapeake (NYSE:CHK) are up for the year, but they are way off their highs.
Yesterday, crude oil fell to a 14-week low on speculation that the dollar will continue to strengthen against the euro, so things look, at the surface, not so good for oil stocks; but as Rockfeller once said, "the time to buy is when blood is running on the streets". And if you buy the smaller ones, like Anadarko (NYSE:APC), Chesapeake (CHK) or Devon (DVN), you might even be buying a possible takeover target in a cash rich industry that can see some consolidation soon.
As Jim Rogers says, the trick in investments is to buy low and sell high. Oil stocks seem low now, don`t they?
Disclosure: I don`t own any shares directly in the stocks mentioned above, but I manage a fund in which we have long positions in energy.