SandRidge Energy (NYSE:SD) is appealing due to favorable margins, a strong second quarter earnings report, and its discounted price in comparison to other US E&Ps. Current shareholders should hold SandRidge while interested investors should act before the next earnings release in early November. In the second quarter, SandRidge increased revenues and earnings substantially by effectively managing commodity derivatives and increasing production on growing assets. Due to high interest and activity with this trade, shareholders can benefit either under a short sell or a long-term investment for capital appreciation as commodity markets begin to stabilize and SandRidge continues to increase production from oil assets. There are concerns regarding long-term debt and derivative exposure but SandRidge's near-term outlook for capital appreciation and ROI looks more promising than its peers.
Kodiak Oil & Gas (NYSE:KOG) is a smaller E&P that's the most comparable to SandRidge. Apache (NYSE:APA), EOG Resources (NYSE:EOG) and Devon Energy (NYSE:DVN) are larger E&Ps that compete with SandRidge on the Mississippian Lime play. SandRidge's market cap is around $3.4 billion, trading around $7 per share; its price is around 6.9 times earnings. Kodiak's market cap is around $2.5 billion, trading at around $9.40 per share; its price is around 26 times earnings. Devon Energy and Apache's price are around 10.3 times earnings; EOG's price is over 20 times earnings.
EOG trades for around $115 per share; Apache and Devon Energy trade for over $60 per share. SandRidge's price-to-book ratio is around 1.2; both Apache and Devon are around 1.1 while EOG's price-to-book ratio is around 2.3. Kodiak's price-to-sales ratio is around 9.8, these other E&P's price-to-sales ratios are below three. Kodiak has the lowest EPS, it's around $0.36; Apache's EPS is around $8.35, it's the highest among these E&Ps.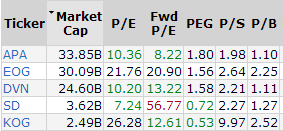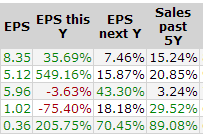 Kodiak's sales increased 89% in the past five years and 287% in the past quarter, YOY. SandRidge's sales increased 29% and 31.1%, respectively; this is the highest sales growth in the past five years among the aforementioned E&Ps. SandRidge's 35% ROE, 60.5% operating margin and 59.2% profit margin are the highest among these E&Ps. Kodiak's 13.9% ROE, 33.7% operating margin and 36.7% profit margin are next highest behind SandRidge. SandRidge's 1.25 debt-to-equity ratio is the highest; the other E&Ps' debt-to-equity ratios are below one.
SandRidge and Kodiak's beta scores are usually above two, the highest among the aforementioned E&Ps. SandRidge's average volume is around 10.6 million trades, Kodiak's around 6.2 million; these are the highest among the E&Ps. Both SandRidge and Kodiak's short ratios around 4.5 are the highest, while their relative volumes around 0.7 are the lowest among the E&Ps. SandRidge stock is the lowest YTD, trading at a 13.6% deficit; its 7.3% growth in the past month is the highest among the E&Ps. SandRidge's stock has increased by around 7.8% since its last earnings release.
According to the most recent earnings release, SandRidge's total second quarter revenue was $478.4 million, increasing from $364.7 million, YOY. Oil and natural gas revenues totaled $429.7 million, increasing 37%, YOY. Net income increased to $921.8 million from $223.1 million, YOY. SandRidge's commodity derivatives totaled $669.8 million, increasing from $167.1 million, YOY. Gains from derivatives were responsible for the substantial increase in net income and offset total expenses by $283.9 million; total expenses decreased 433%, YOY. The commodity derivatives are not hedges; they are managed as operation expenses to realize more effective prices per unit.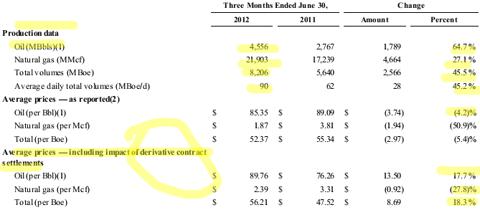 Average oil prices decreased 4.2%, natural gas prices decreased 50.9% and the total boe price decreased 5.4%, YOY. By utilizing derivatives, SandRidge was able to realize a 17.7% increase in oil prices, a 27.8% decrease in natural gas prices and an 18.3% increase in total boe prices, YOY. SandRidge's second quarter oil production increased 64.7%, natural gas increased 27.1% and average daily volumes totaled 90 Mboe per day, increasing 45.2%, YOY. The increase in production and E&P revenue was mainly due to the Dynamic acquisition in April 2012, and success in the Mid-Continent as well as the Permian Basin.
SandRidge president, Matt Grubb, cited the promising outlook on its Kansas oil play at the Kansas Independent Oil & Gas convention at the end of August 2012. SandRidge has 10 rigs in Kansas and plans to complete 100 horizontal wells before 2013. SandRidge recently financed $1.1 billion to fund the addition of 200 wells in Kansas and Oklahoma during 2013. SandRidge has wells that yield over 1,000 barrels each day while the average across the region is around 325 barrels each day. More than half of SandRidge's extract in the region is oil.
Second quarter revenue growth was also due to the success in the Mississippian Lime play. SandRidge has around 1.7 million acres and more than 8,000 horizontals in this region; its first five wells produced 1,000 boe per day during the first month of production. SandRidge is investing in water disposal and electrical infrastructures while decreasing drilling time to 19 days to completion by lowering the number of frac stages, thus lowering well costs. SandRidge's costs in this region will range between $3 million to $3.5 million. Devon Energy has plans to drill 50 wells here by the end of 2012. EOG has a stake in the region but expects oil production in its wells to deplete by 2015. Apache also has a stake in the region right alongside SandRidge's territory.
Regardless of the increasing competition and long-term debt, SandRidge has the highest earnings growth projections of any E&P in the industry. SandRidge's projected earnings growth is around 475%, Kodiak's is around 402%. SandRidge's transition from natural gas to oil for the sake of profitability seems to be a success thus far. It's expected to expand substantially in the medium term; interested investors should act on this opportune entry point as soon as possible.
Disclosure: I have no positions in any stocks mentioned, and no plans to initiate any positions within the next 72 hours. I wrote this article myself, and it expresses my own opinions. I am not receiving compensation for it (other than from Seeking Alpha). I have no business relationship with any company whose stock is mentioned in this article.