It looks like the 1800 level stopped the upside. This may be temporary, but it is important to keep gold's main drivers in mind.
1. If you think that Central Banks' balance sheets are the main driver of gold prices, then you have to explain why gold prices year-over-year growth is inversely correlated with the path of growth of the weighted average of the balance sheets of the U.S., eurozone, China and Japan.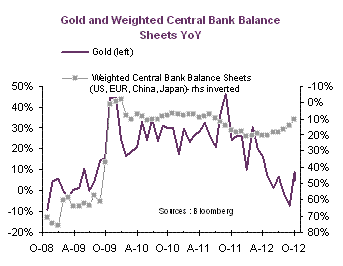 The gap between gold and CB balance sheet growth shows there is still some room for gold prices to rise, but not necessarily because of QE.
2. If you think that inflation drives gold, then the chart below is bullish. The question is whether inflation would come from higher wages (today's NFP data showed that nominal average hourly earnings are still subdued - up +1.8% since last year) or from higher imported prices (in 2008, inflation was mostly driven by skyrocketing oil prices).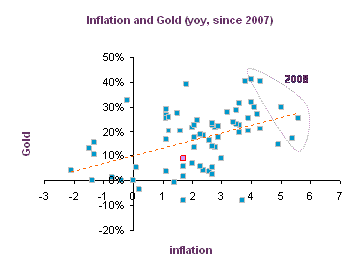 3. For this to happen you would need to have a much weaker dollar. Most of gold's short-term moves are explained by USD fluctuation. As can be seen below, the correlation has not broken down as it did in 2009 and 2010. There is no "catch up" under way. Higher gold prices would be spurred by a weaker dollar.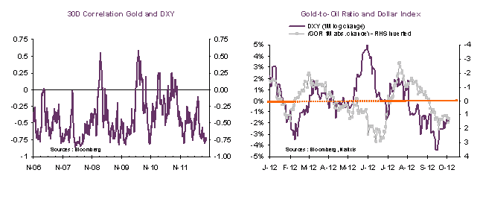 The gold/oil ratio has a strong negative correlation to the DXY, as can be seen in the chart above (right). If we compare the gold/oil ratio to the USD, we see that the 1-month change has reconnected the ratio and the DXY index.
4. As gold provides no internal return, its price is inversely correlated with real interest rates (more precisely, real yields). As can be seen on the chart below, the current level of 10-year real yields would justify gold prices at 2000 USD.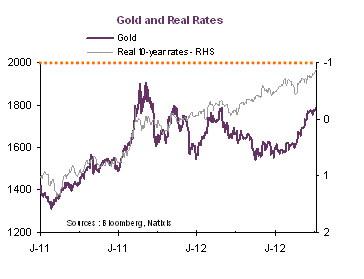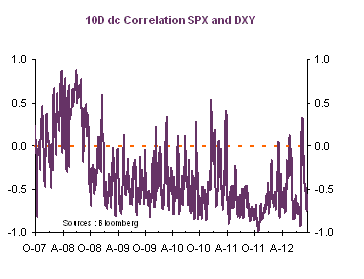 Note: breakeven inflation levels are stable. Therefore most of the moves come from much lower nominal 10-year yields. As nominal 10-year yields are negatively correlated to the USD, the disconnect between gold and real rates in early 2012 is mostly explained by the appreciation of the USD up to late July.
To summarize: Gold is mostly driven by the USD and, to a lesser extent, by real rates. The link with U.S. inflation is mostly indirect, as it comes from the negative relationship between the USD and Brent (gasoline => inflation). Global monetary policies are not really relevant.
If you want to be long gold, watch the stock market, not the Fed, as a weaker dollar still comes with a higher SP 500.
Disclosure: I have no positions in any stocks mentioned, and no plans to initiate any positions within the next 72 hours. I wrote this article myself, and it expresses my own opinions. I am not receiving compensation for it (other than from Seeking Alpha). I have no business relationship with any company whose stock is mentioned in this article.