Market Recap
The market got some great news today as the unemployment rate dropped to 7.8%. That news helped the markets rally fairly strongly to start the day, but things trailed off in the afternoon as the markets ended fairly flat overall. The news of the drop came as a bit of a shock to some, as job creation has still been limited, leaving many wondering if the drop was more based on a lower participation rate. Further, non-farm payrolls were announced at just under 115K, just missing the 120K expectations. Average workweek and hourly earnings both showed slight improvements as well. As the market prepares for earnings season, things are looking slightly stronger on the macro-scale, but earnings are expected to be a bit weaker this reporting season. It will be interesting to see what wins influence: Europe, QE3, earnings, or data over the next several weeks.
Here are some stocks we like moving into next week and beyond:
Stocks To Trade
Today, we are looking at an earnings trade in Citigroup (NYSE:C), longs in Banco Santander (NYSE:SAN) and ConocoPhillips (NYSE:COP), and shorts in Fastenal (NASDAQ:FAST) and McDonalds (NYSE:MCD).
For an earnings trade, we are looking at Citigroup. The financial institution will be one of the key reports coming our way in the next several weeks, and we believe moving into earnings, C looks poised for some potential correction. First off, the company is expecting to see a drop in EPS from 1.23 to 0.97, which is around a 20% decline in earnings. Additionally, the company is expected to show around 10% decline in revenue. As we move into earnings, the company has made an amazing move of over 20% in the past two months. Moving into earnings, we expect some correction. The company's current PE is 10.1, representing pretty decent value. Yet, things are still in low-growth mode at financial institutions, and they are going to have a bit lower PE than market due to the recent financial crisis. Given thet 10 PE and the company's 3.45 TTM EPS, if the company sees a drop in EPS of 0.26, we should expect a price drop to about $32. We would place a short on the stock as we head into earnings. Investors will want to lock in gains, short traders will place shorts as C is one of the first banks to report, and the stock has made a lot of money in the recent move.
Trade: C, Short
Breakout point: 34.00
(click images to enlarge)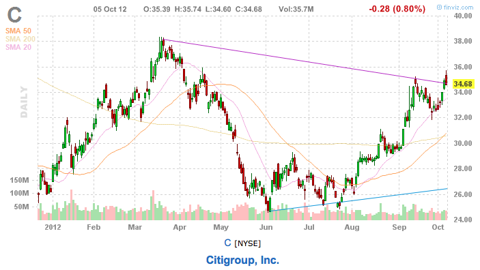 For longs, we like the looks of Banco Santander and ConocoPhillips. SAN was downgraded on Friday to Neutral from Buy at Goldman Sachs (NYSE:GS). We believe the downgrade is a buy signal. First off, Spanish banks are weak, and everyone knows it. They need capital, and they need help. Yet at the same time, much like in the States, we do not believe the EU will let Spanish banks fail. Spain is too important to the EU structure. In the next couple of weeks, we expect Spain to ask for a bailout, and it will be accepted. That news will send SAN shares soaring. The company is in a great uptrend right now. It has great support at 7.50. We would buy on a drop to there, or buy on a break of 8.00.
The other stock we like right now is COP. Despite a lot of oil price weakness in the past several sessions, COP stock has stayed strong. The stock is in a great upward channel, and has great support below it that we believe will hold moving forward. The stock reports earnings on October 25. Earnings are not expected to be strong for energy companies this quarter, and COP is slated to have a weak report. Yet the stock is showing no signs of slowing down, and we believe most of this fear is priced into the stock at this point, given its future PE of 10.
Stock Trade: Long, SAN
Breakout Point: 8.00
Options Trade: COP, Oct20, 57.50/55 Bull Put Spread
Max Gain: 50%
For shorts, we like the looks of Fastenal and McDonalds. FAST has been a stock we have been watching for weeks, as it has underperformed and looked like it would breakdown several times. We are putting it back on our watchlist as we get into the thick of earnings season, as we believe it could be time for FAST now. The stock has had a lot of trouble clearing its 200-day MA, and it looks like a break is coming at the 42 level. We like shorting FAST to 42, then looking for a break from there. The reason we believe FAST looks weak into earnings is that the company tends to have very flat earnings reports vs. expectations. We believe companies that either have not priced in weakness or are going to be flat on expectations will consolidate, as stocks have made a lot of money this year already. The company's inability to break the 200-day MA for two weeks with lots of strong market days shows weakness, and we believe as we head into and through next week's earnings, the stock will weaken.
MCD has really been struggling as of late. After a great 2011 and a good start to 2012, the stock has flattened, much like the economy. The stock has not had a lot of positive commentary of late as well. Burgers are looking like they are at the lowest selling period of the year. Comments indicated the company's sales have been flat, and we believe that MCD has no catalyst into earnings.
Stock Trade: FAST, Short
Breakout point: Failure of 42.00
Options Trade: MCD, Oct20, 92.50/95 Bear Call Spread
Max Gain: 17%
Tomorrow's Outlook:
The market is closed for the weekend.
Our Moves/Holdings:
We had a mixed day in the market, as we were able to take some gains and losses off the table. We got a solid 1.5% gain in our Freeport-McMoRan (NYSE:FCX) long, SPDR S&P (NYSEARCA:SPY) short. We got a solid 27% gain on $12 sold puts in Manitowoc (NYSE:MTW) as well. Further, we hit our first target in a long in Aruba (NASDAQ:ARUN) for a 1.5% gain. However, we took a 2% loss on a JM Smucker (NYSE:SJM), Cooper Industries (CBE) pair trade and a 10% loss in a Buffalo Wild Wings (BWLD) bear call spread.
We have the following positions:
In our Short-Term Equity Portfolio, we are long Panera Bread (NASDAQ:PNRA) and Freeport-McMoRan. We are short Cooper Industries.
In our Options Portfolio, we are long Amazon.com (NASDAQ:AMZN), Intuit (NASDAQ:INTU), Williams-Sonoma (NYSE:WSM), Apple (NASDAQ:AAPL). We are short iShares Russell (NYSEARCA:IWM).
In our Earnings Alpha Portfolio, we are long Disney (NYSE:DIS), Travelers (NYSE:TRV), Goldman Sachs, Alexion (NASDAQ:ALXN), Costco (NASDAQ:COST), Polaris (NYSE:PII), Crocs (NASDAQ:CROX). We are short SPDR S&P.
In our Goldman Sachs Up/Down Paper Portfolio, we are long Apple, Manitowoc, and Netsuite (NYSE:N). We are short WR Berkley (NYSE:WRB).
Charts courtesy of finviz.com.
Disclosure: I have no positions in any stocks mentioned, and no plans to initiate any positions within the next 72 hours.
Business relationship disclosure: The Oxen Group is a team of analysts. This article was written by Bruno Massinga, one of our writers. We did not receive compensation for this article (other than from Seeking Alpha), and we have no business relationship with any company whose stock is mentioned in this article.