In my previous posts here and here, I have analyzed the fundamental parameters of silver - an important precious metal - its demand, supply and reserves, and recommended investing not only in gold, but also in silver, with a long-term perspective. In this article, I will focus on the increasing demand for silver for industrial purposes.
Industrial was the main sort of demand for silver in 2011, representing 47% of the total. The total world silver industrial demand rose from 349.7 million ounces in 2001 to 486.5 million ounces in 2011. According to Thomson Reuters GFMS, silver industrial demand will reach 665.9 million ounces in 2015. This represents a Compound Annual Growth Rate (OTCPK:CAGR) of 4.4%.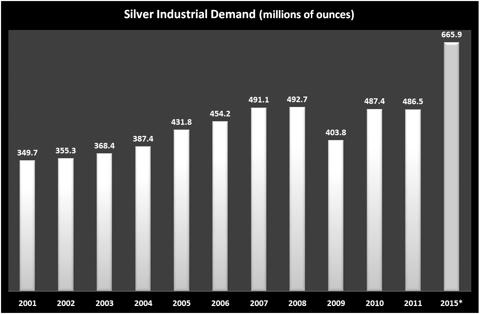 Data: Thomson Reuters GFMS Chart: Arie Goren *2015 figure is an estimate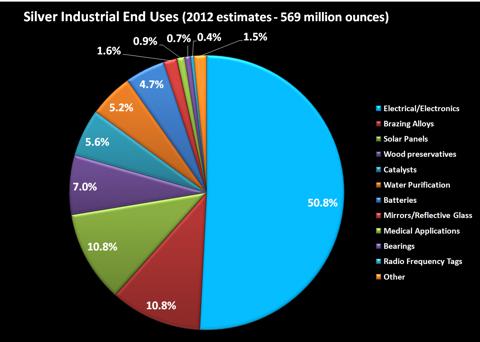 Data: Thomson Reuters GFMS Chart: Arie Goren
The main industrial use of silver is for the electrical and electronics industry - 50.8% of 2012's estimated industrial demand. Since silver conducts heat and electricity better than any other metal, almost all electronics are configured with silver. Silver is used for everything, from printed circuit boards to switches and TV screens. It is also used in many consumer items, from mobile phones to computers.
Another important use of silver is in the soldering and brazing of pipes, faucets, ducts and joints -10.8% of 2012's estimated industrial demand. Adding silver to the process of soldering or brazing helps produce smooth, leak-tight and corrosion-resistant joints.
One of the fastest growing industrial uses for silver is photovoltaic cells in solar panels - 10.8% of 2012's estimated demand. Approximately an ounce of silver can be found in each solar panel on residential roofs. Silver paste is used in 90% of all crystalline silicon photovoltaic cells, the most common type of solar cell.
Silver compounds have a toxic effect on some bacteria, algae, fungi, and even on some viruses. The use of silver goes back to the very beginning: the Father of medicine, Hippocrates, wrote that silver had beneficial healing and anti disease properties. Silver was also used to prevent infection during war before the times of antibiotics. More recently, the FDA approved a breathing tube with a fine coating of silver, after it was established that it reduced the risk of ventilator-associated pneumonia.
One of the largest uses for silver is in industries like the production of plastics, where silver is used as a catalyst. About 5.6% of 2012's estimated industrial demand is used in order to produce ethylene oxide and formaldehyde, both used to make plastics.
Another growing use of silver is in batteries, Silver oxide-zinc is used in batteries for digital cameras, watches, and phones. Recently, it was announced that all Apple (NASDAQ:AAPL) products will be using silver oxide-zinc batteries. The most common silver oxide battery is the small button-cell battery used in cameras, toys, hearing aids, watches and calculators. The size is approximately 35% silver by weight.
Summary
Industrial demand for silver has risen from about 40% of total silver demand in 2001 to about 48% of total silver demand in 2011, and this tendency is expected to continue. Since the estimated rate of growth in the industrial demand for silver - 4.4% - is greater than the world mine production growth rate, which is about 2.7%, we can expect some shortage in the supply of silver and higher silver price.
Some Liquid ETFs for Silver:
iShares Silver Trust (NYSEARCA:SLV)
ETFS Physical Silver Shares (NYSEARCA:SIVR)
ProShares Ultra Silver (NYSEARCA:AGQ)
ProShares UltraShort Silver (NYSEARCA:ZSL)
Disclosure: I have no positions in any stocks mentioned, and no plans to initiate any positions within the next 72 hours. I wrote this article myself, and it expresses my own opinions. I am not receiving compensation for it (other than from Seeking Alpha). I have no business relationship with any company whose stock is mentioned in this article.