Broadcom Corp. (BRCM), founded in 1991, is a global provider of semiconductors for both wired and wireless communications. The company's products enable the delivery of voice, video, data and multimedia to and throughout the home, the office and the rapidly growing mobile environment.
Revenue:
BRCM has a solid track record of growing revenues and EBITDA, especially over the past several years. YTD 2012 revenue results have shown growth compared to the same period YOY, and EBITDA growth has been great in the past 5+ years, showing growth since 2008.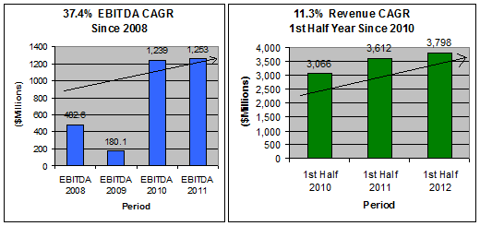 In 2011, nearly half of net revenue was derived from mobile and wireless (47%). The remaining market exposure was divided between broadband communications, (28%); and infrastructure and networking, (22%):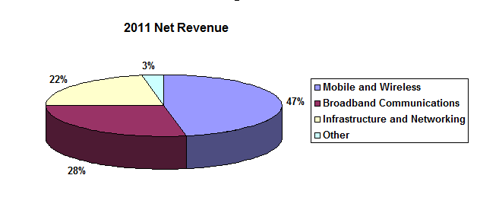 Exposure to Big Players in Mobile:
I like BRCM due to its interesting exposure to the wireless market, including big players such as Apple (NASDAQ:AAPL) and Samsung (OTC:SSNLF). According to a recent interview with Stephanie Link, the CIO, Co-Portfolio Manager of Jim Cramer's Charitable Trust, and Director of Research at The Street, BRCM is a major supplier to these companies, and it has been growing market share in mobile. Specifically, Stephanie speculated that BRCM could be increasing exposure to the iPhone brand, with $5-7 per phone from its combo chips, as well as touch screen related revenue around $2-3 of new revenue per phone. Stephanie added, "BRCM is gaining market share, and has 15% of revenues tied to Apple and 10% tied to Samsung."
Even though iPhone 5 is suffering from supply constraints due to intense demand, in my opinion, this is a "better" problem to have considering other possibilities. Supply shortages means the iPhone 5 is selling like hotcakes, and I feel BRCM will benefit from this popularity. With more than 5 million sales in the first weekend alone, and with the holiday season approaching, I sincerely doubt the total iPhone 5 sales numbers will disappoint in the end, as strong demand should continue for this device through 2012.
In addition, Samsung recently reported a record quarter, boasting a record quarterly profit of $7.3 billion, nearly double last year's figure. There is no denying of Samsung's strength and global exposure, and therefore its growth can only benefit BRCM.
Considering 15% of revenue is derived from AAPL and 10% from Samsung, BRCM should be able to harness the amazing growth of the mobile device market going forward.
Buy on this Pullback:
Broadcom has floundered lately along with APPL and its other suppliers, after the so called iPhone 5 sales debacle was realized: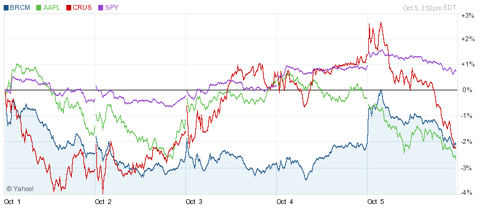 Since October 1st, BRCM has lagged S&P 500 by 3%, and has performed in line with AAPL and Cirrus Logic (NASDAQ:CRUS), another high profile Apple supplier. Let's take a more detailed look at BRCM over the past several years: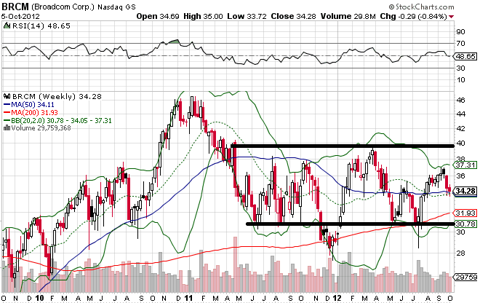 BRCM is trading above the 200 Day MA, and just above the 50 Day MA. Shares have been range bound between the upper 30's and the lower 30's for the past 18 months. In my opinion, the risk/reward looks good here, considering this trading range and support by the moving averages. The strong pullback over the past several days seems like an opportunity for the short term oriented as well.
My Take:
I am anticipating this strong stock to stay range-bound over the next month due to volatility in earnings season, although upside is definitely possible if Q3 earnings are better than expected. If shares do stay range bound, I feel there's a good chance they will ultimately retouch the high 30's by the end of 2012. This move will be driven by strong iPhone 5 sales results and Samsung product sales through year end, and continued growth in the mobile market as a whole.
The Play:
A Bull Calendar Call Spread:
Current price $34.28/share
Buy to Open January 19 2013 31 Call for 4.37
Sell to Open November 17 2012 36 Call for .84
| | |
| --- | --- |
| Total Cost | $353 |
| Max Profit on Nov 17 Expiration: | $147 |
| Max Profit from Nov 17-Jan 19*: | Unlimited |
| Days until Expiration on Long Call: | 106 |
| Says until Expiration on Short Call: | 43 |
*This scenario is available if BRCM finishes below 36/share on Nov 16.
When running a calendar bull call spread, you're selling and buying 2 calls, but the call you buy will have a later expiration date than the call you sell. We will utilize accelerated time decay on the short call as November expiration approaches in 43 days.
This spread offers exposure to the upside, which is capped only until November 17th. After that, the upside is unlimited. The advantage is if shares are trading below 36 on November 17, the call we sold will expire and we collect the $84 in premium. We can soak up the time decay in our favor close to this expiration in a very similar fashion to a "covered call" strategy, however, instead of owning shares and outlaying thousands of dollars, we've only spent $353 getting long in this strategy.
In addition, if shares are little changed by November 17th, we will lose less than if we hadn't sold this call, or had enacted a bull call spread instead. For more details of a Bull Calendar Call Spread, check out my recent article covering a similar trade.
Disclosure: I am long AAPL. I wrote this article myself, and it expresses my own opinions. I am not receiving compensation for it (other than from Seeking Alpha). I have no business relationship with any company whose stock is mentioned in this article.
Additional disclosure: I may initiate this position in the next week. I have owned the EWY ETF in the past 3 months, which has exposure to SSNLF.PK.