EMC (EMC) is an appealing asset for a defensive position in the tech sector that has high potential for long-term capital appreciation and revenue growth. Current shareholders should hold long-term, interested investors should buy on a strong earnings release, and sales growth from recent key partnerships have the potential to generate upticks in its market price in the near term. EMC will benefit from its 79% stake in VMware (NYSE:VMW) and a new partnership with Cisco (NASDAQ:CSCO) as demands for cloud IT services and products for migrating to cloud platforms continue to grow. Focusing on cloud computing, big data, and trust services will help EMC flourish as management expects its growth to outpace the growing enterprise markets it serves. Through its current operations and partnerships, EMC's earnings release showed strong growth in the virtualization-based VMware division and its information infrastructure business as well.
The joint partnership and approach between EMC, VMware and Cisco can provide an array of cloud services to enterprises that will rival competitors like Microsoft (NASDAQ:MSFT), Oracle (NYSE:ORCL) and IBM (NYSE:IBM). It's important to consider both VMware and Cisco's metrics when assessing EMC's future outlook. Seagate (NYSE:STT) and NetApp (NASDAQ:NTAP) are niche competitors to EMC that are worth reviewing as well. Seagate has been the primary beneficiary of constrained supply from data storage firms located in Thailand as a result of troublesome floods. NetApp also focuses on cloud IT and enterprises services; it's had a dip in profits lately while it still has leading market share in NAS. NetApp could be a potential acquisition target for Cisco, Oracle or IBM in the near future.
Market Info
Click to enlarge

EMC has the lowest beta score which is usually close to one, its average daily volume is around 16.6 million and its relative volume is around 0.9. Seagate's beta score is usually close to two while its average daily volume is close to 11.7 million. Cisco's average volume of 40.9 is the highest among these firms. Over the past month, EMC's stock increased 3.7%, VMware increased 5.6% and Cisco increased 0.7%; NetApp's trading at a 3.4% deficit and Seagate's trading at a 6.6% deficit. EMC's stock has increased 26.5% YTD through early October and its stock price has increased around 9.7% since its last earnings release.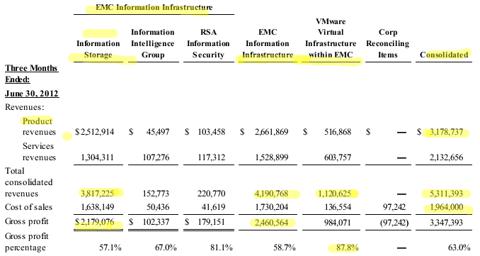 Consolidated products revenue increased 4.4%, YOY while consolidated services revenue increased 18.4%, YOY. VMware services revenue increased 32.4%, YOY while RSA Information Security Services revenue increased 25%, YOY. Virtual infrastructure gross profit was around 85.3% while EMC's total consolidated gross profit was around 59%. US consolidated revenues totaled $2.85 billion, increasing 14%, YOY. EMEA consolidated revenues totaled $1.4 billion and only decreased 0.5%, YOY. Asia Pacific Japan revenue increased 14.3% and the Latin America, Mexico, and Canada segment revenue increased 11%, YOY. Net income totaled $689.4 million, increasing 16.5%, YOY.
The VMware acquisition creates a promising opportunity for EMC as demands for storage software, virtualization, and storage hardware continue to grow. EMC leads the global storage software sector with a leading 30% market share. The ability to now package software and hardware together in bundles for enterprise clients bodes well for EMC's long-term growth potential. EMC currently has 29% market share in the global disk storage systems sector. The cloud IT services market is expected to grow around four times quicker than the global IT market's projected compound annual growth rate of 6.7%.
EMC and VMware both stand to realize significant growth by helping more enterprises seamlessly migrate to the private and public cloud platforms while mitigating downtime significantly. VMware currently accounts for around 35% of EMC's revenues and around 45% market share in the virtualization software sector. VMware's market share will continue to erode against increasing completion from Microsoft and Oracle. EMC can offset competition and grow long-term by working with Cisco while launching new cloud IT products like Cloud Tiering Appliance and the Secure Cloud On-Boarding Solution in order to create affordable opportunities and license agreements for small and mid-size businesses to migrate to cloud platforms.
Disclosure: I have no positions in any stocks mentioned, and no plans to initiate any positions within the next 72 hours. I wrote this article myself, and it expresses my own opinions. I am not receiving compensation for it (other than from Seeking Alpha). I have no business relationship with any company whose stock is mentioned in this article.