Traditionally, refining stocks have been the despised children of the energy industry and with good reason. A history of needing heavy capital expenditure combined with paper thin margins make for a poor business environment. However, this last month, I have been writing on how the refining niche has completely turned around, as oil market imbalances are radically broadening crack spreads and turning many refiners into cash flow juggernauts.
The segment traditionally offers good dividends. Yields for most refiners are a bit thin at the moment due to recent share price advances. Despite that, this looks like a time when both growth and dividend investors can both happily invest together. But do all refiners benefit from this new environment? I laid the ruler over five refiners: Alon USA Energy (NYSE:ALJ), Delek US Holdings (NYSE:DK), HollyFrontier Corp. (NYSE:HFC), Tesoro Corp. (TSO) and Valero Energy (NYSE:VLO). Here are their price performances: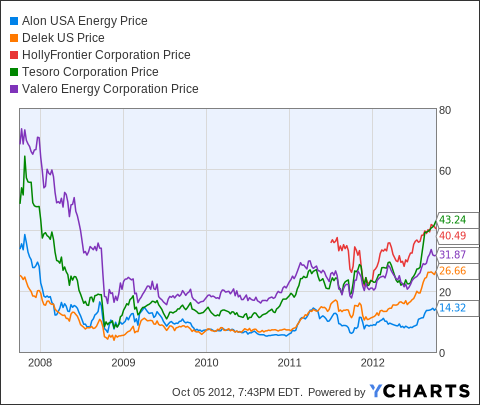 All of these stocks tumbled drastically in 2008-2009 when oil prices cratered from a high above $145 to below $36 (New York Futures). This is odd in its own way because, of all energy stocks, refiners receive little if no benefit from the ups and downs of oil prices. Instead they make their living between the cost of crude oil, known as feedstock to refiners, and the price of finished products, this known as the crack spread.
Here is a look at earnings for these stocks: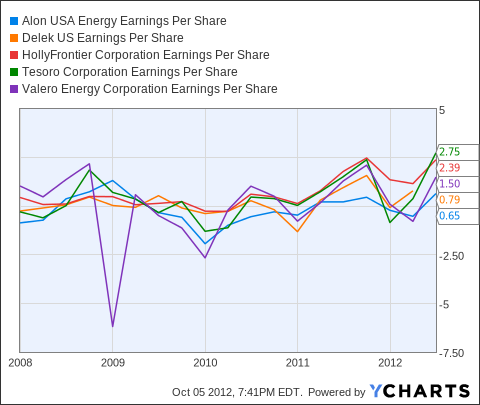 ALJ Earnings Per Share data by YCharts
Only Valero of this group had a massive hit on earnings during the crude price meltdown. All five are enjoying a strong upsurge in earnings now.
First, some background information:
Market Imbalances
Since September, I have been writing about the historical market imbalances in crude oil. Many benchmark crudes are trading at high levels due to regional shortages in Europe, market disruptions caused by after affects of the Arab Spring, as well as unease over Iran. Evidence is Brent Crude spot price on October 4 at $111.94.
Meanwhile, many mid-American benchmarks are selling at much lower levels. On October 4, North Dakota Sweet traded at $70.09, and North Dakota Sour at $64.09. Even West Texas Intermediate is selling at a discount to $91.71, a $20 discount to Brent.
This sharp differential is caused by a combination of factors. Quickly ramped up production in places like the West Texas Permian Basin and North Dakota's Bakken are overstretching local pipelines. The inadequate transportation gives an advantage to local refiners, or those who have their own transportation assets. There has been a rally in Bakken prices due to some pipeline penetration and the leasing of several thousand rail cars, however, these are temporary or one-time solutions. I expect this is a temporary spike in Bakken and the crack spread will continue to widen as continued production increases outstrips the transportation infrastructure, at least for the next 18-24 months.
Meanwhile, South American production of heavy crude, especially in Venezuela, outstrips that region's own refining capability. They are forced to send their raw products to Mexico or the United States for refining. Again, access to these low cost Latin American crudes come at a cost advantage to some refiners operating out of Texas and Louisiana.
When Crude is Not Just Crude
A complication in playing into these market imbalances is the very nature of crude and the refining process. Energy companies like Exxon Mobil (NYSE:XOM) and Conoco (NYSE:COP) produce the oil. They either refine it themselves or send it to independent refiners to break it down into the products we use: gasoline, chemicals, asphalt and a myriad of other key elements of our modern economy.
But all oil is not the same. Crude is rated by a series of measures. The most common are:
Heavy/Light - a measure of the density of the crude as well as the amount of solids in the oil
Sweet/Sour - a measure of elements like sulfur

that

make the oil easier or more difficult to process.
Overall the most economically attractive oil is Light and Sweet. It is easy to refine and yields a higher ratio of the highly priced combustibles like aviation fuel and gasoline. On the opposite end is Heavy Sour, more difficult to crack and yielding higher percentages of less valuable compounds.
The kicker in all this is that some refiners have the capability to refine all types of feedstock and thrive, while some do not have the expertise or refinery set up to economically process heavier products. And the biggest discounts right now are in the heavy crudes being produced in the mid-continental plays like the Bakken or in Latin America like Venezuela.
California
Gas prices have exploded in California following supply disruptions. On top of a planned maintenance shutdown of a Phillips 66 (NYSE:PSX) refinery, a power outage stymied an Exxon Mobil plant while a Chevron (NYSE:CVX) also had a maintenance disruption. This comes at a time when refineries are also transitioning their equipment to a "winter blend" of gasoline, so inventories are low. Pump prices have gone through the roof. However, it looks to be gas retailers increasing prices as a result of the disruption news as opposed to a massive price boost by refiners.
Local California refiners no doubt will experience an earnings pop. However this is a temporary situation that will disappear as soon as the refinery disruptions work themselves out. I will be surprised if they are not fixed within the next week due to the nature of the disruptions. The economics of California normally has a tighter crack spread because of costlier feedstock so the long-term effects should be tiny.
The refiners who are best situated to take advantage of the price spreads not only have refineries in the right place, but also have the ability to economically handle the more challenging, heavy feedstocks. So now, let's look at some of these players:
Alon USA Energy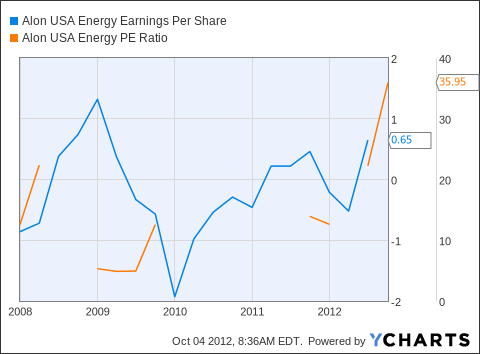 ALJ Earnings Per Share data by YCharts
According to the company's website:
Alon owns and operates sour and heavy crude oil refineries in Big Spring, Texas, and Paramount, Long Beach and Bakersfield, California (collectively known as our California refineries), as well as a light sweet crude oil refinery in Krotz Springs, Louisiana.
The company also has a refinery in Oregon that primarily produces asphalt, asphalt being a major product for Alon. Its recent closing price was $13.85 and has a 52-week trading range of $5.35-$14.60. The company pays a $0.04 quarterly dividend for a thin 1.17% yield from a payout ratio of 30.5. Earnings per share are $0.36 for a surprising 39 PE. More concerning: a 2.0 long term debt to equity ratio is showing a higher debt level than comfortable.
Along with the debt is the company's positioning. While its Texas refinery is well positioned to take advantage of Permian Basin cut rate pricing, its operations in California have to depend on pricier feedstock. The earnings are lower because the company has been investing into the California refineries to make them more cost efficient in producing higher end products. I expect a temporary Q4 pop in earnings due to California, but I do not believe it will be sustainable.
Between its higher feedstock cost and high debt levels, Alon looks to be a pass at this time.
Delek US Holdings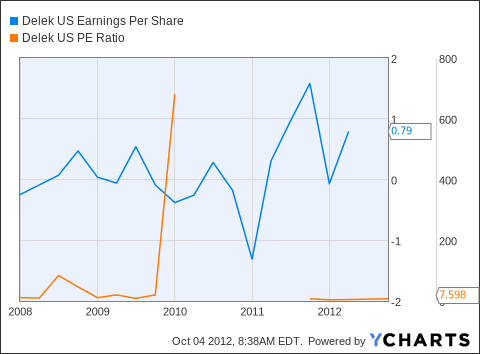 DK Earnings Per Share data by YCharts
Delek is the smallest refiner of this group, with two refineries, in Tyler, Texas and El Dorado, Arkansas. It directly benefits from the improving Gulf Coast crack spread. In addition to refining, it also has two divisions that also supply, transport and retail so it is more diversified downstream than some of the others on this screen. The earnings of Delek took a hit when its Tyler plant had to go down for some extended maintenance in 2010. It is now up and running and earnings are accelerating.
Those earnings now report at $3.41 a share for a 7.6 PE Ratio. The recent closing price was at $26.02, at the top end of its $9.41-$27.41 52-week trading range. It pays $0.0375 quarterly dividend which comes out to another thin regular yield of 0.59%. However, that is somewhat misleading as it recently declared a $0.10 special dividend
With today's special dividend announcement, our Board continues its long-standing commitment to return value to our shareholders. Within the last twelve months, we have announced four special dividends and four regular dividends totaling an aggregate of $0.62 per share.
These special dividends actually bump up the yield to 2.3% - still nothing to thump your chest about. I do expect the dividend to increase in the next six months. With a reasonable balance sheet, improving earnings and a willingness of the board to reward shareowners, this can be an excellent long-term holding. However, its tiny size makes it more mercurial.
HollyFrontier Corporation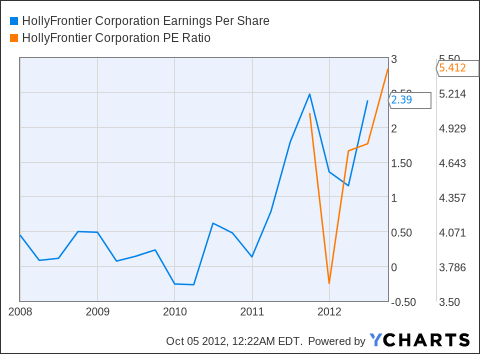 HFC Earnings Per Share data by YCharts
HollyFrontier is long in my portfolio. I consider it a hidden dividend tiger because of a lot of oddities in its numbers. The historical fundamentals can be confusing because it is a new issue formed at the merger of Holly Corporation and Frontier Oil in July 2011. Most historical numbers only show Holly's numbers, so recent profitability and earnings success show up on screens as a recent spike, instead of steady growth from two combined entities.
The company recently announced a $0.50 a share special dividend. In the press release it stated:
HollyFrontier operates through its subsidiaries a 135,000 barrels per stream day (bpsd) refinery located in El Dorado, Kansas, a 125,000 bpsd refinery in Tulsa, Oklahoma, a 100,000 bpsd refinery located in Artesia, New Mexico, a 52,000 bpsd refinery located in Cheyenne, Wyoming and a 31,000 bpsd refinery in Woods Cross, Utah.
The statement continued:
The Board of Directors has declared $3.00 of special and regular dividends in the last twelve months representing a 7.5% dividend yield on today's closing price of $40.00 per share.
The basic stats of the company show a regular dividend of $0.15 a quarter for a miserly 1.52% yield. Since reported yields do not take into account special dividends, even those as regular as HollyFrontier's. Smart investors can pick up a 7% yielder at a bargain 5.6 PE off $7.09 earnings per share. The company has paid off most of its debt and has a solid 1.5 quick ratio and conservative 20% payout ratio.
HollyFrontier's refineries are also located ground zero for taking advantage of the best feedstock prices in the mid-continental areas, giving them arguably the best cost advantages of anyone in the business right now.
Oddly, a few analysts have downgraded HollyFrontier as being over bought. It has had a good run up, but is still the most attractive of the refiners by almost any valuation: cost positioning, lack of debt, earnings growth, total dividend yield and PE.
Tesoro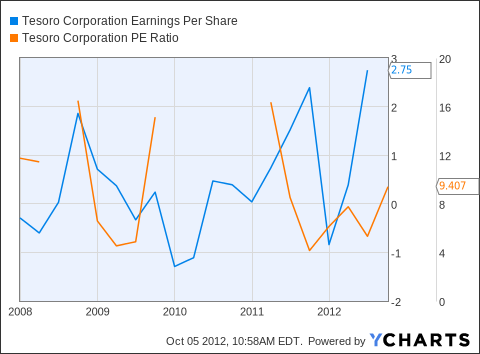 TSO Earnings Per Share data by YCharts
Tesoro has a recent closing price of $43.24 off a 52-week range of $18.90-$44.73. Earnings per share are at $4.65 with a PE Ratio at 9.3. It pays a $0.12 quarterly dividend, which with the steep runup lately yields only a 1.09% yield. It has a current ratio of 1.28 and this has been widening over the last year as the company has further solidified its finances.
The company runs seven refineries in the Western United States and is in the process of buying another refinery from BP (NYSE:BP). Tesoro's earnings have been all over the park, in part because of its heavy investment in new refineries and equipment upgrades. Tesoro has some key elements of its refinery capacity located in well positioned areas like Utah, North Dakota and Washington State so it has good opportunities to take advantage of market imbalances. It is larger than the first few refining stocks on this screen (from a refining capacity basis), so those advantages will be somewhat diluted.
Tesoro is a good buy, however, it may take it a little longer to show positive earnings growth as it continues to work through its maintenance program and digests the BP purchase. It might be better to put this issue on your watch list and purchase it on dips.
Valero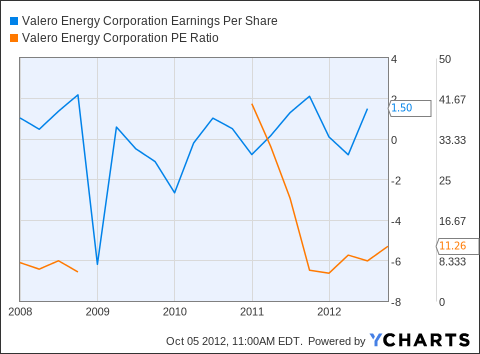 VLO Earnings Per Share data by YCharts
Valero is at the top of the news as it suspended gasoline sales into the California spot market to concentrate on providing gasoline to its own stations. It is well positioned to earn great benefits from market imbalances, not to mention the California bubble. Its issue is its size. With a refining capacity of over 2.6 million bpoe, it is roughly 8-10 times larger than the other refiners on this list. Of course, Valero is the largest independent refiner.
This has positives and negatives. Its size and refining reach over multiple markets gives it resources to take advantage of imbalances in all markets. Disadvantages is the sheer size dilutes any earnings increase, like the mid-continental regional prices or California, into a smaller impact on overall earnings and share price. It also has large marketing and retail elements, making it a more integrated downstream energy player.
Valero's recent stock close was at $31.89 within a 52-week trading range of $19.12-$34.355. It reports earnings per share of $2.91 for a PE ratio of 11, right at the energy industry average. It offers a $0.12 quarterly dividend, normally a nice yield, but with the recent stock run up the yield has shrunk to a mere 1.11%.
Valero is a good stock if you already own it, but at these valuations, there are other refiners that are more attractive.
Disclosure: I am long COP, PSX, HFC. I wrote this article myself, and it expresses my own opinions. I am not receiving compensation for it (other than from Seeking Alpha). I have no business relationship with any company whose stock is mentioned in this article.