Westport Innovations (NASDAQ:WPRT) has been putting up some impressive numbers recently. Liquefied natural gas refueling infrastructure commitments in the US from the likes of Royal Dutch Shell (NYSE:RDS.A) and in particular Clean Energy Fuels (NASDAQ:CLNE) is paving the way for an acceleration in sales growth that analysts are beginning to notice. Despite negative earnings, UBS AG and CIBC have both recommended the Canadian company with "buy" and "sector outperform" ratings.
The last 12 months have been very good for Westport. The number of units shipped rose over 100 percent. Total revenues rose 125% from $167 million during the 12 months ending June 2011 to $376 million during the 12 months ending June 2012.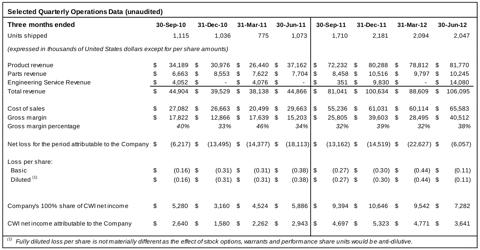 Despite negative earnings there are several items from Westport's Q2 2012 report that impress me. First, its current ratio of 3.16 shows that the company is not in danger of becoming insolvent if there is an unexpected spike in natural gas prices or delays in natural gas pumping station build outs. Second is the amount of intangible assets on its books. Westport Innovations is largely an intellectual property company, yet patents, trademarks and technology make up less than 5 percent of its total assets.
Most importantly though is Westport's ability to keep promises related to earnings. Its light duty division achieved a positive EBITDA one quarter earlier than promised. Its partnership with Ford (NYSE:F) to produce popular Ford F-250 trucks with bi-fuel natural gas and gasoline engines is proving profitable, and it is planning a similar partnership with Volvo cars in the near future.
In the US, Clean Energy Fuels is steadily building out "America's Natural Gas Highway," a network of liquefied natural gas fueling stations that will allow a heavy-duty long haul truck to travel between nearly every major city in the lower 48 states. Royal Dutch Shell is working with TravelCenters of America (NYSEMKT:TA) to provide natural gas pumps at over 100 existing truck stops across the country. Liquefied natural gas requires far less tank space than compressed natural gas, allowing heavy-duty trucks to haul cargo more than 400 miles on a single fill up. making it their fuel of choice.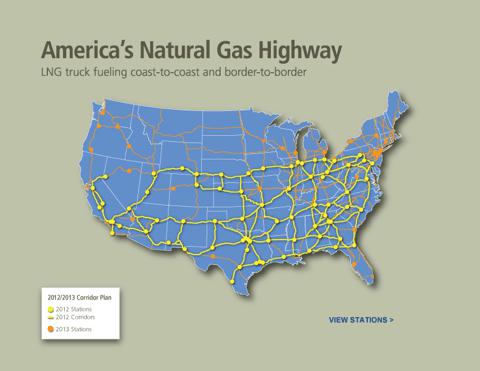 Like the US, China is sitting on huge reserves of natural gas trapped in shale beds. Unlike the US, they are not capable of extracting it very efficiently. The government there has realized the importance of allowing foreign firms like ConocoPhillips (NYSE:COP) to partner with Sinopec (NYSE:SHI) and get that natural gas flowing.
Overall NGV growth in China is poised to jump as the number of fueling stations is expected to grow by 2,145 stations, from 2,830 stations in 2012 to 4,975 stations in 2019. The market for medium and heavy-duty natural gas engines in China should also take off within the next few years as they have similar plans to build adequate LNG infrastructure. Similar to the partnership with Cummins (NYSE:CMI), Westport has a partnership with Weichai Power Co. that has shipped nearly as many units (5,300) in Q2 2012 as the entire year of 2011 (5,500). Westport-Weichai will launch highly anticipated 12 liter HPDI engines next year.
Westport Innovations has another revenue stream on the way from the off-road market. It is working with Caterpillar (NYSE:CAT) and Canadian National Railway (NYSE:CNI) to develop natural gas driven locomotive engines. In addition to locomotives, there is a great deal of interest in natural gas powered equipment for mining equipment that the Westport-Caterpillar partnership intends to take advantage of.
Summary
The biggest barrier to the spread of NGVs, and in turn Westport's products, is a relative lack of refueling infrastructure. In the US and around the world, that barrier is quickly eroding. Westport has a grip on light, medium and heavy duty engine markets through partnerships with important OEMs that rely on its HDPI technology. The joint-venture business model is providing strong operating profits without a need for additional capital. At current NGV switching rates I estimate that Westport can become profitable by the end of next year at the latest. However, I fully expect NGV switching rates to grow exponentially near the end of 2013, and Westport's bottom line to grow along with them.
As is the case with most companies that have yet to turn a profit, Westport shares are relatively volatile. With a beta of 1.94, unrelated developments will easily leave you stopped out before you have a chance to realize a profit. I am confident that natural gas production in the US can quickly meet rises in demand, but that doesn't mean it will. Even a temporary erosion of the gap between natural gas and gasoline or diesel equivalents will not fare well for Westport share prices. Westport's rise will most likely be a bumpy one, which is why I suggest using a vertical call spread like the one below:
For example:
Buy January 2014 call with a strike of '30' (priced at $7.30)
Sell the January 2014 call with a strike of '35' (priced at $5.60)
Net debit to start (maxim loss): $1.70
Maximum Profit: $3.30
This trade gives you a little over a year for NGV sales to further gain traction and investors to notice. Your upside is limited to $330 per contract, but risk is limited to only $170 per contract.
Disclosure: I am long CLNE, WPRT. I wrote this article myself, and it expresses my own opinions. I am not receiving compensation for it (other than from Seeking Alpha). I have no business relationship with any company whose stock is mentioned in this article.