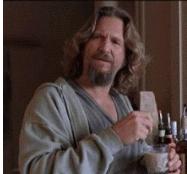 Employment data Friday got everyone buzzing clearly. The data is quite confusing and is causing some established people (Jack Welch) to question its accuracy, among other things. Some 114K new jobs were created, which isn't impressive. But the headline rate of employment, which is what the MSM and Main Street will focus on, showed an unexpected drop to 7.8% vs 8.2% expected. Naturally, this is the first decline below 8% since Obama was inaugurated. Somehow the household survey, the unemployment rate drop reflected an 873,000 (a fat-finger on a "0"?) spike in household employment versus a 368,000 drop in August. Many economists attributed this as a quirk in the data or a statistical fluke. Over 600K people now hold part time jobs assumed to be a result of them falling off of benefits and needing work out of necessity. So from statistical quirks to political conspiracies, the data was both heralded and mocked. One must admit that even if 873K new jobs was the right number, GDP should be growing at 9% or so. Hell, even "the dude" looks bewildered!.
Frankly, I'm not going down this road but many have challenged the BLS's methodologies before based on survey extrapolation and birth/death assumptions, to name two.
Also, stunningly buried in the employment data is the odd case of those aged 20-24; this data was better collected by Zero Hedge than me. It's quite mind boggling.
Meanwhile the characters comprising the eurozone were in confusion as well. First the so-called troika (IMF, ECB and EU) stated they were making progress on a Greek settlement. A few minutes later it was tweeted they were miles apart on an agreement. It was also announced the eurozone was officially in recession as stocks there rallied. (Another White Russian for The Dude.)
Little noticed later was a report that Consumer Credit leapt to $18 billion from -$3.3 billion mostly due primarily to student loans and secondarily to auto loans, which as you know, have gone "sub-prime". Student Loans have entered a bubble now just under $1 trillion and rising at $20 billion per month.
Crude oil (NYSEARCA:USO) prices plummeted again Friday on perceived demand weakness in China and the eurozone. Oddly, at the same time, gasoline prices soared to over $5 in southern California as refinery issues can't keep up with demand. (You listening Dude?)
The dollar (NYSEARCA:UUP) was weaker once again Friday, but that didn't cause precious metals (NYSEARCA:GLD) & (NYSEARCA:SLV) to rise-- they fell. The sentiment was: The jobless data was so good, then more QE and stimulus would be unnecessary. Other commodities (NYSE:DBC) were also much weaker.
Stocks which opened higher on the employment data started to fade into the late afternoon. Earnings are on tap and below are a summary of the news we might expect as reported by Thomson Reuters.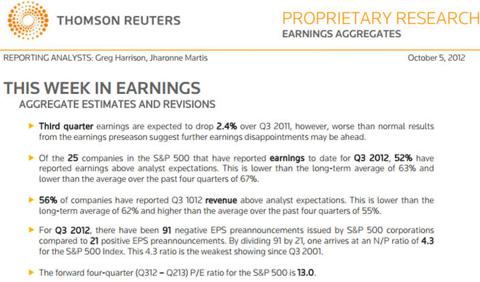 Apple (NASDAQ:AAPL) declined 2%, which held back tech. Zynga (NASDAQ:ZNGA) and Chipotle (NYSE:CMG) saw even steeper losses. Transports (BATS:IYT) liked the decline in energy prices even though the larger decline was in oil. Gains continued in financials (NYSEARCA:XLF), healthcare (NYSEARCA:XLV) biotech (NASDAQ:IBB), and housing (BATS:ITB).
Volume oddly remains quite light and breadth per the WSJ was again unremarkable.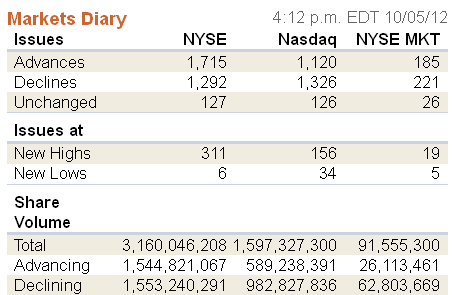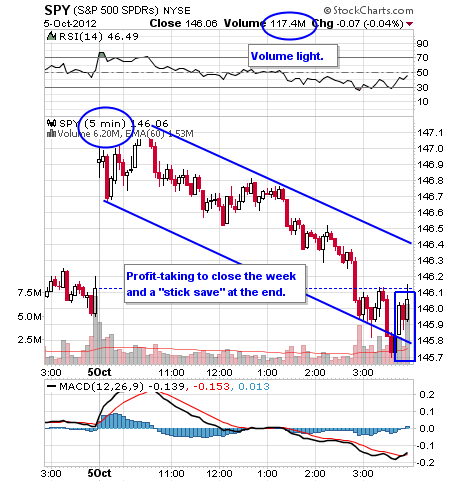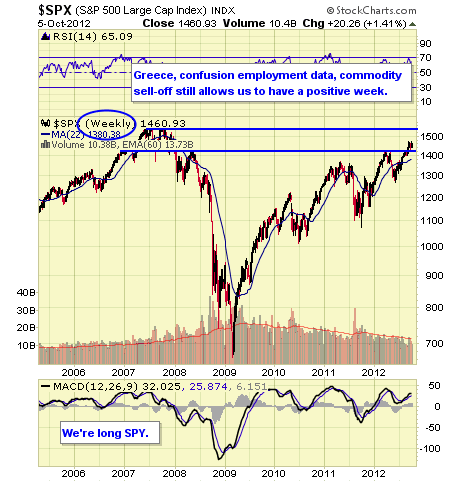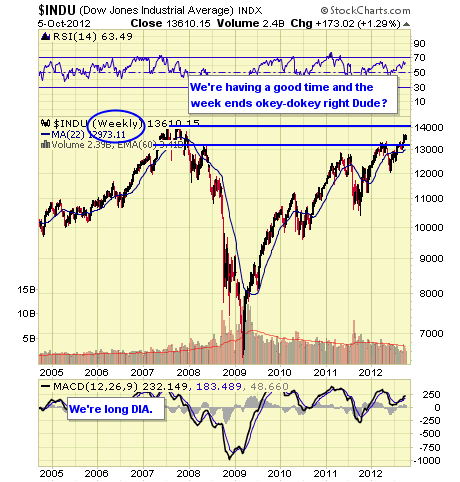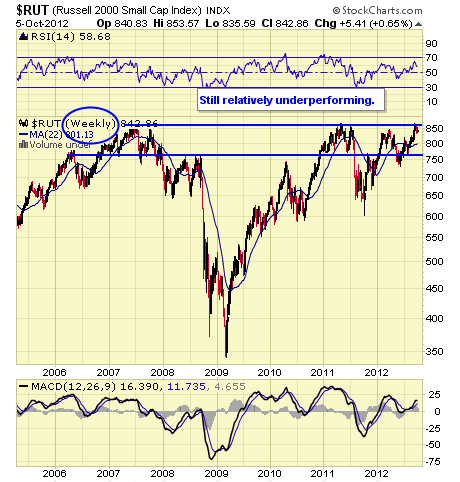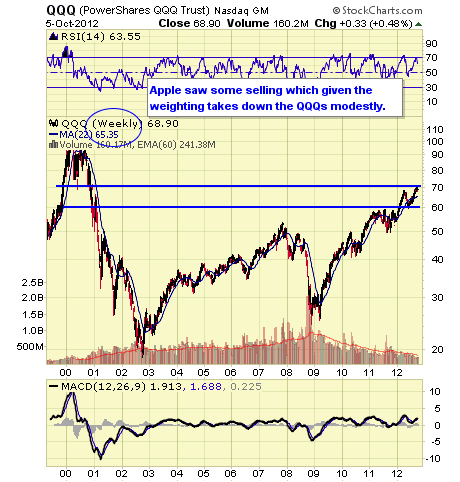 Continue to U.S. Sector, Stocks & Bond ETFs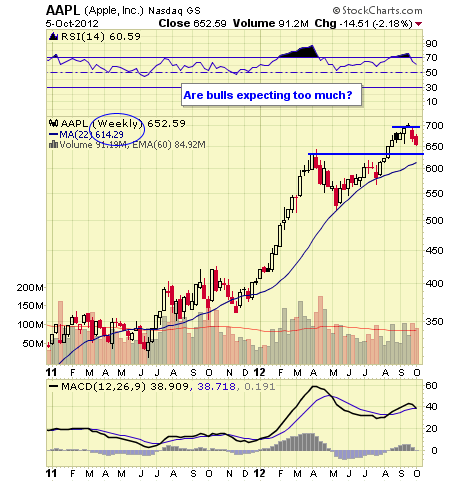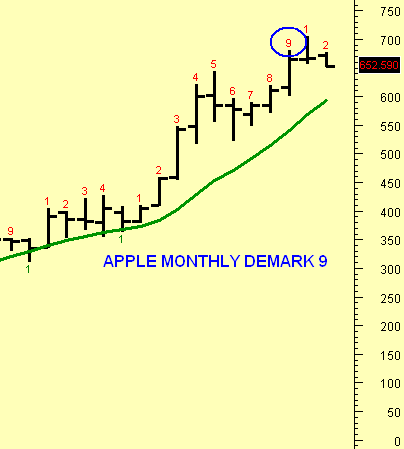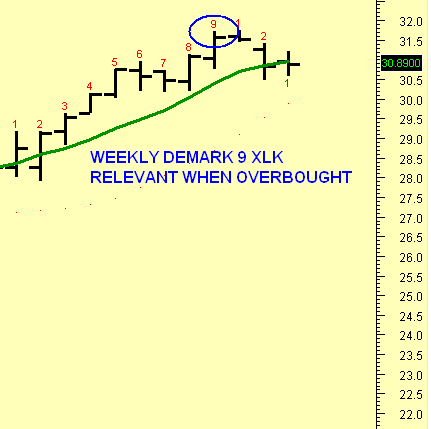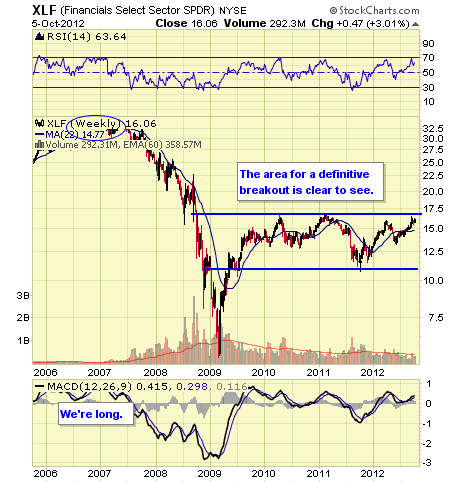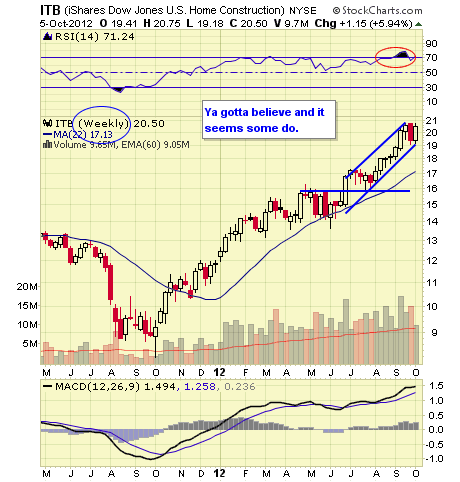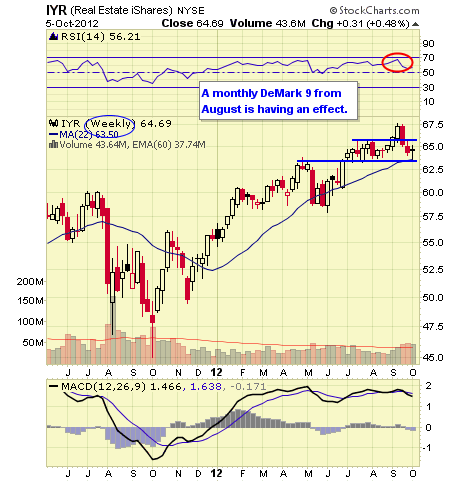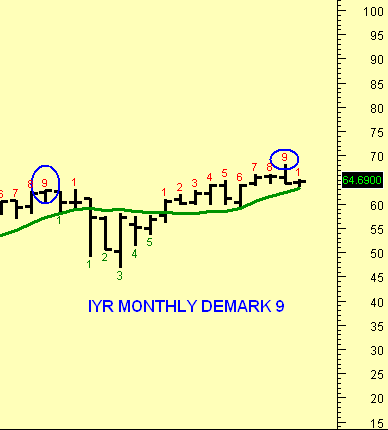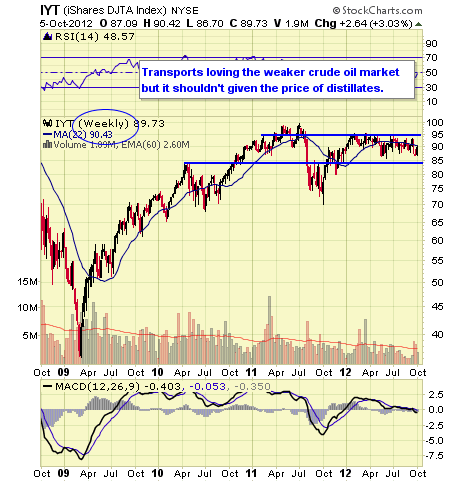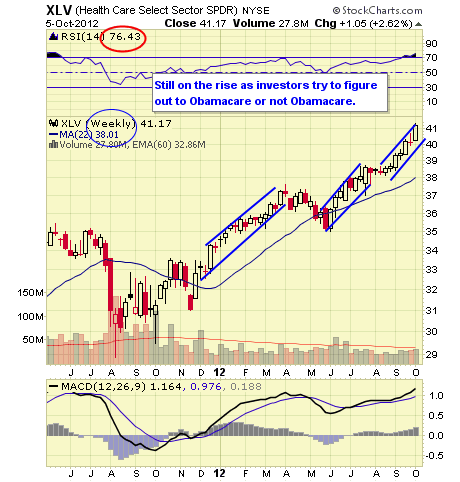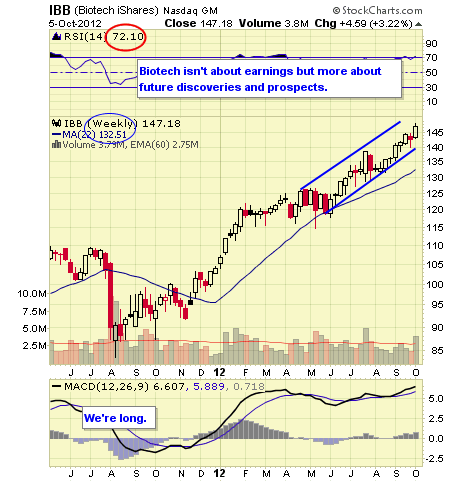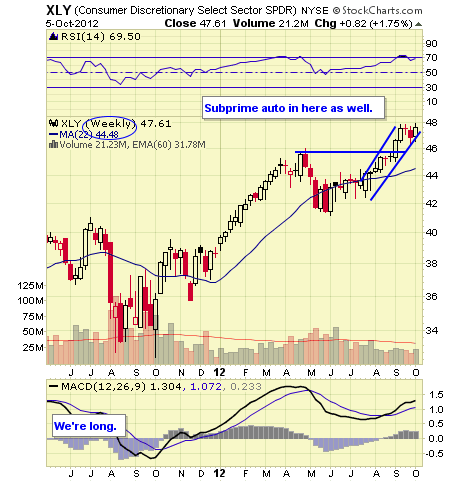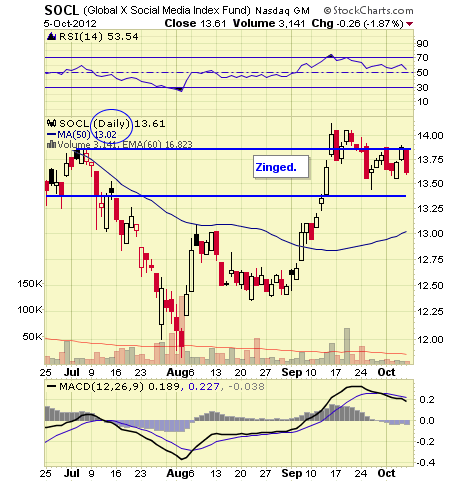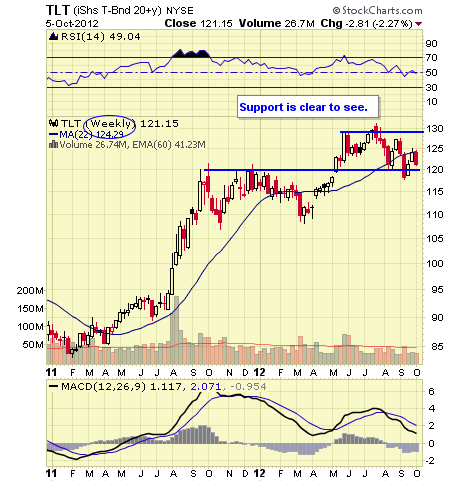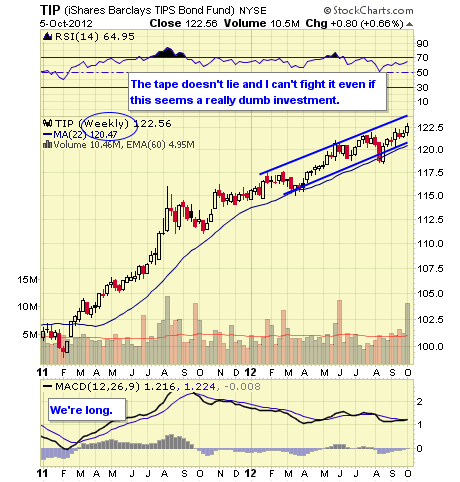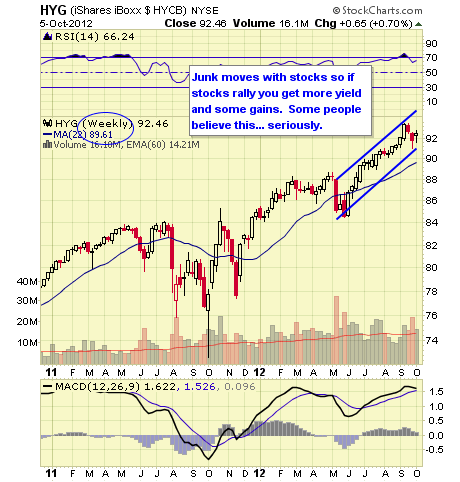 Continue to Currency & Commodity Market ETFs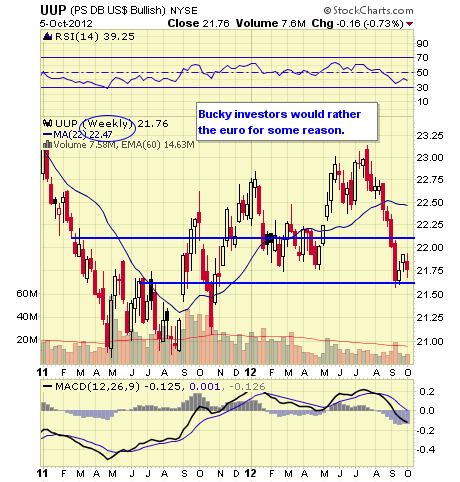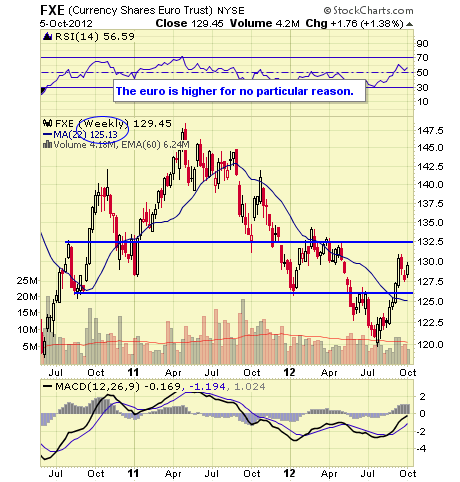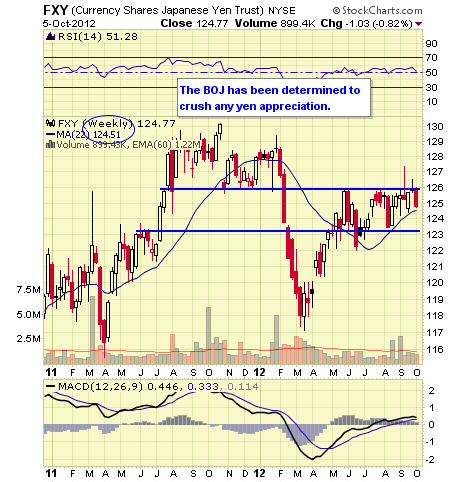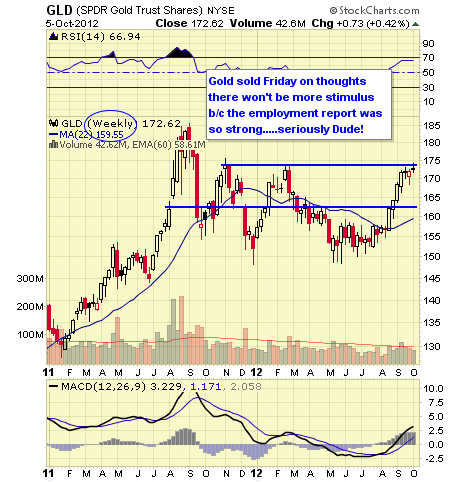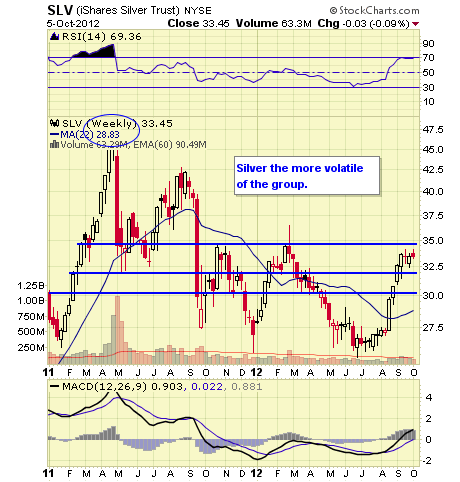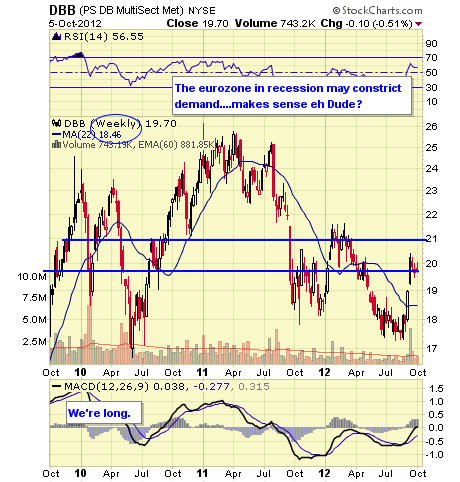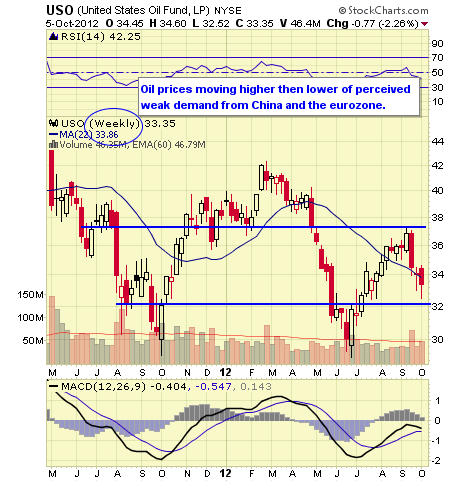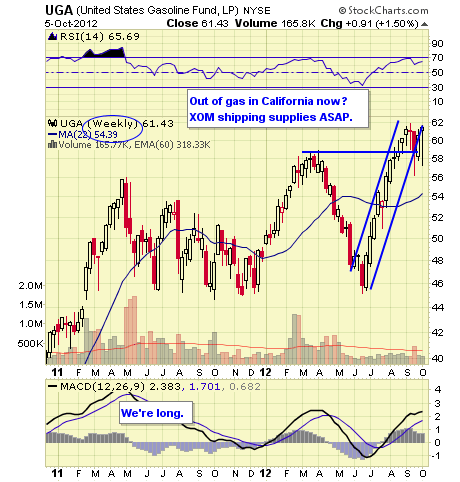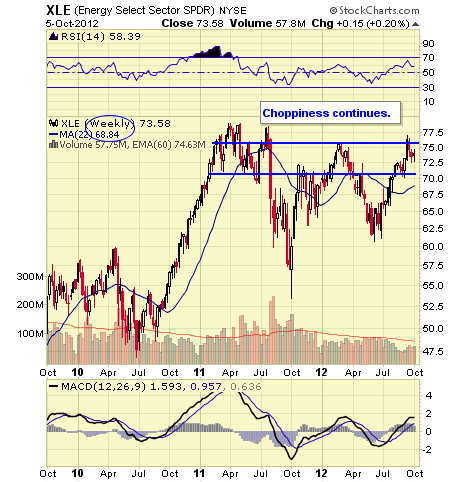 Continue to Overseas Sectors & ETFs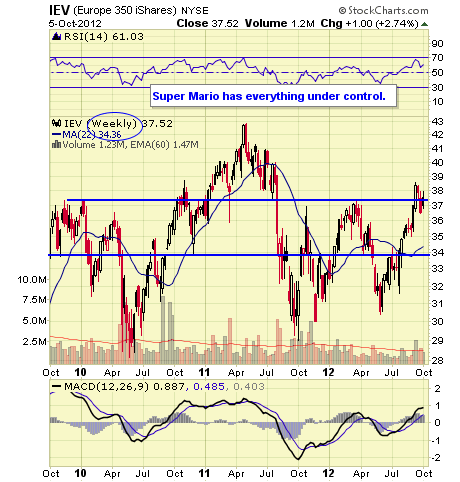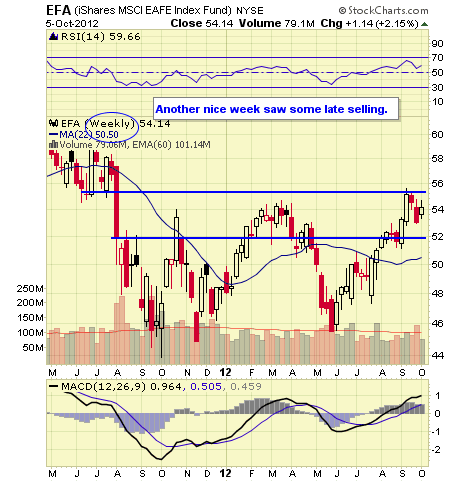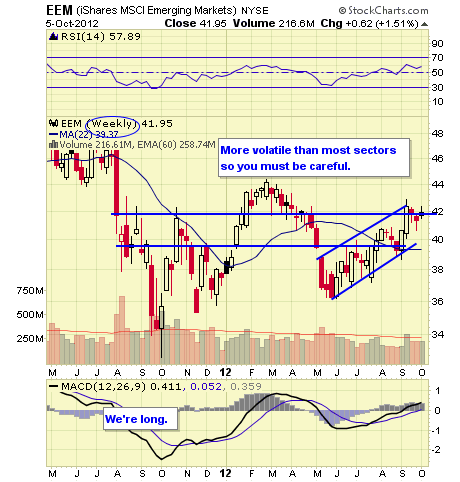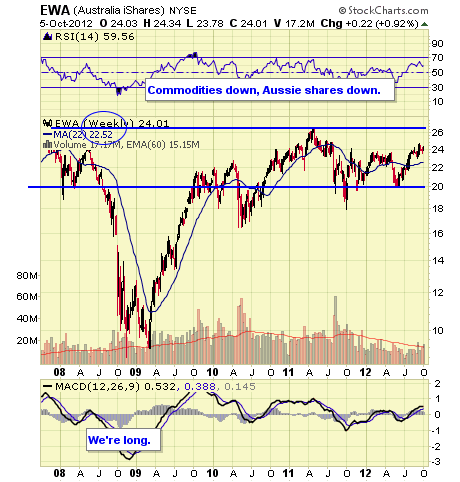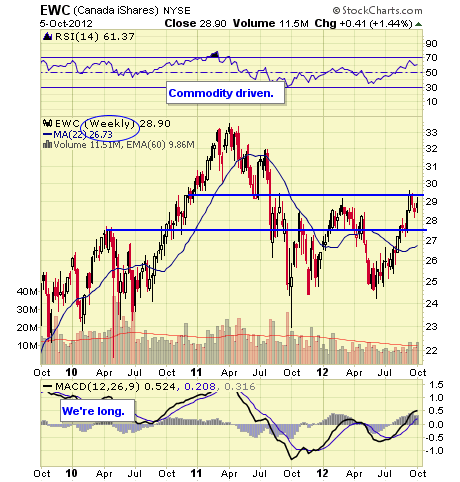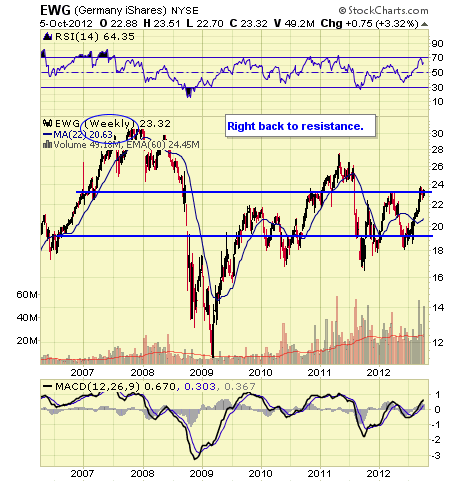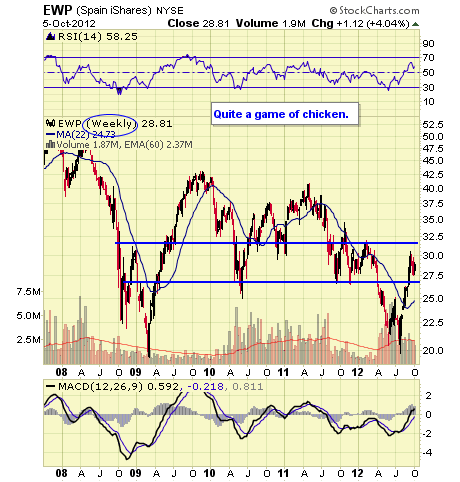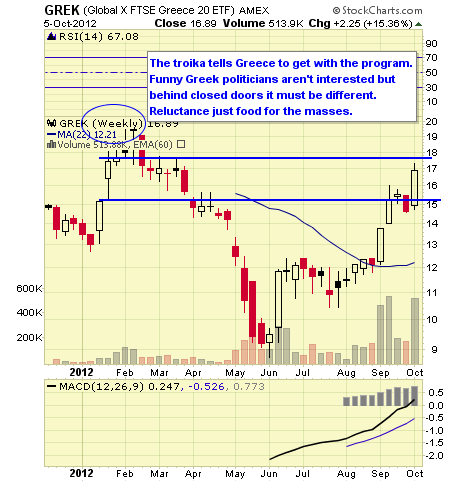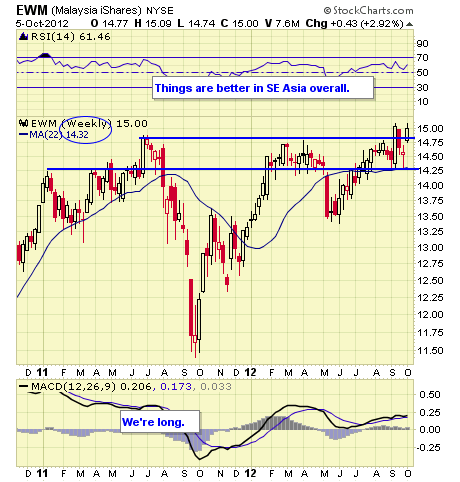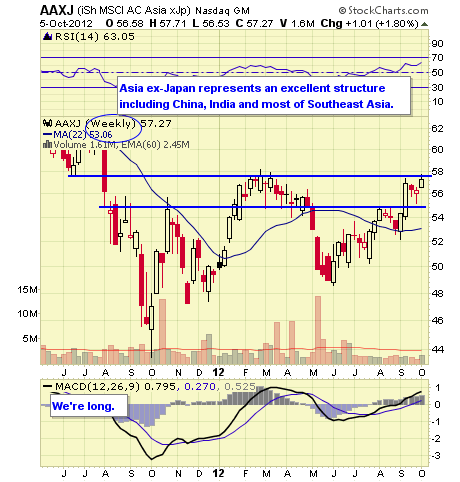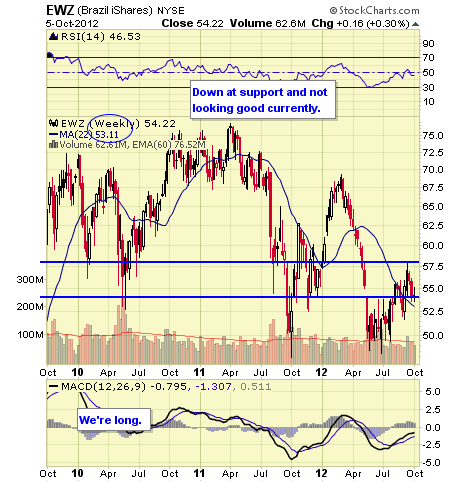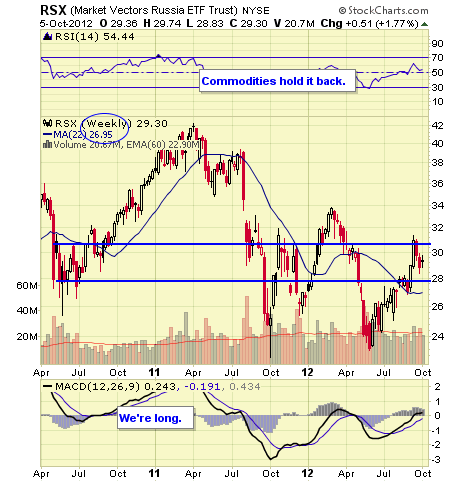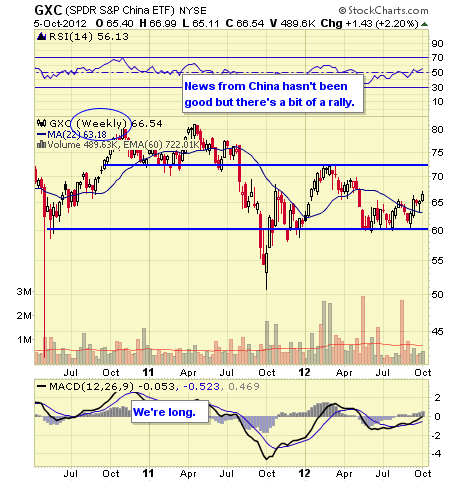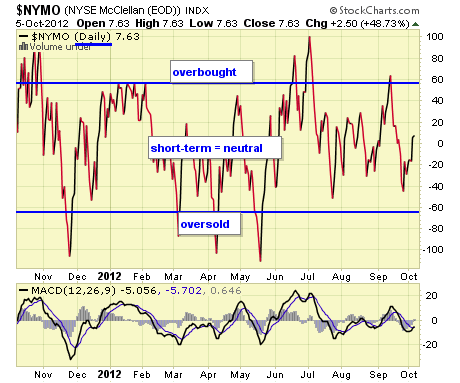 The NYMO is a market breadth indicator that is based on the difference between the number of advancing and declining issues on the NYSE. When readings are +60/-60 markets are extended short-term.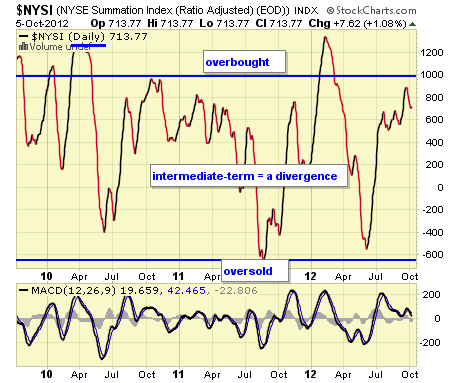 The McClellan Summation Index is a long-term version of the McClellan Oscillator. It is a market breadth indicator, and interpretation is similar to that of the McClellan Oscillator, except that it is more suited to major trends. I believe readings of +1000/-1000 reveal markets as much extended.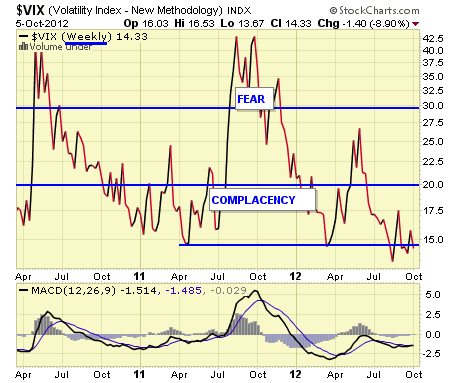 The VIX is a widely used measure of market risk and is often referred to as the "investor fear gauge". Our own interpretation is highlighted in the chart above. The VIX measures the level of put option activity over a 30-day period. Greater buying of put options (protection) causes the index to rise.
Continue to Concluding Remarks
For those who don't know The Dude he's from the movie The Big Lebowski. It was a funny movie and The Dude would make a perfect companion to understand markets and data today.
Clearly there was consternation, controversy and confusion over the employment data Friday. I think a White Russian might be in order.
Next week earnings will be on tap in a big way.
Disclosure: I have no positions in any stocks mentioned, and no plans to initiate any positions within the next 72 hours. I wrote this article myself, and it expresses my own opinions. I am not receiving compensation for it. I have no business relationship with any company whose stock is mentioned in this article.
Disclaimer: The ETF Digest maintains active ETF trading portfolio and a wide selection of ETFs away from portfolios in an independent listing. Current "trading" positions in active portfolios if any are embedded within charts: Lazy & Hedged Lazy Portfolios maintain the follow positions: VT, MGV, BND, BSV, VGT, VWO, VNO, IAU, DJCI, DJP, VMBS, VIG, ILF, EWA, IEV, EWC, EWJ, EWG, & EWU.
The charts and comments are only the author's view of market activity and aren't recommendations to buy or sell any security. Market sectors and related ETFs are selected based on his opinion as to their importance in providing the viewer a comprehensive summary of market conditions for the featured period. Chart annotations aren't predictive of any future market action rather they only demonstrate the author's opinion as to a range of possibilities going forward.