Gun maker stocks have been on the buy lists of many analysts and investors for some time now. That's because historically, an election year brings a surge in demand for guns as people are not sure how the newly-elected president will tackle existing gun laws. However, what needs to be decided is whether it is too late to buy the stocks now or is there still a surprise round of price appreciation left in these stocks for investors?
The latest news of a decline in the number of applications for handgun purchases, and a decline in the growth of FBI background checks, has led the market to believe that the craze of stocking guns might be nearing its end after experiencing a whole year of exponential growth.
FBI Background Checks

Source: FBI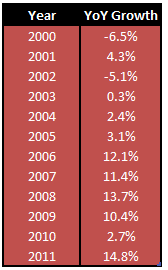 The spike in the 2011 scores shows that the election year definitely drives demand for guns. We mentioned in our previous article how different candidates will impact the demand for guns in the future. President Obama has always been against relaxed gun laws and it is expected that he will tighten the laws if he is re-elected, something that he could not do in his current tenure.
Relaxed gun laws have been widely criticized, especially after the shooting rampage in Arizona in 2011 in which 6 people were killed and 13 injured, including Democratic Representative Gabrielle Giffords. It was found out that the alleged criminal, Jared Loughner, used a gun that he had legally purchased from a sporting goods store despite being actively involved in disruptive behavior before the shooting incident. July's incident in Aurora, Colorado was another one that allowed Obama to exploit the situation in order to push for gun control.
The FBI's background checks are basically a process of responding to identification record requests in which details of criminals are included. The fingerprints of criminals are associated with an arrest or criminal activity. FBI background checks are still going on, and 14.7% greater on a YoY basis. Their growth, however, has slowed down after showing 20%+ growth rates since May. The 14.7% growth for September is the second lowest, but still more than the 10.7% growth witnessed in April this year. Michael Greene, a senior analyst at Forrester Research, believes that the FBI background checks are a valid barometer for nationwide gun sales. In fact, they are the best available proxy for retail firearms sales.
After the news of a reduction in background checks, both gun stocks; Smith & Wesson (SWHC) and Sturm, Ruger & Company (NYSE:RGR) were down by 4.5% and 2.35%, respectively.
Future Outlook
The FBI background checks remain apt. Gun owners and enthusiasts have already shown the intent to rush to stores to buy firearms and ammunition in anticipation of Obama's re-election. In a recent poll held by the Pew Research Centre, 51% of voters picked Obama, while only 29% expected Mitt Romney to win the elections.
However, the market believes that Obama's re-election may not mean sustainable growth for the stocks. It might bring a quarter or two of good demand and earnings, but a guns control law by Obama will significantly decrease the sales for RGR, SWHC and many other non-listed gun manufacturers.
Bulls still think that these manufacturers have built strong backlogs, which means that their earnings will not be hit as hard as anticipated by bears. In May, SWHC reported a backlog of $392 million, up by 163% YoY, whereas RGR had a backlog of 1.1 million units.
Bulls have another viewpoint as well. They believe that demand for guns is up, not only because of the election year but also because of rising safety concerns after the unemployment rate hovered above the 8% mark for quite some time. Cowen & Co analyst, in a CNBC program, commented that there is a broader acceptance of gun usage and more target shooting in society than ever before.
Conclusion
RGR and SWHC both had a tremendously successful year, with YTD performances of 42% and 139%, respectively. SWHC witnessed a 600% rise in its first quarter earnings, from 4 cents to 28 cents this year, beating forecast by 10 cents. Sales rose by 48% to $136 million. The company is relying on its new M&P line of light polymer frame pistols for future sales. The company forecasts sales at $130 million-to-$135 million, well above the Street's estimate of $115 million.
RGR recently produced its one-millionth firearm this year (at a record pace), and is well on its way to break its own record of producing 1,114,700 firearms in a year. In the last four quarters, RGR's EPS grew by 81%, 80%, 88% and 63%. For this quarter, analysts see a 43% rise, meaning that EPS will be 80 cents a share.
Given that the odds favor Obama's re-election, we still maintain our buy recommendation on both the stocks for the short-run.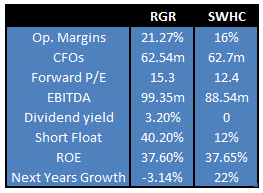 Disclosure: I have no positions in any stocks mentioned, and no plans to initiate any positions within the next 72 hours.
Business relationship disclosure: The article has been written by Qineqt's Industrials Analyst. Qineqt is not receiving compensation for it (other than from Seeking Alpha). Qineqt has no business relationship with any company whose stock is mentioned in this article.